When I first had a chance to get my hands on a Photoflex TritonFlash I was pretty excited because I like shooting outdoors and that had always been a challenge due to the limited power and battery capacity of speedlites. Whenever you're shooting with speedlites many times you'll find that their AA power source can be slow when recycling and you don't get many shots per set. I've always wanted a portable light that had more punch, faster recycle times and also something that had enough power for me to shoot all day. Glad I found the TritonFlash.
For this mountain bike shoot we had absolutely no access to AC power where we were so although you can power a TritonFlash with AC power, that was not an option in this case. The one thing I do know about these Lithium Ion batteries the provide the TritonFlash with power is that you have to shoot quite a lot to deplete them. Photoflex rates the battery on a full charge for 750 flashes at full power. Keep in mind that I wasn't shooting at full power on this assignment, I was between 1/8 and 1/4 power on the lights. At that type of output, you'll be measuring the number of flashes you'll get from a TritonFlash in the thousands not hundreds. Between metering the lights, firing off test images and of course shooting I'd estimate we popped the lights about 200+ times. The battery gauge on the pack didn't even move from full as I had charged the batteries before the shoot.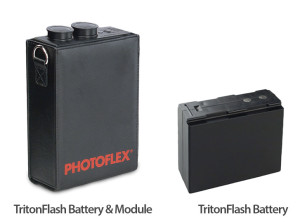 With a battery that gives you so many flashes what struck me about the battery itself is how small and lightweight it is. I should point out that there are two parts to the battery. The battery itself and the control module with two power ports. The two pieces combined in their carry case only weigh 623g and measure 16 x 11 x 5 cm. The size and weight of the battery is less than half of comparable battery powered lighting systems. I really like the detachable control module because I can swap batteries quickly if I need to and I can carry spare batteries without taking up too much space in my bag.
You're not going to find a rival to the TritonFlash when it comes to the number of flashes or portability. In the next blog post I'll talk about using the Triton battery pack with multiple TritonFlash heads and even speedlites.
Written By: Trevor Sherwin | PhotoTraining.ca | facebook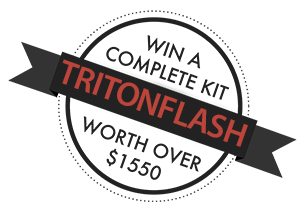 Don't forget to enter the Facebook contest to win a TritonFlash of your own!