The first thing that will strike you about a Photoflex TritonFlash when you first see it is how small it is. I'm probably not alone in saying that as a Photographer I don't want to carry heavy gear but I also don't want to compromise my creative capabilities. Up until recently portability has been somewhat of a relative term for battery operated lights. If you had a Sherpa yes, those lighting systems were very portable. For most of us that don't have easy access to Sherpas or high priced assistants – carrying batteries that weighed as much as cinder blocks with large heads was pretty much out of the question.
Most photographers have adopted speedlites as their portable option but the only problem I have with speedlites is that their output never seems to be enough; Especially if you modify them. A typical speedlite output is roughly 80ws which really isn't that powerful. A TritonFlash on the other hand is 300ws. That's roughly 2 stops more power from a TritonFlash.
The TritonFlash was designed for portability and that is why the swivel is detachable making not much larger than a speedlite. Most lighting heads have a yoke or bracket that is fixed to the head and makes it very difficult to fit in a bag. When the swivel from a TritonFlash is removed the diameter of a TritonFlash is the same as a 70-200 F2.8 lens hood and the housing itself with the front cap on is a little bit shorter than a 70-200. This means that most bags that can hold a 70-200 can easily accommodate a TritonFlash.
As far as bags go I've got a few favourites. The bag pictured in the photo above is a Kata Resource 61. It's a bag marketed at folks carrying around DSLR's rigged out with video gear but I've found it to be the perfect lighting bag for TritonFlashes, my DSLR and a few lenses if I need to keep the bag small. I do need carry stands and LiteDomes separately but that isn't too hard with a tripod bag. If I need a solution to hold more gear and hold my stands Photoflex makes two incredible rolling cases (TransPac Single / TransPac Dual) that will hold light stands, LiteDomes, TritonFlashes and other assorted gear.
In the next article I'll talk about modifying light from a TritonFlash compared to a speedlite. Make sure you subscribe to the PhotoNews RSS feed so you don't miss it.
Written By: Trevor Sherwin | PhotoTraining.ca | facebook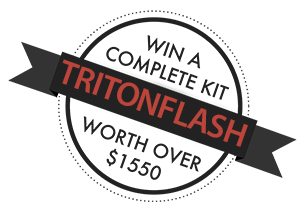 Don't forget to enter the Facebook contest to win a TritonFlash of your own!