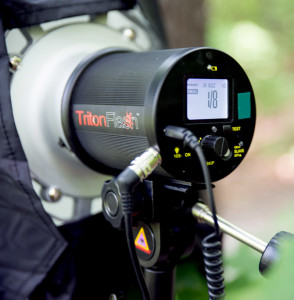 Unlike most battery operated lighting systems the TritonFlash behaves more like a monoblock head rather than a pack system. This means that when you plug in each head into the battery the controls for output are on the head itself not on the battery. I prefer this method because I have independent control over each light in 1/3 stop increments so I can make really precise adjustments. Many times with pack systems (the other guys) you have to ratio the output of each head to the other head which means you have to move your lights back and forth from the subject to fine tune the output on your subject. I much prefer making small, precise adjustments on the light itself because after all, I've already put my lights where I want them and I don't want to move them.
One very notable feature about the TritonFlash is how it behaves with multiple heads plugged into the battery. Many times with other systems when you plug multiple heads into one battery or pack there is a compromise. Either you will have to ratio the flash or the maximum output power drops. Not with the Triton. Even with two heads, you can still shoot at the maximum 300 watt second output from each head with no impact on recycle time. That means if I want to travel light I only need to carry one battery and a couple extension power cords. The 10′ Extension cords come with each head or when you buy a kit. You can attach up to two extension cords and a power lead together giving you a working range of 25′ from the battery. On this mountain bike shoot that's how I powered the speedlite.
Speaking of speedlites, normally on any given shoot I'll take two TritonFlash units with me but I always have a speedlite or two with me because you never know when you may need a third or fourth light for accent. When you mix the TritonFlash with AA powered speedlites you can introduce a potentially crippling workflow slowdown. Since the TritonFlash recycles very fast most speedlites can't keep up. That's a real problem when you have to tell your subject to, "hold that pose" for another 4 seconds and hope your speedlite fires and then repeat for every subsequent shot. A little known feature of the TritonFlash battery is that you can power a Canon or Nikon Speedlite. All you need to do is buy the corresponding Nikon or Canon cable from Photoflex. Keep in mind that the speedlite MUST have a high voltage port.  This port will only be found on the SB800 & SB900 series and the Canon 580EXII/600EX flashes. When you connect one of the above mentioned flashes to the TritonFlash battery, your recycle time will drop from 4-4.5 seconds to 1.5 seconds at full power.
Written By: Trevor Sherwin | PhotoTraining.ca | facebook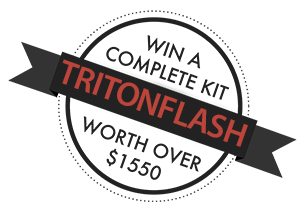 Don't forget to enter the Facebook contest to win a TritonFlash of your own!