Virtually all digital SLR cameras are sold with an inexpensive kit lens, typically an 18-55mm model that provides focal lengths from moderately wide angle to short telephoto. That's a suitable range for some purposes – roughly equivalent to 28-85mm in 35mm film photography – and high-grade models are also available (such as the Tamron 17-50mm f/2.8 VC Di II). But this type of zoom is not an all purpose model by any means. For most travel, event and landscape photography, I definitely want two additional lenses, including an ultra wide and a telephoto zoom.
In fact, I recently did a great deal of shooting with focal lengths from 10mm to 300mm, covering the angles of view from 103º to 5º degrees, primarily with a Nikon D90. Subjects included classic British cars, birds of prey andcostumed characters at a festival, a fall fair, as well as go-kart and cycle race action. The three lenses would have been ideal for other applications too of course, such as landscape and travel photography.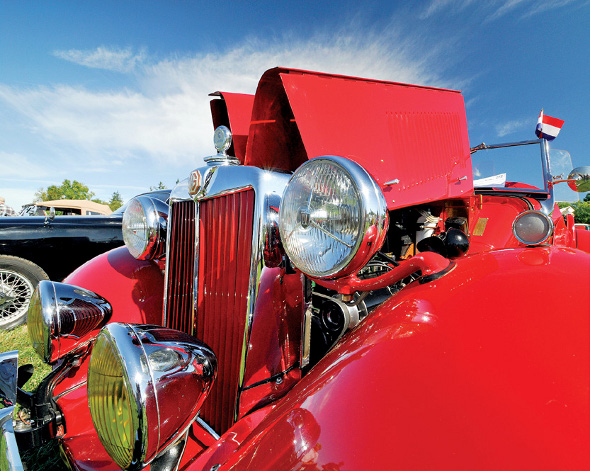 The Ultra Wide Lens
Any DSLR owner who is frustrated by the inability to make ultra wide photos would definitely appreciate a lens such as the Tamron 10-24mm f/3.5-4.5 Di II LD Aspherical IF zoom (roughly a 15-36mm equivalent). It's very useful for including large groups of people in a single shot but also for more creative images: dynamic wide angle perspectives with a powerful near/far relationship and extensive depth of field.
Designed specifically for DSLRs with the typical sensor size (not full-frame or 24x36mm), this lens covers a 103º field of view. That's more than our two eyes can see without scanning. The Tamron designers specified an impressive optical formula to minimize aberrations and distortion: glassmolded aspherical element, three hybrid aspherical elements, two pieces of Low Dispersion glass plus a High-refractive Index glass element. This design also controls light fall-off (darkening) at the edges, while extensive use of multi-layer BBAR coatings minimizes flare.
This 10-24mm lens features Tamron's micro-motor for autofocus with Canon and Nikon mount DSLRs. This ensures that AF is available with all of the cameras, including Nikon bodies without their own focus motors. The focus ring does rotate but the lens barrel is adequately long for a comfortable grip without impeding the ring's movement. Autofocus is fast and responsive for a lens of this type and the motor produces a  gentle hum that is certainly not distracting.Particularly at f/8 in the 10-18mm range, this lens produces stunning sharpness across the entire frame.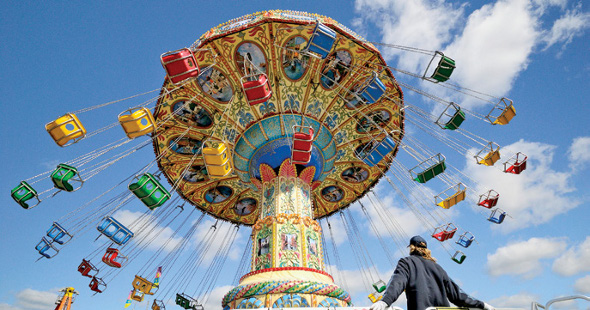 The Telephoto Lens
While some shooters prefer a "fast" zoom such as a 70-200mm f/2.8 model, I find a longer lens more useful for racing events, distant vignettes in a landscape or city scene. It's great to be able to fill the frame with a 105-450mm equivalent lens that's smaller and lighter than the f/2.8 model. The lens I used – Tamron's new SP 70-300mm f/4-5.6 Di VC USD – is particularly noteworthy because it is the first to employ the company's proprietary Ultrasonic Silent Drive autofocus motor. Naturally, it's also equipped with the Vibration Compensation system that provides image stabilization.
The USD technology is complex but the performance benefits are far more important: very fast and nearly silent autofocus. Full-time manual focus override is available, great for slight focus touch-up without switching out of AF mode. This feature is useful in close-up photography for example, when the camera might insist on focusing on an owl's beak, instead of the eyes. Thanks to internal focusing, the lens barrel does not rotate, so the effect of a polarizing filter never changes.
Note: Unlike the Di II lenses, this Di model is suitable for all types of cameras: DSLRs with the typical small sensor, full-frame models with the huge 24x36mm sensor and also 35mm cameras. Now available in Nikon and Canon mount, it will soon be available in Sony mount as well.
Build quality is excellent, including a highgrade polycarbonate barrel and a solid stainless steel mount. The minimum focus distance of 1.5 metres provides a maximum magnification of 0.25x (a 1:4 magnification ratio) at 300mm; that's fine for close-ups of large blossoms, small pets or icons that you find in a market while traveling.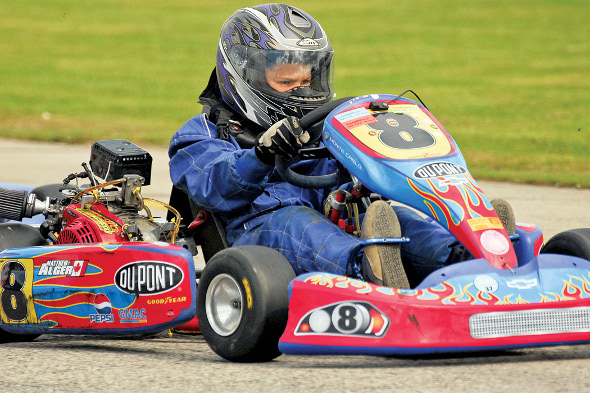 The optical formula is especially impressive, including a sophisticated Extra Low Dispersion element plus a conventional Low Dispersion element. The combination is said to be very effective in providing high resolution and contrast and in eliminating chromatic aberration, also called purple fringing. And finally, Tamron employs new BBAR (Broad- Band Anti Reflection) multilayer coatings. The latter – plus the very deep lens hood (included) – minimized flare even in extreme side lighting during an early morning race.
With the VC switch set to "on", I was consistently able to get sharp photos at 300mm (a 450mm equivalent on the Nikon D90) at 1/60 sec. in a dark cathedral while hand-holding the camera. Roughly half of my images made at 1/30 sec. were adequately sharp for nice 8×10″ glossies. By comparison, with the VC set to "off", I had to use 1/400 sec. for a high success ratio. When bracing the camera on a solid object, I got a few sharp images even at a 1/6 sec. shutter speed.
Performance and Quality
In my Review of this Tamron 10-24mm f/3.5-4.5 Di II LD Aspherical IF lens in a previous issue of PHOTONews, I made the following comments. "All ultra-wide zooms produce some light falloff at the edges of the frame, but that was well controlled, barely visible by f/5.6-6.3. At the most commonly used apertures of f/8 to f/16, edge brightness almost matches central brightness. Linear distortion is surprisingly low for a lens with such extremely short focal lengths. In fact, I have experienced more barrel distortion (bowing outward of lines near the edge of the frame) with some 18-55mm zooms."
"With a short focal length lens such as this, the most frequently-used apertures are f/8 to f/16. At these f/stops image quality is superb, especially in the 10-18mm range. My technically best JPEGs made 13×19" prints that look outstanding when matted and framed."
The SP 70-300mm f/4-5.6 Di VC USD was impressive in many aspects. Linear distortion is surprisingly low and flare is very well controlled. This brand new lens can produce high resolution in the central 60% of the frame at most apertures and focal lengths; it's outstanding at 70mm to 135mm even at f/4. Stopping down to f/10 provides very high edge-to-edge sharpness.
At longer focal lengths, centre sharpness is still good at f/5.6 and very good at f/8. And again, the best performance across the frame is provided at f/10 with no apparent colour fringing around subject edges. Light falloff (corner darkening) was noticeable in wide aperture photos that included the sky but this was virtually eliminated by f/8. Of course, slight corner darkening is very easy to correct with imaging software that includes a tool designed for this purpose.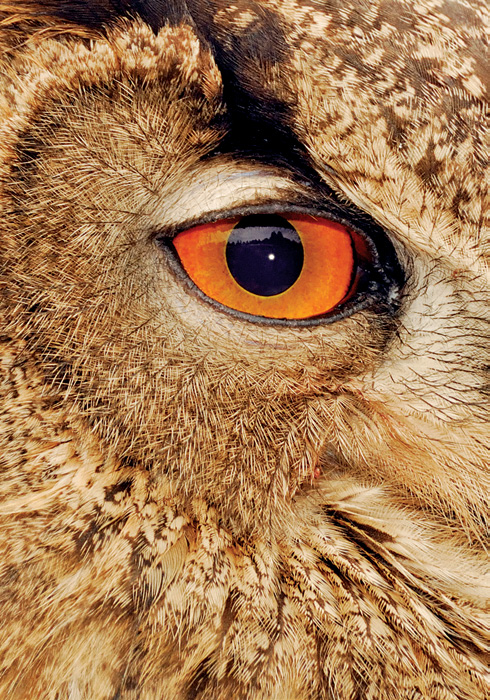 Ultrasonic autofocus – with a Nikon D90 and especially with a D700 – was quick and suitable for tracking the motion of costumed characters and cyclists approaching my position. At longer focal lengths, the maximum aperture shrinks to f/5.6 (typical with a 70-300mm lens) reducing the amount of light reaching the camera's AF sensor. That did create some autofocus issues during the go-kart race, with competitors moving erratically: slowing or accelerating rapidly. For better tracking AF performance, I moved closer to the action and used shorter focal lengths; this tactic increased my success ratio of sharply focused images.
It's also worth noting that the SP 70-300mm f/4-5.6 Di VC USD received the Best Zoom Lens 2010-2011 award from the European Imaging and Sound Association, a group of 50 European magazines. The EISA panel praised its "razor-sharp image quality that makes full-frame photos look like medium-format images … near-silent autofocus system … and superb image stabilization".
Final Assessment
When considering my entire portfolio of images, I'd estimate that only 10% of them were made with focal lengths outside the 10mm to 300mm range, usually with super telephotos. Granted, a true Macro lens is also an essential tool. But in other respects, a three lens kit should meet just about every need a photo enthusiast will encounter. So if you're still using only a kit lens or other "standard" zoom, I can strongly recommend adding an ultra wide and a telephoto zoom. Start with the one that you're likely to use most often, adding the third lens as your budget allows, and you can zoom into 2011 with a three lens kit that will meet the challenges of your photographic adventures.
Article by Peter K. Burian