Based in Squamish, BC, Canada, Paul Bride's photography has spanned six continents. With a background in travel and adventure he has successfully photographed for the top North American outdoor companies both commercially and editorially for the past decade.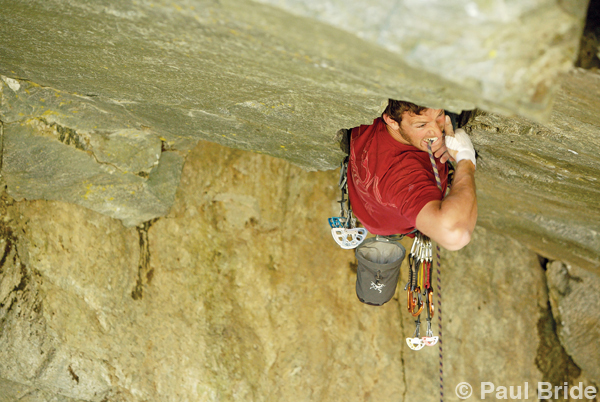 Jamming himself in a roof crack to protect himself from falling, climber John Fumeaux fights to clip his rope to a piece of projection.
Always looking for a physical and mental adventure with his camera, Paul's inspiration comes from turning a thought into a finished photograph composed of clean lines and natural light. The process of capturing these adventures through photography is an arduous one, and requires patience, persistence, and creativity.
Growing up in the manicured suburbs of Mississauga, Ontario where school, grades, and planned careers were priority the transition to adventure photographer was both demanding and exciting.
"I never set out to be a photographer, it just made sense".
Leaving for a six-month solo globetrot through Asia, after completing college in Ottawa during the mid 90's, his girlfriend at the time (now his wife) loaned him a small point and shoot camera. upon returning home and developing his film it was as if a light turned on – with no formal training except for one photography class in high school, Paul realized that photography would be a very large part of his life. He spent every moment consumed with getting better at taking images and absorbing as much information as possible.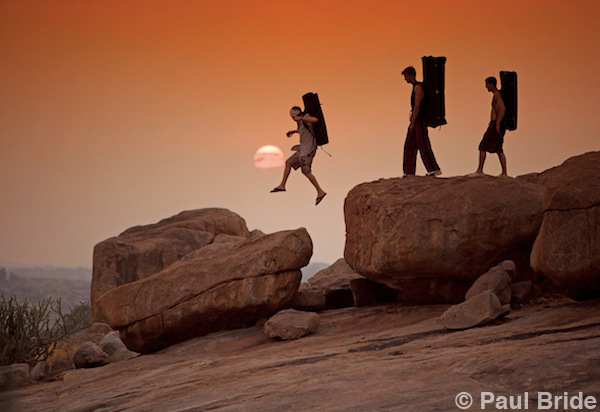 Silhouetted against the setting sun in Hampi, India, three climbers make their way through the massive boulders.
Like many people, Paul was attracted to the mountains from the beginning. Making the move to Vancouver from Mississauga was very inspirational to his photography because it was the first time he was able to spend a considerable amount of time in the mountains. Bartending at night, and learning how to rock climb from books (not recommended), Paul started spending more and more time out of the city, skiing and climbing with camera in hand.
Magazines were a huge influence on his photography because they inspired him to take his images to another level. More affected by who took the image and where they were to create such an image, Paul wanted to know what went on behind the lens to create the finished product.
"Adventure photography is about being in position to explain where you are and what you are doing. This is a hands on technique that cannot be taught in any classroom and can involve a considerable amount of work and risk but …it only works if you really want to be there."
As Paul's experience in the mountains and abroad increased, so did his ability to capture more appealing images and work with different athletes. The equipment to take the images was also upgraded over time, but the key element to his success came from being there, at the heart of the action.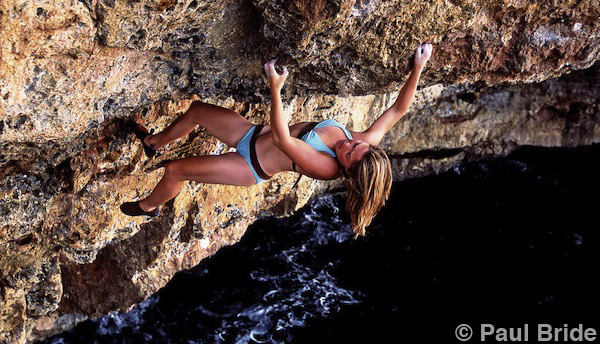 Katie Brown, one of the top female climbers in the world, solos an overhanging volcanic rock over the Mediterranean.
Always looking to expand and develop his techniques and knowledge of photography, Paul has been able to reinvent his ideas and bring them to life through shooting different aspects of adventure.
Paul expresses how important it is to learn to be self sufficient and knowledgeable of what is going on around you in the field.
"Adventure photography has a drawing power that is quite appealing to a large number of viewers and photographers alike, but there is a dark side that is rarely talked about and never seen. Working in harsh conditions might sound okay when you're at home but hauling massive packs of gear alone to get into position only to miss the shot or have the light change can be heart breaking.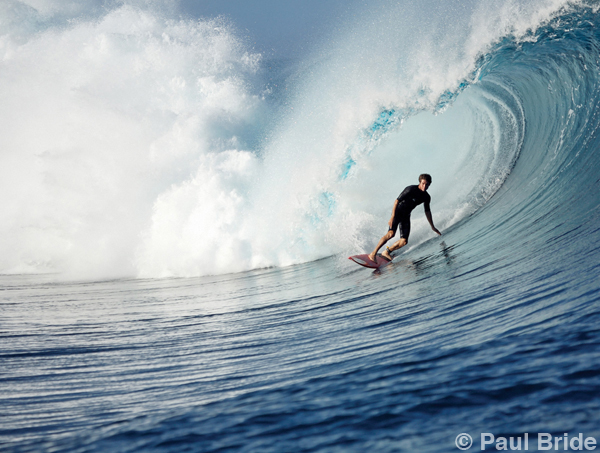 Situated over a kilometre from the shore of the French Polynesian island Tahiti, surfers rise one of the heaviest waves on the planet, called Teahupoo.
Freezing on the side of a mountain, sleepless nights, hours of endless travel and boredom, and broken equipment are all just part of the game. Your mental and physical fitness play a large roll, trying to keep up with athletes can be an arduous task not to mention hauling around all your camera gear and trying to set up the shot.
My love for photography has only been amplified by these situations and conditions, sometimes it feels like my cross to bear, but my inspiration for the next shoot comes from the loneliness found in remote locations and planning another adventure."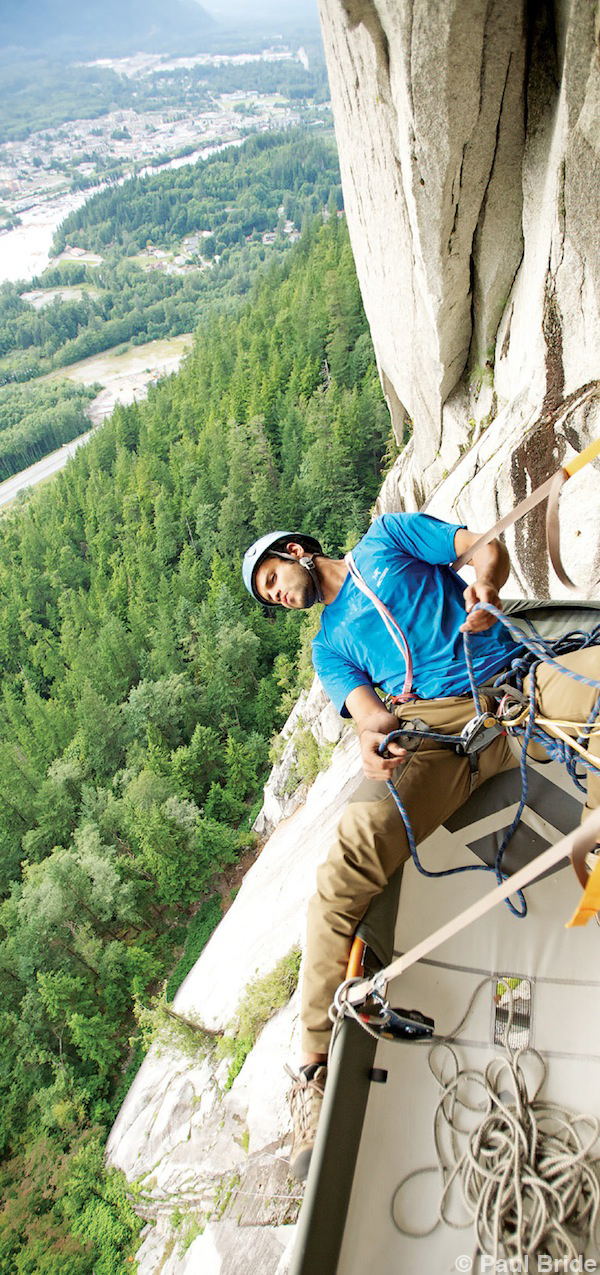 Relaxed high above the valley floor on a portaledge, Nathan Kukuths pays out rope to the lead climber. Squamish, British Columbia.
For a spectacular visual adventure, visit Paul's website at www.paulbride.com