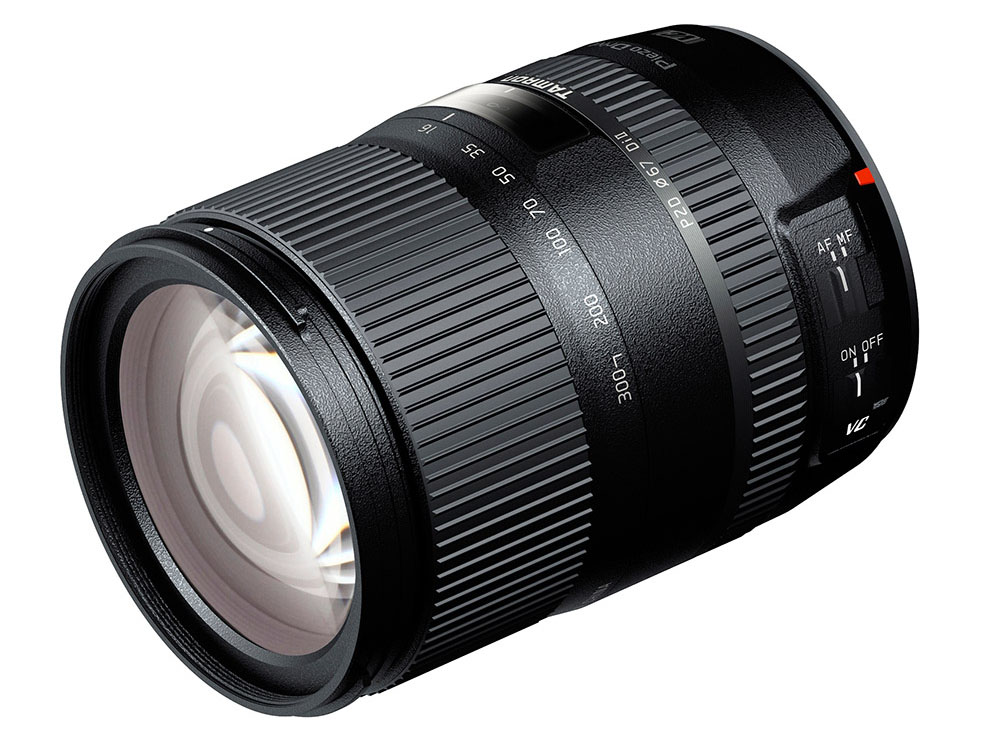 About the Author:
Stock photographer Peter K. Burian (www.peterkburian.com) is a Contributing Editor with Photo News, Photo Life and Australian Photography as well as the author of many guide books to DSLR systems. He is also an on-line digital photography course instructor with BetterPhoto.com.
---
A superior multi-purpose zoom with fast, nearly silent autofocus and a camera shake compensating system
Although Tamron makes many types of lenses, their superzoom models have been the best sellers because of exceptional versatility. The latest entry is the world's first 18.8X zoom and it offers a nominal 16-300mm range; in other words, it's a 24-450mm equivalent on a Nikon DSLR or 25.6-480mm on an EOS camera with the typical sensor size. (A version for Sony DSLT's will also be available this year.) Those focal lengths — and the impressive close focusing ability — should meet most shooters' needs and they're all packed into a surprisingly compact moisture and dust resistant barrel. Of course, Tamron has also added the best of its latest technology, including high tech optical glass, a camera shake compensating system and a very fast, nearly silent autofocus motor.
During a family vacation in South Dakota and while shooting events close to home, I carried only a Nikon D7100 with this lightweight (540g/19oz) Tamron 16-300mm lens. It was great to leave my heavy, fully loaded camera bag at home while feeling confident that I would have the focal lengths required for any photo opp.
Design and Construction
The handsome, solid, well-sealed barrel with a metal mount and a rubber gasket to keep moisture and dust out features a wide rubberized zoom ring and a moderately wide manual focus ring. The mechanisms move smoothly with plenty of friction. During autofocus, neither the focus ring or the front element rotates. Hence, the effect of a polarizing filter — that I used to enrich blue skies or to remove glare from the surface of colorful rocks in Badlands National Park — never changed. The entire package is surprisingly compact. Granted, the (lightweight) internal barrel extends by about 8cm (3 inches) when zoomed to 300mm but the weight distribution is not adversely affected. A zoom lock mechanism is provided but I did not need it because there was no apparent "zoom creep".
Like several other recent Tamron lenses, this one is equipped with a PiezoDrive (PZD) ultrasonic motor for nearly silent internal autofocus. It's super fast and reliable especially in the 16-200mm range with effective tracking AF when used with a recent DSLR with an advanced AF system. Full-time manual focus adjustment is available without switching out of AF mode. This aspect is useful for making slight tweaks when the camera decides to focus on the nose instead of the eyes in a portrait, for example. Note too that this lens can focus to a mere 39cm (15.3 inches) allowing for 0.345x magnification (1:2.9 ratio) at the long end. I found this to be useful for frame-filling images of blossoms in nature photography.
Tamron's latest Vibration Compensation (VC) stabilizer is also included. The system employs three driving coils that electromagnetically activate a group of lens elements to help compensate for camera shake. The stabilizing effect is visible in the camera's viewfinder — or the LCD screen Live View mode — as an indication of its effectiveness.  (VC will not be included in the Sony mount lens because Alpha cameras are equipped with their own built-in stabilizers.) In my tests, VC provided roughly a three step compensating effect. In other words, I was often able to get sharp photos at about 1/60 sec. when shooting at a 450mm equivalent during a mock trial indoors in Deadwood, SD.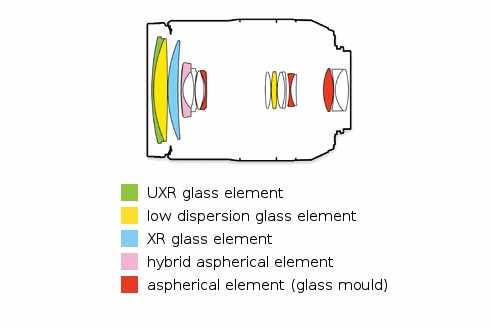 What's even more impressive in my estimation is the optical design. In spite of an affordable price, this lens boasts three Molded-Glass Aspherical elements, two LD (Low Dispersion) elements and an XR plus a UXR (Ultra-Extra Refractive Index) element. The combination was intended to correct optical aberrations for fine image quality at both wide angle and telephoto, while the multi-layer coating minimizes ghosting and flare even in strong side lighting.   THIS IS BASED ON THE LENS ELEMENT DIAGRAM PUBLISHED BY TAMRON JAPAN.
Evaluation
As hinted earlier, autofocus response was very quick, setting focus almost instant. It was also very suitable for tracking the motion of approaching go-kart racers, FMX bike stunt riders and a knight on horseback during a jousting match. For the very best tracking AF performance, I moved closer to the field and used a 200mm or  shorter focal length; this is a useful tactic with any small aperture zoom lens. I was then able to get many sharply focused action images while shooting sat  6 frames per second with the D7100.
Over the years, I have tested dozens of zooms and found that this one was definitely better than average in the multi-purpose category. While reviewing my images on a large professional monitor, I made the following observations:
The supplied lens hood plus the multiple coatings are certainly useful. Even in bright side lighting at Mount Rushmore, they minimized flare, ensuring snappy contrast.
Image quality is most impressive at focal lengths from about 16mm to 270mm. Center sharpness is high at all apertures, and there's no compelling need to stop down unless the primary subject is near an edge of the frame; then, f/8 produces the best results. After they were optimized for printing, my best photos made for beautiful 13×19 inch prints.
At longer focal lengths, center sharpness is fine but there's some softness at the edges. That's not a huge issue since the subject is generally near the center of the frame in images made at very long telephoto settings. Still, for the best results, move in closer to the subject when possible instead of routinely using 300mm.
Vignetting (darkening at the corners) is noticeable at wide apertures, as with most every zoom lens I have tested. It's gone by f/8, however.
Distortion (bending of lines, especially those near an edge of the frame) was visible in the wide angle range and at telephoto. Frankly, this would be a problem only in serious architectural photography and it's easy to fix with tools in many imaging software programs.
I was pleasantly surprised at the image quality in "macro" focusing, especially at f/11 to f/16, the apertures that we often use for adequate depth of field.
Final Assessment
The wide aperture and single focal length lenses of any brand always receive the highest ratings and that's understandable. However, such products are large/heavy/expensive and less versatile, making superzoom more popular for family and travel photography. Considering its fine performance and many features, the Tamron 16-300mm model would also be a suitable addition to a photo enthusiast's system. It's great for occasions when you don't want to carry a full camera bag while hiking, cycling, or touring, for example. Whether tucked into a hip pack or slung over a shoulder, the weight/size of this lens (on a compact DSLR) should rarely become a burden.