Recently, I had the opportunity to test the Tamron SP 35mm F/1.8 Di VC USD lens, which would be considered a standard wide angle lens on a full-frame sensor camera like my Nikon D750. In preparation, I scrolled through my library of pictures and noticed that I rarely shoot at 35mm.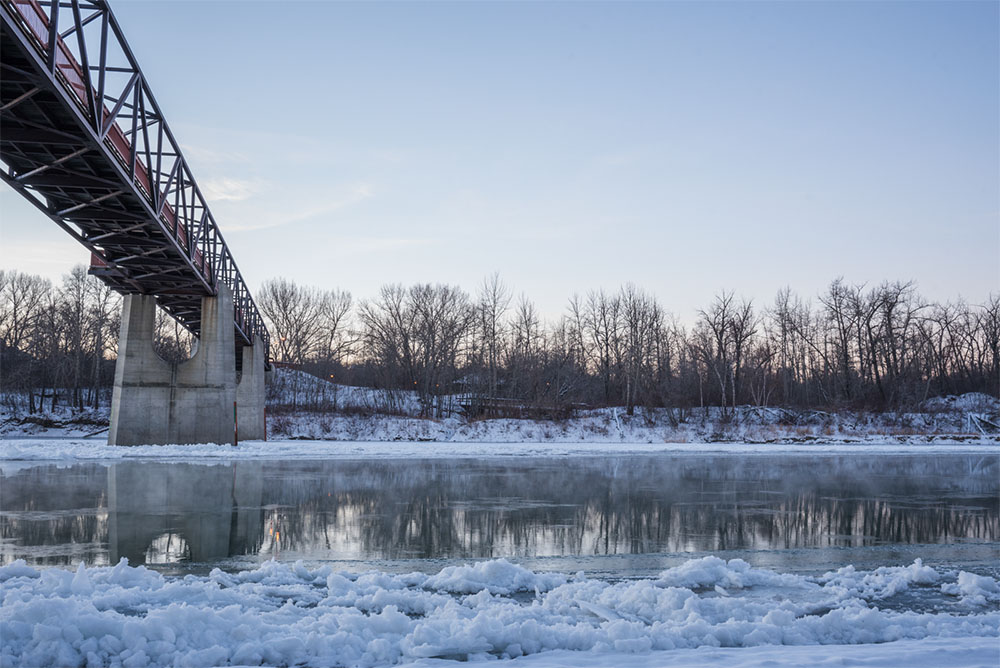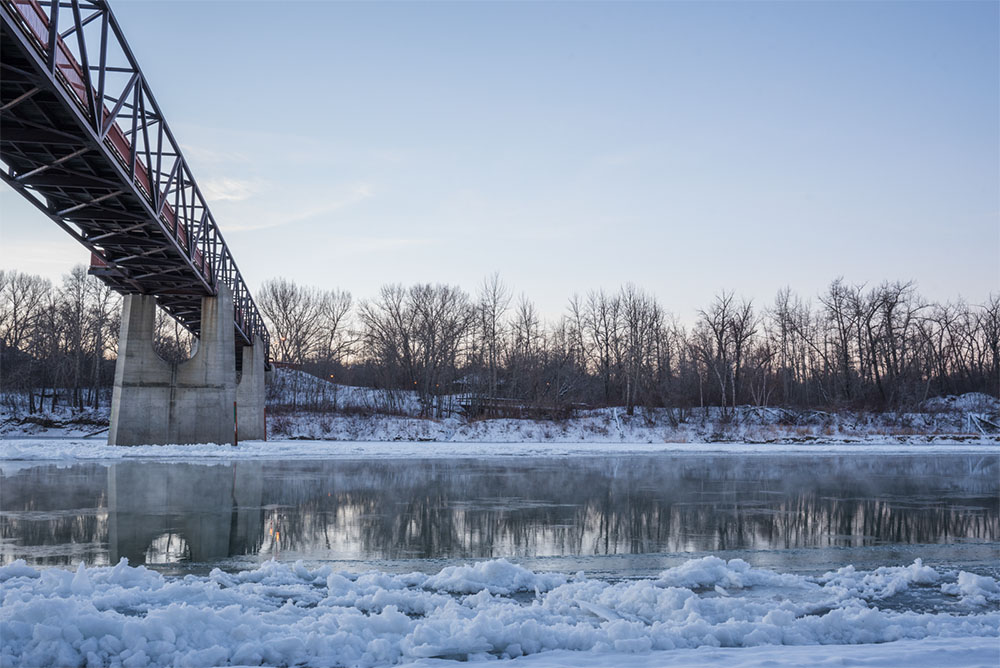 The North Saskatschewan River in Edmonton short before sunrise. This was hand-held at 1/15sec shutter speed and it shows nicely the capability of the VC. Also, there are no significant distortions in the corners I just had to remove chromatic aberrations in LR. Nikon D750, F/10, 1/15s, ISO400 @35mm (hand-held).
My go-to lens is the Nikkor 24-85 3.5-4.5 VR standard zoom, which I use to  photograph landscapes, astrophotography and sports so my first thought was it would be a great challenge to use Tamron's newest prime lens as it will get me out of my comfort zone.
This lens feels very valuable and in combination with the D750, provides nice haptic feedback. Two features l that I appreciate is its amazing close-focusing capability and the image stabilization, which you don't get with the Nikon 35mm/1.8, even though the price tag is the same.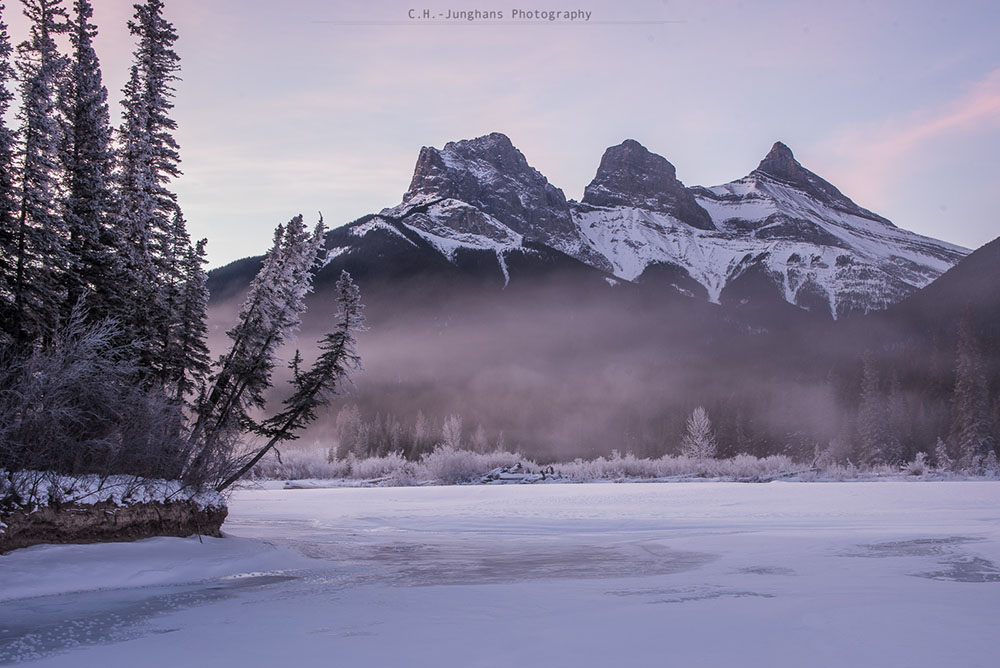 The "Three Sisters" in Canmore, AB, 30 minutes before sunrise in low-light conditions. This is another shot to show the effect of the VC, as it allowed a hand-held 1/6 second. Sharpness is good and chromatic aberration is only visible in the high contrast regions of the upper left corner. Nikon D750, F/14, 1/6 second, ISO200 @35mm (hand-held).
The close focusing limit is a great feature and allows you to get creative, without carrying around an extra macro lens. To my eyes, the sharpness of the lens is very good, even wide-open, and stopping it down just makes it even better. You can achieve a very shallow field of depth at f1.8 and the transition to the background is smooth and I like the bokeh this lens provides. Vignetting is not an issue, even wide open you will hardly notice corner darkening, one of the features Tamron claims for its SP series.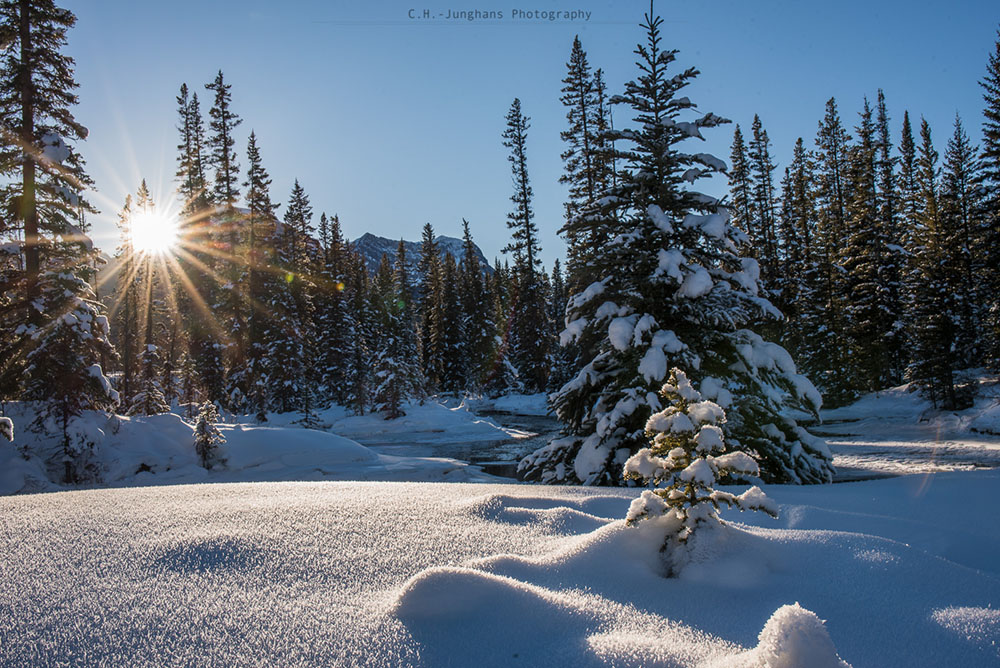 In this photo I wanted to put the emphasis on the tiny tree being illuminated by the last light of the day. I used F/3.2 to achieve a relatively shallow depth of field. This picture shows on the one hand the sharpness of the lens (no correction) and there is no significant vignetting. Nikon D750, F/3.2, 1/1000s, ISO100 @35mm (hand-held).
Chromatic aberrations, especially in the corners, are noticeable when zooming in to 100%, but they can be easily removed in post-processing. In my two days using the lens, I realized that 35mm is a great focal length. You need to move a little bit more than is required with a zoom to get the composition you want.
One of the features that stuck out was the vibration reduction, which came into play for me shooting short before sunrise. It allows you get crisp hand-held shots between 1/6 and 1/15 of a second, which is remarkable to me. The biggest f-stop you can dial in is f16, but it allows you get super sharp landscape shots (using hyperfocal focusing) with great sharpness also in the corners and no obvious loss in sharpness due to diffraction . I was pleasantly surprised with its focusing speed when I was shooting a basketball game.  It is challenging to photograph indoor sports due to badly illuminated arenas and the large aperture of F/1.8 helps maintain fast shutter speeds while keeping the ISO below 3200.
Downtown Edmonton being illuminated by the rising sun, while the river remains in the shadows. Overall sharpness is great and distortion in the buildings is minimal. This a good lens for architecture and "straight lines". Nikon D750, F/16, 1/50s, ISO50 @35mm (on a tripod).
Back home, I scanned through the 60 images I took at the game with the Tamron 35mm and nearly 80% were focused on point and impressively sharp. This lens provides a different perspective instead of a 70-200mm F/2.8 lens that many would normally use.
Summarizing my experience, I can say that I enjoyed shooting with the Tamron and appreciate its features such as the VC and the close focusing. The fast aperture allows to set free objects nicely with a soft bokeh. Its autofocus performance was astonishing.
I would recommend Tamron's 35mm F/1.8 Di VC USD lens on full frame cameras.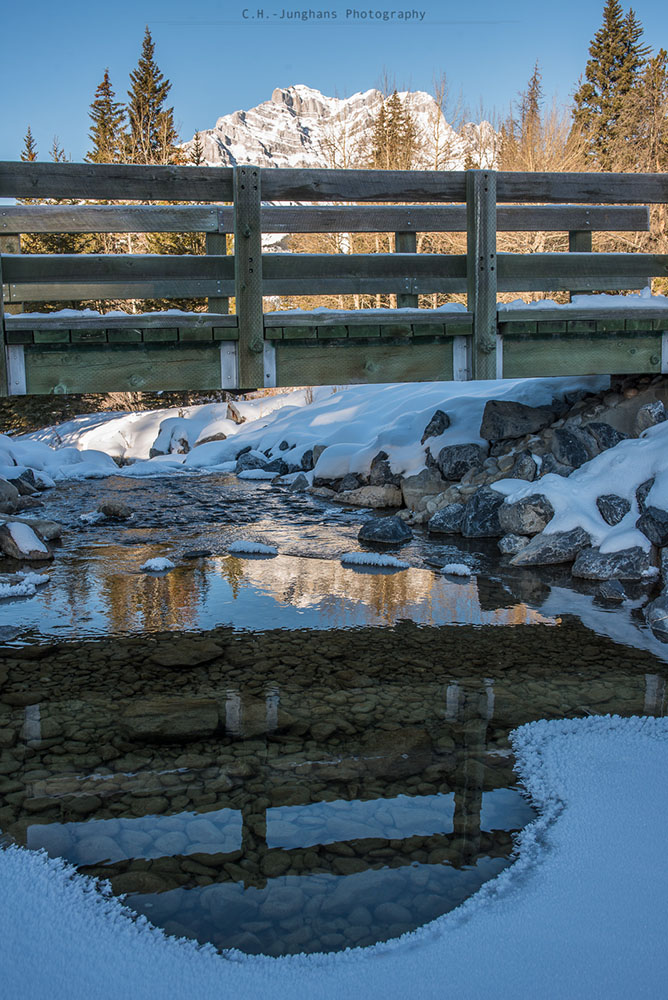 Outflow of Johnson Lake with Cascade Mountain in the back. This shot was taken while standing approximately 2 meters from the edge of the ice to feature its focal length. Nikon D750, F/10, 1/60s, ISO50 @35mm (hand-held)

Downtown Edmonton as seen from an elevated viewpoint with the river cutting through the city. This shot was taken on a tripod, but with considerable wind – the VC helped to get a photo I like. Nikon D750, F/16, 1/3s, ISO50 @35mm (on a tripod)
---
About the Author:
Christian is living in Edmonton and is a Chemistry researcher by day while photographing auroras, landscapes, wildlife and sports is his passion. Follow Christian at www.chj-photography.com