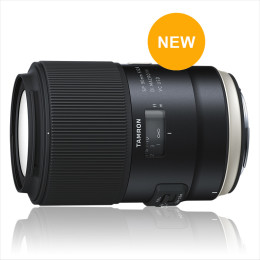 One of my favourite lenses from Tamron has recently been updated – the Tamron SP 90mm F/2.8 1:1 Macro Di VC USD R2. Known as one of the best Macro lenses at any focal length, the R2 version adds a few updates while appearing to be sharper and more refined.
We have a companion video for this article, which you can watch on YouTube at PHOTONewsTV.
When this lens first came to Canada, I was able to spend a bit of time comparing it with my Micro-Nikkor 105mm and past use of the Canon 100L.
The previous Tamron SP 90mm F/2.8 compared very favorably against the Nikon 105 and Canon 100L – as far as sharpness and colour reproduction is concerned.
The new Tamron SP 90mm F/2.8 R2 adds exactly what was needed – faster AF with a nicely damped Manual Focus ring – and an updated VC (Vibration Compensation – Tamron's term for lens image stabilization) system.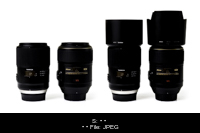 Included in the VC is an accelerometer for faster and more accurate response. Also, I found the VC worked on more than just horizontal and vertical shake – noticeable in the video review where I was handholding for video as well as trying to manually focus whilst moving.
The front element has a Flourine coating so water, dust and fingerprints are easier to clean.

Internal elements include LD Low Dispersion and XLD Extra Low Dispersion, plus Tamron's exclusive BBAR and eBAND coatings to reduce internal flare and ghosting. All of this adds up to sharper images.
The Tamron 90mm VC R2 has switches for VC on/off, AF/MF (with manual override) and a three position focus limiter, to control the range the lens searches for focus.
Comparing the Tamron to the Nikon, which is very similar to the Canon 100 F/2.8L Macro IS USM, size is very similar (see image above). The Tamron is similar size, although the hood is a bit shorter. This keeps the hood away from macro subjects – you're less likely to bump your subject with the Tamron hood.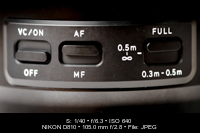 Weight among the three lenses is similar – just over 600g. The Tamron and Nikon have larger Manual Focus rings than the Canon, and the focus ring is at the end of the lens – where you can hold it for more stability.
Focus ring action is nicely damped and very smooth – a notable improvement over the previous version. I like the new rubber Tamron is using – especially with gloves. It provides a firm solid grip and I felt like I had more control over the focus selection.
When comparing the sharpness and depth of field of the new Tamron to the Nikon (images at right), I put my D810 in Aperture priority and ISO 100. I wanted the camera to determine shutter speed to maintain an even exposure. I manually focused on the center of the ruler from the same position – which shows the slightly longer focal length of the Nikon lens (about 15mm further up the ruler).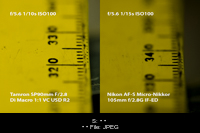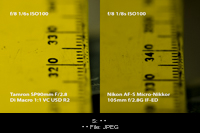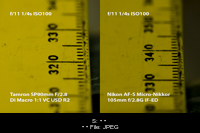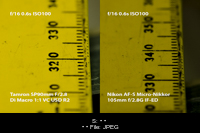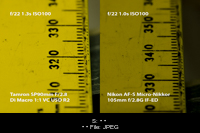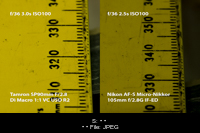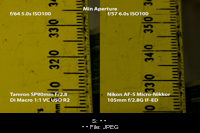 This test confirmed something I wondered about my Micro-Nikkor – it seems to meter 1/3 stop underexposed. I double-checked Exposure Comp and it was 0.
Slight underexposure isn't a problem, but the Tamron images are usable right out of camera. These were originally shot RAW and converted with no adjustments in Lightroom CC.
I also noticed the Tamron still "focus breathes" – far less than the previous model – but noticeable when you compare the images directly. Focus breathing won't affect your images at all, but if you're focus stacking, I recommend focus rails that move the entire camera and lens instead of shifting your focus point.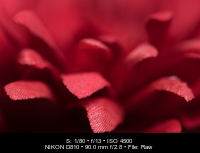 As a true 1:1 macro lens, the Tamron delivers exceptional sharpness with 3.5 stops of handholding available. The new coated lens elements, combined with high-grade LD and XLD glass, deliver very sharp images with high levels of acuity.
This Tamron doubles as a very nice portrait lens – set the focus limiter switch to "0.5m – ∞" and you're set. For macro, set the focus limiter switch to "0.3 – 0.5m" and it will only lock focus on close subjects.
It's this versatility that will have you reaching for the Tamron SP 90mm VC USD R2. Add in the smooth, grippy focus ring and amazing sharpness, you may want a second camera so you can always have this lens ready to go.
---

About the Author – Will Prentice (www.capturaphoto.ca) is a professional photographer based out of Whitby, Ontario and Brand Specialist – Lighting for Amplis.