We had the chance to take the latest Tamron 24-70mm f2.8 VC for a test drive after work yesterday on our Canon 5D Mark II around the Toronto Harbour and Coronation Park. This offering from Tamron is the world's first mid-range F2.8 zoom lens with a vibration compensation (VC) element built directly into the lens. The lens features 17 elements in 12 groups, reaches minimum focus at 15 inches, and has 9 rounded aperture blades. It's got a host of other features, but we'll get into those parts throughout the review.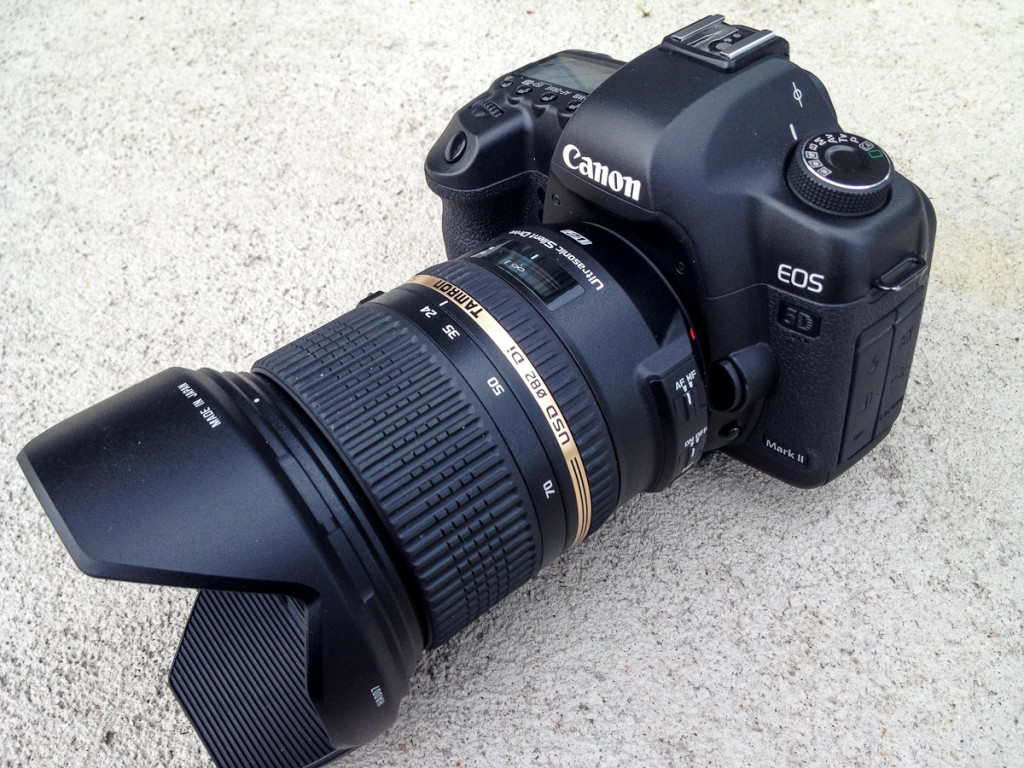 Build:
Solid build construction all around on this lens. It features weather-sealing around the rear bayonet which is a nice touch. The lens also features an internal focus scale in meters and feet. The zoom is on the distant ring of the lens with a nice grip on a wide piece of rubber to adjust. Manual focus is closer to the camera on a much smaller ring. Those planning to shoot video will have to be cautious of their follow focus rings being on the narrow path so close to the body, but it certainly seems possible. Both rings, however, provide a nice smooth movement throughout the range. The focus ring travels the full distance after ~100 degrees.
Those familiar with Tamron will be used to seeing the wide-angle lock button on the zoom ring, designed to prevent zoom creep while traveling with the lens.
Unlike some other manufacturers, the Tamron 24-70 ships with a pedal shaped lens hood. The hood is much shorter than the Canon or Nikon equivalents.
Similar to Canon's new 24-70mm F2.8 II and the Sigma 24-70mm F2.8DG, the lens features an 82mm front filter diameter. Only Nikon remains at 77mm.
Optical Performance:
We'll let the photos do most of the talking, but optical performance was strong on this lens with our Canon 5D Mark II. The lens was sharp across the focus plane. There was a distortion at 24mm when shooting a brick wall, but it was easily corrected in Lightroom with a quick slider adjustment. That distortion wasn't noticeable by 28mm. Flare was well controlled shooting into a setting sun. Chromatic aberration in the highlights was also well controlled, even into the corners. One potential downside was the vignetting, which is inherent with the 24-70mm lens design. While focused close at 24mm and a wide F/2.8 aperture, the lens will exhibit some vignetting in the corners. We were able to handle that vignetting in Lightroom when necessary, but after stopping down to F/4.5-5.6, it was non-existent.
Vibration Compensation:
The VC is definitely the selling feature for this lens. Featuring 4 stops of VC, we found it incredibly helpful. Anyone who would rather leave the tripod at home and be more mobile will be in love. We were able to pull off a photo at 1/4 sec, f/4.5 and 56mm, all while handheld. No other lens in the category features this compensation so it's tough to compare to any other manufacturers. Some will say "But who needs vibration reduction in a lens this short?" Well, it's just another tool for the tool bag. If you only shoot outdoors in bright sunshine, you won't see the benefit. Step inside to a party or late-night summer BBQ, where you left the flash at home because it was too much to carry and you'll be happy to flick that little switch to the On position.
Price Point:
This lens comes in at approximately $1200.00 in Canada. That puts it between the Sigma 24-70mm F/2.8 and the Canon and Nikon 24-70mm F/2.8.
Here's the breakdown (current street prices as of publication):
Sigma 24-70mm F/2.8 – $1099.98
Tamron 24-70mm F/2.8 VC – $1199.99
Nikon 24-70mm F/2.8 – $1869.99
Canon 24-70mm F/2.8 II – $2499.99
Ed Note: PHOTONews Canada is owned by Amplis Foto Inc. Amplis Foto Inc. is the distributor of Tamron lenses for Canada. The words are our own based on the lens we were provided by Tamron Japan.