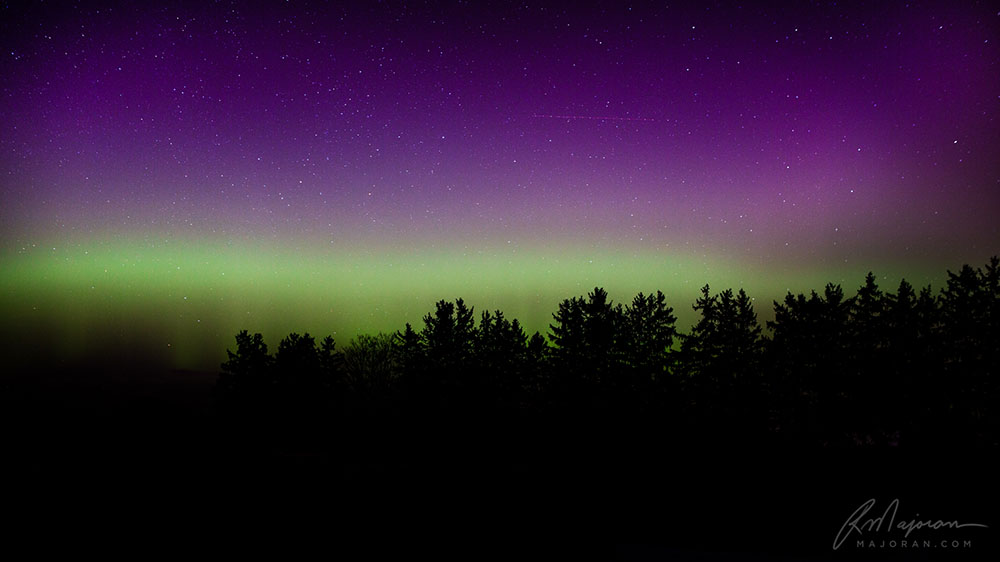 As you can imagine, living at 42.9837° N in London, Ontario, Canada doesn't give me much of an opportunity to see the lights. And on the rare occasions that they do happen, I have to compete with cloud cover, moonlight and bright city lights. But that's what makes it so fun! If there wasn't any challenge, I'm not sure they would inspire me as much as they do.
Fast-forward to March 17, 2015. It was early on in the day and the potential of seeing the northern lights looked promising. The weather was clear, and a solar flare from the sun looked like it would hit the earth's atmosphere later that evening. I checked the real-time Aurora map and 3-hour Planetary K-index from NOAA. All indications were good.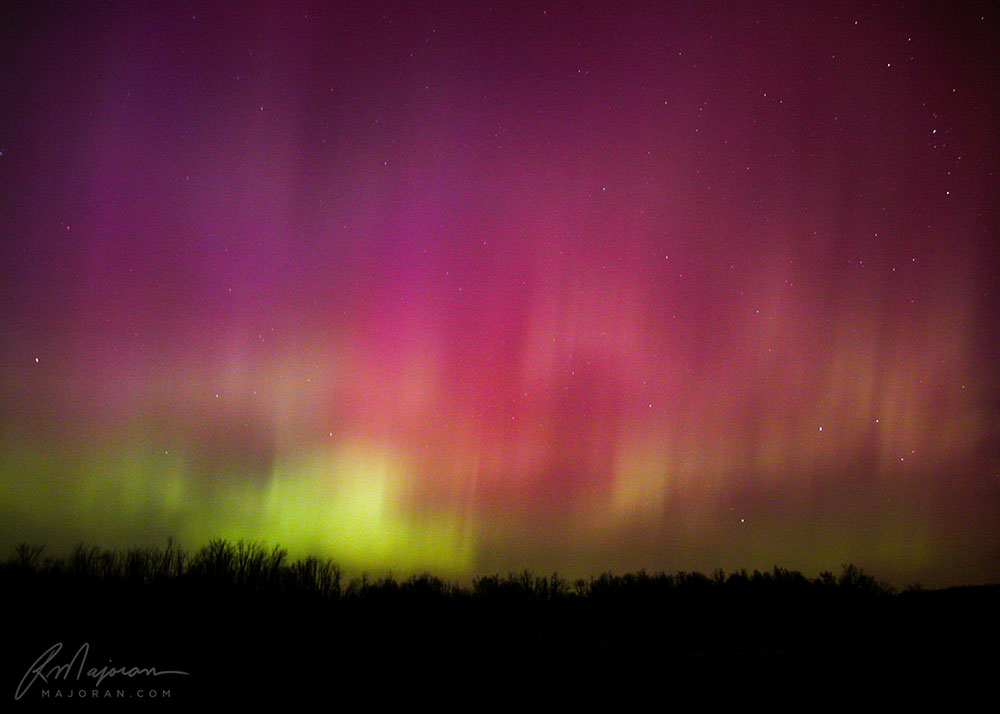 Another huge factor in my favor was that the lunar phase was close to a new moon, so brightness wouldn't be an issue provided that I could get far enough away from the city. Compound that with the fact that auroras are notoriously active around spring and fall equinoxes (March 20 and September 23 in 2015), and this had the potential to be a good night!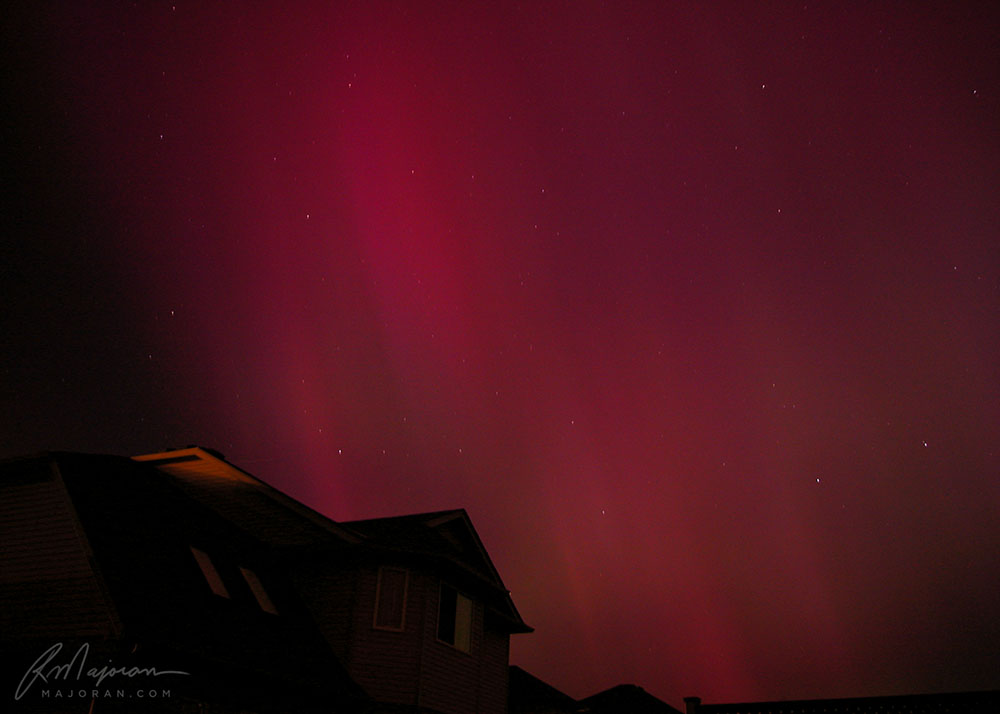 Following my day at the office, I went home, had dinner and prepped all of my photo gear: Canon 5D Mark III body, Canon 24-70 F/2.8 USM lens, Canon 14mm F/2.8 USM II lens, Manfrotto 496RC2 tripod and a Vello Wireless Shutterboss remove shutter release.
And then it happened! At 9:30pm, my phone buzzed. I looked down to see that I'd received an email alert from AuroraWatch, a service that gives me about a 30-minute warning when something magical might be in store. I quickly fired up my web browser to the Facebook feed for Aurora Alerts by Soft Serve News, which also confirmed that satellites had detected the solar stream was on its way!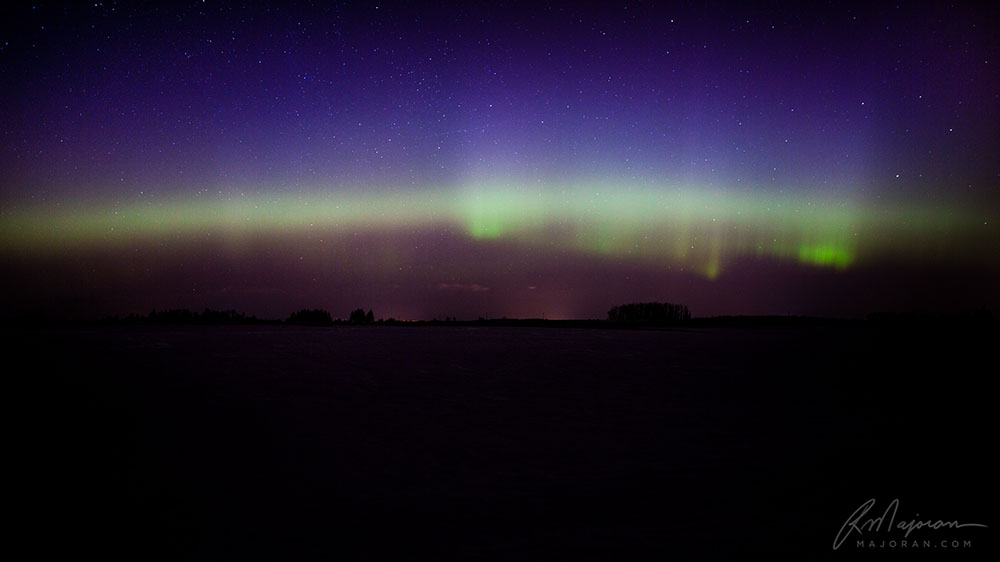 I packed up my gear and hit the road. Within about 10 minutes, I was outside of city lights, cruising down dirt roads in the middle of nowhere. About every 500 meters, I saw cars pulled over to the side of the road with people looking north. The lights were vivid, even with the brightness of my headlights. Finally, I pulled over, jumped out of my car and traipsed through a snow bank into a farm field. I began shooting, intermittently snapping photos of my camera screen with my iPhone and posting them on Facebook, telling my friends to "get the kids out of bed and drive north".
Sadly, the lights only lasted for about 30 minutes, leaving me wanting more. I sat in my car for about another 45 minutes, hoping they would spark up again, but they didn't. I second-guessed myself, regretting the fact that I hadn't driven north 15-20 minutes sooner, all the while thankful that I was even able to see them at all.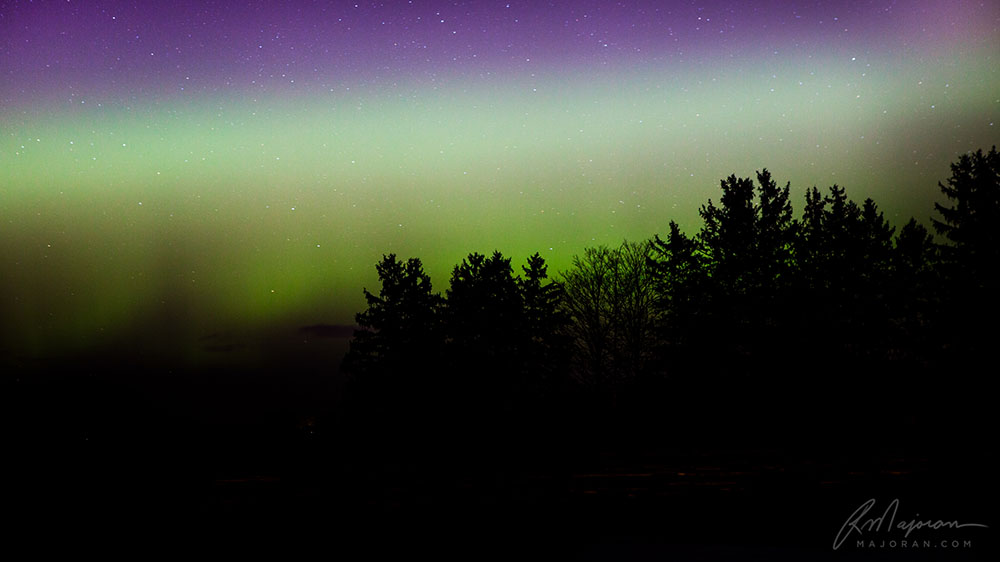 The following morning, one of my photos was featured on The Weather Network; I felt like I had done my job as a Canadian hobbyist reporter. I processed the remaining photos in Adobe Lightroom and posted a few to my website, looking forward to the next time my phone would buzz with an aurora alert, and the adrenaline rush would begin all over again.
There's something beautiful about driving down dirt roads, hiking into fields and chasing the lights. Every opportunity brings a new adventure, and I look forward to each and every one of them.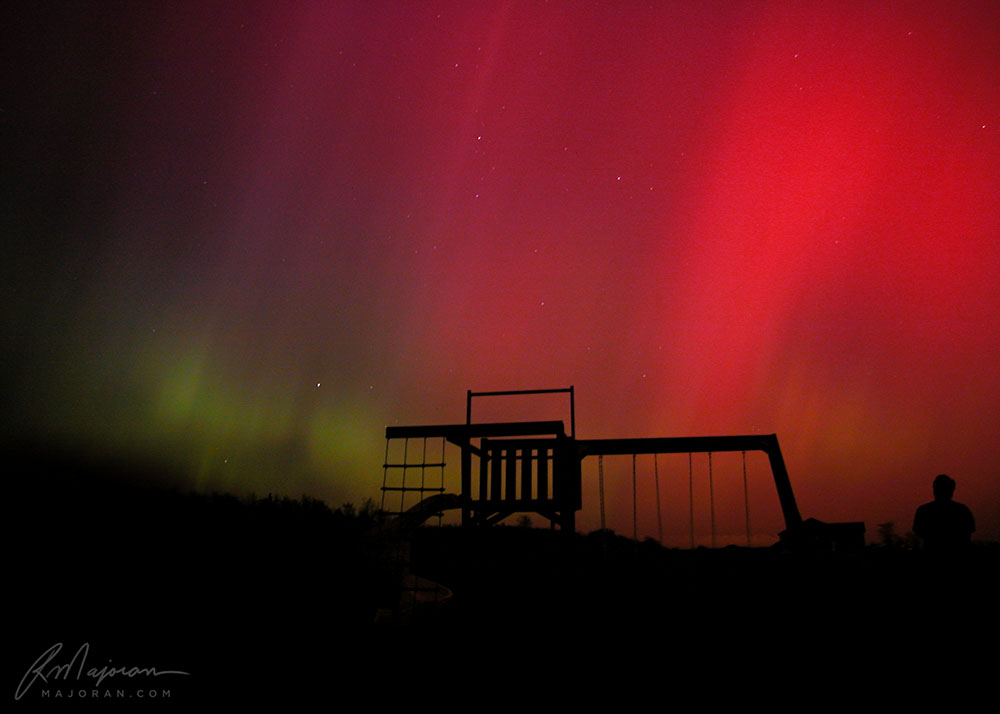 ---
About the Author
Ray Majoran – To view some of Ray's photos visit his homepage (and let it automatically scroll), follow him on Twitter or visit his 500px photography portfolio at life.majoran.com. If you want to know when to see the lights and how to photograph them, you can read his article, The Northern Lights: An Educational Guide From a Lower-Latitude Photographer.