Manfrotto Joystick Heads Win TIPA 2010 Best Accessory Award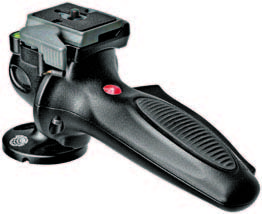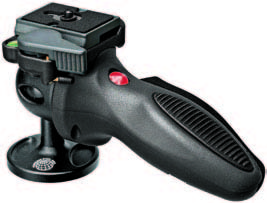 TIPA – the Technical Image Press Association (TIPA) has announced that Manfrotto's new Joystick heads have won the Best Accessory Award for 2010. The award is judged by the editors of 28 of the top photo magazines from nine European countries plus Canada, South Africa and the United States. According to TIPA, "The latest Manfrotto joystick heads offer an ergonomic way of quickly unlocking, moving and blocking a camera, so the photographer can frame and reposition freely. The heads make full use of new technologies and materials to improve both design and technical specifications. They have been optimized to provide intuitive, fast operation, improved comfort and reduced weight."
Manfrotto joystick heads offer a uniquely ergonomic way of quickly unlocking, moving and blocking your camera, so you can frame and reposition freely and frequently to get the perfect photo: grip the head to move the camera and as soon as you release, it locks securely in place.
Two distinct models are now available. The 324RC2 is made of Adapto, an ultra-durable and lightweight technopolymer, optimized for compactness and transportability with a high load capacity and reduced weight. Load capacity is 3.5 kg.
The 327RC2 features a magnesium body shell to provide superior performance and durability, making it the best choice for advanced users with high-end and full frame cameras. Load capacity is 5.5 kg.
The single locking lever allows fast and secure operation – a friction control permits fine framing adjustment and improved camera safety. For complete specifications, and to watch a product video, visit www.manfrotto.ca.
Photoflex Umbrellas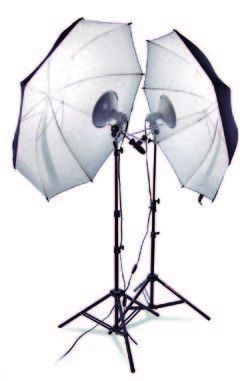 Soften the light for your portraits with the latest Photoflex umbrellas – now manufactured with a new durable ribbing that makes them even more suited to location use. You can purchase the umbrellas individually, or as part of the First Studio Portrait Kit. The kit includes two FirstStar light heads, two FirstStar 250 watt lamps, two 43" silver umbrellas, and two 2205 LiteStands. For additional information on the Photoflex line of lighting products, visit www.photoflex.ca.
Kata Bag Wins Red Dot Design Award!
The Kata Bumblebee ULB222 has been declared a winner of the reddot award for 2010 in the "Entertainment Technology and Cameras" category, joining the iPod nano and the Nikon D3 among the prestigious list of winners in this category. The reddot design award is an international design competition. This year more than 1,600 companies from 57 countries took part in the competition with a total of 4,252 entries Kata's Ultra-Light collection is designed for those in search of the exceptional, who will not settle for less than outstanding performance! Combining technology, materials and design to provide state-of-the-art products is the essence of Kata's philosophy of Lightweight Protection without compromise. The Bumblebee ULB222 uses the lightest weight materials and technologies available such as the Aluminum Skeleton, Gecko Harness, Aeriform foam, Spine Guard and Spider Webbing straps. The Bumblebee ULB222 is so light you may forget you have one on!
This backpack can easily transport a pro DSLR with a 70-200 F/2.8 lens attached, an additional body, 4 lenses, flash, accessories, a 17" laptop and personal gear. Reducing the number of unneeded elements in the pack can further reduce the working weight of the bag as much as 2.2lbs to its minimum weight of 3.3lbs!
For more information on Kata's unique features, visit the website at www.kata-bags.ca.
Quantum Qflash TRIO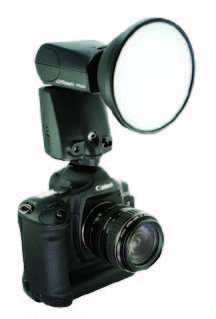 The new Qflash TRIO QF8 could be the ultimate location flash for the busy photographer. Combining a Qflash head with builtin FreeXwire TTL radio and QTTL adapter for your digital camera, the Qflash TRIO slips into your camera's hot-shoe, you then connect a Quantum Turbo powerpack, and away you go! The Qflash is great for action shooting, you can shoot an unlimited number of rapid-fire, full power flashes.
The Qflash TRIO's radio sends TTL commands to other remote Qflash TRIO's. You can configure distinct modes and settings of remote Qflash TRIO's from the on-camera TRIO.
For more information on Qflash, visit the website at www. quantum-flash.ca.