PHOTONews Magazine's Holiday Gift Guide for 2010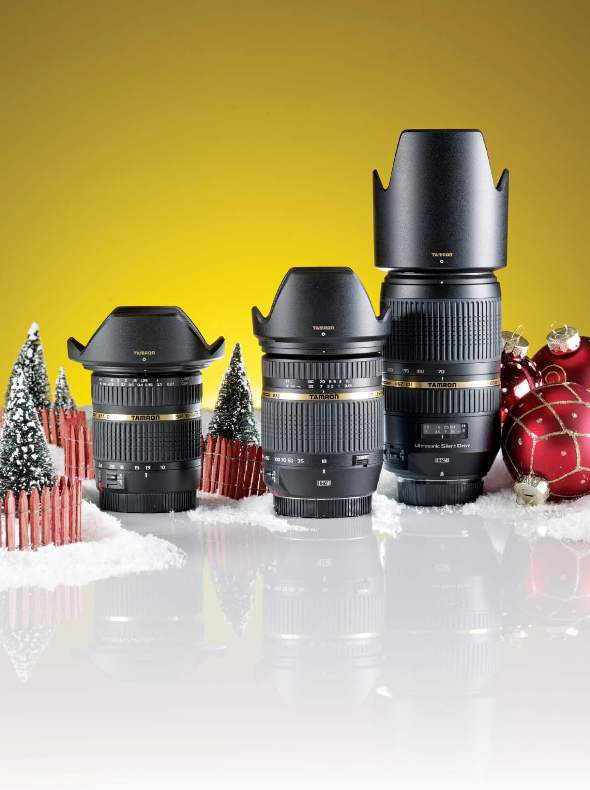 Tamron AF 10-24mm f/3.5-4.5 Di-II Ultra Wide-Angle Zoom Lens
Designed exclusively for your DSLR with a smaller-sized sensor, this ultra-wide focal length will enhance you your landscape and travel photography. Fully compatible with Canon, Nikon, Pentax and Sony DSLRs.
Tamron AF 70-300mm VC f/4-5.6 Di VC USD Telephoto Zoom Lens 
Ideal for your action, portrait and landscape shots, it uses both an Ultrasonic Silent Drive (USD) for fast, quiet autofocusing, and Vibration Compensation (VC) for sharp, hand-held images that would not be possible with a non-VC lens. Fully compatible with Canon and Nikon DSLRs with full-frame and smaller-size sensors.
Tamron AF 18-270mm f/3.5-6.3 Di-II VC Wide to Telephoto Lens 
With a 15x zoom ratio and designed exclusively for DSLRs with smaller-sized sensors, this is the perfect all-in-one travel lens. The Vibration Compensation (VC) feature allows for shooting at slower shutter speeds, such as low-light scenes. Fully compatible with Canon and Nikon DSLRs.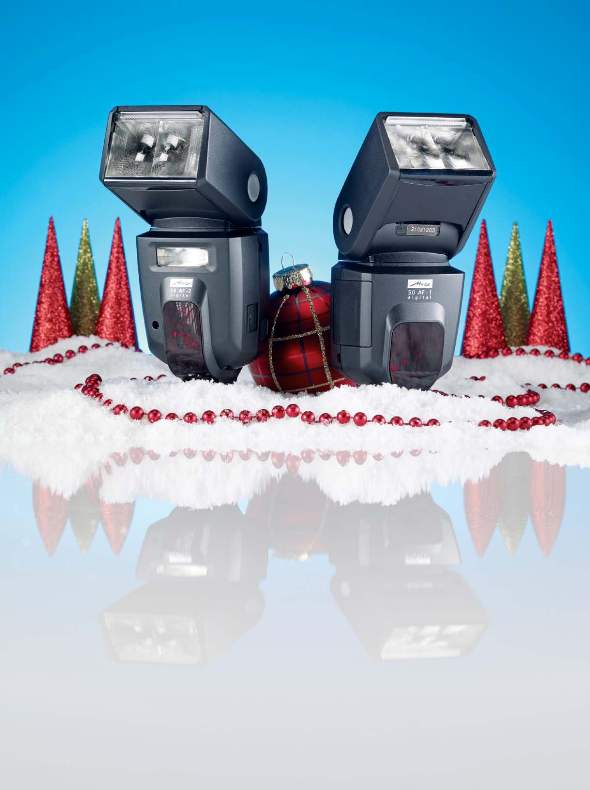 Metz 58AF-2 
Professional power for less money. The Metz 58AF-2 is perfect for any event/wedding photographer with its unique secondary fill flash to eliminate shadows when bouncing flash.
Metz 50AF-1 
Power, Simplicity & Compatibility. The Metz 50AF-1 can be used wirelessly with any camera with its unique servo mode or as a wireless TTL remote flash.

Visible Dust Arctic Butterfly 724 
Equipped with 2 super bright LEDs, the Arctic Butterfly 724 makes sensor cleaning a breeze. The built in motor means no canned air required, perfect for traveling.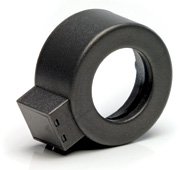 Visible Dust BriteVue Sensor Loupe 7x
Featuring 6 Super Bright LEDs and High Quality Optical Glass, the BriteVue Sensor Loupe 7x reveals the smallest dust particles on your DSLR sensor.
Lumiquest Mini Softbox 
This small softbox will improve the quality of light from a dedicated flash. It attaches in seconds with velcro and folds flat for easy transport.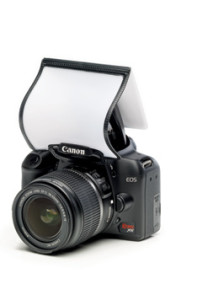 Lumiquest Soft Screen 
To improve the quality of light from your built in flash, the soft screen will reduce the harshness of your flash. It folds flat and can be set up in seconds.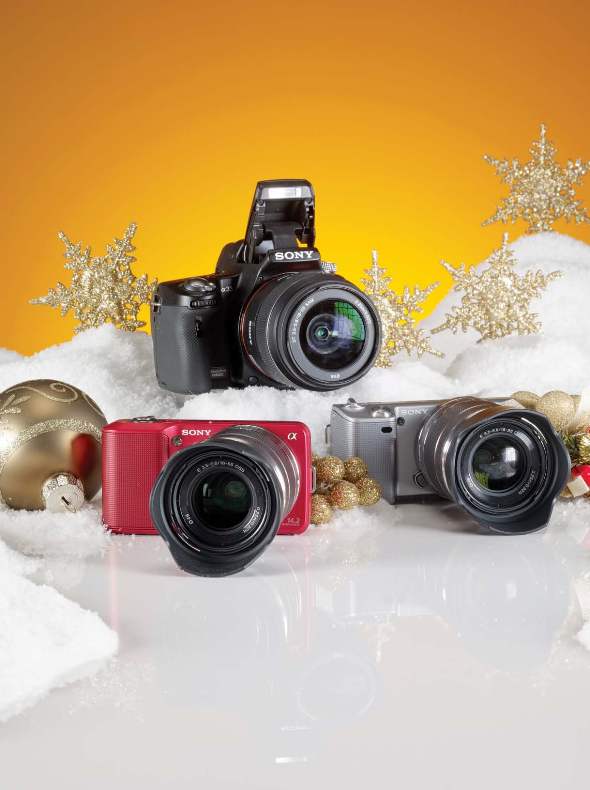 Sony A33 DSLR camera with 18-55mm lens
Change the way you shoot pictures with Sony's award winning camera with Translucent Mirror Technology. Shoot 7 frames per second or HD video with the fastest movie autofocus of any DSLR on the market.
Sony NEX Compact Interchangeable Lens cameras
Go where no DSLR has gone before with Sony's game changing NEX cameras. They offer an APS-C sized HD CMOS sensor and interchangeable lenses for DSLR caliber quality, but with the size and simplicity of a compact camera. Be inspired to shoot HD movies and holiday photos with beautifully defocused backgrounds like a professional.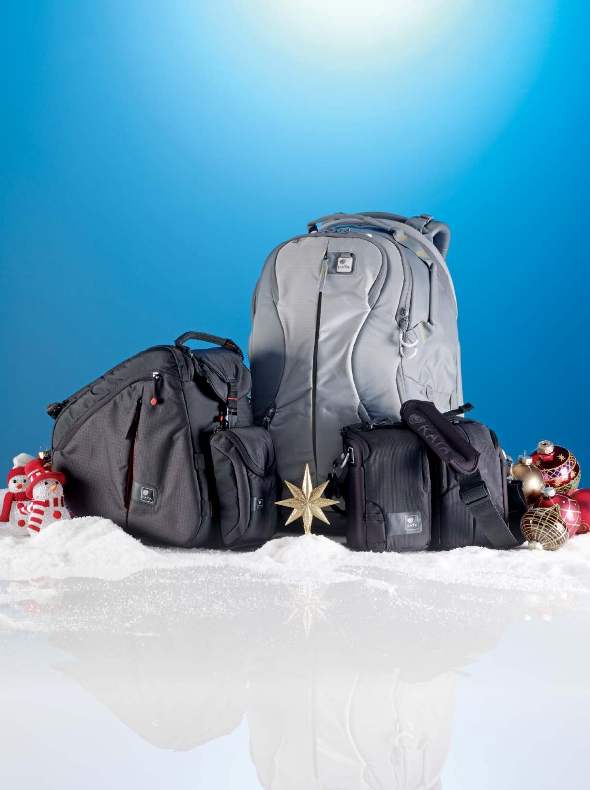 Kata Bags KT PL-LT-317 
The LighTri is uniquely designed to keep your DSLR in quick-draw position at all times, and the top flap features both a right and left "pull to shoot" opening. Carry your gear either on your back or on your torso and simply switch from one position to the other by swinging the bag from back to front to grab your camera for shooting. Four sizes available for a variety of equipment!
Kata Bags Ultra-Light Bumblebee-222 Backpack
The lightest and most technologically advanced photo backpack on the market! Featuring dual compartment design for a DSLR with multiple lenses and accessories, and plenty of space for personal items.
Kata bags DL-H-531-B D-Light Hybrid-531 Dl Shoulder Bag
Made from lightweight durable Ripstop nylon and designed to carry a still camera and a video camcorder in a single bag that can be split in two. Includes shoulder straps and detachable rain cover.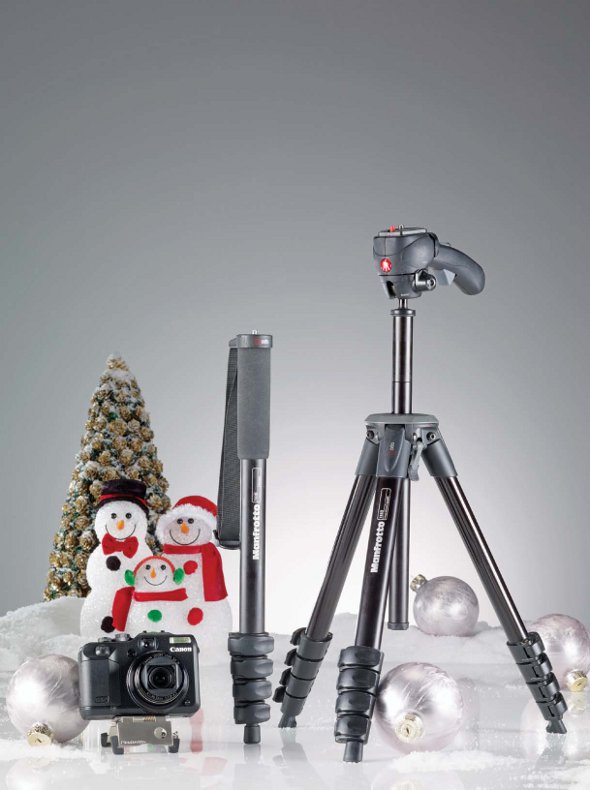 MODO 785B Tripod with Photo/Video Head
A compact tripod for both photo and video use, it folds down to 17" and reaches 59" high. Ideal for your compact or bridge camera, as well as small camcorder.
MODO 790B Monopod
A full height 5-section monopod folding down to 15½" , offering stable support for your compact digital camera or DSLR with kit lens.
MODO 797 Pocket
A table-top pod that folds up completely flat to stay attached to your compact digital camera. Very useful for self-timer, low-light and long-exposure shots.
Canon G12 
The G12 is loaded with powerful technologies. Canon's HS SYSTEM, 2.8" Vari-angle LCD, and RAW + JPEG image modes. Plus, new upgrades like HD Video, multiple aspect ratios and High Dynamic Range.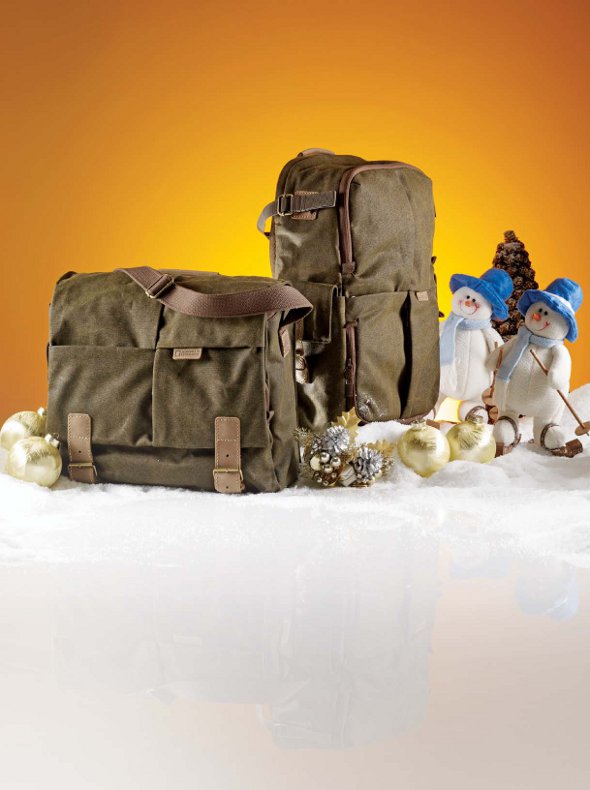 National Geographic NG A2560 Africa Series Medium Satchel
Made from water-repellent 100% cotton, and designed to carry and protect a D-SLR or camcorder with media accessories. It also holds a laptop computer with a screen up to 15.4".
National Geographic NG A5270 Africa Series Medium Rucksack
Designed to carry and protect a D-SLR camera or camcorder with media and accessories, plus a laptop computer with a screen up to 15.4". An upper storage compartment holds personal necessities. It is made from water repellent 100% cotton with a padded interior.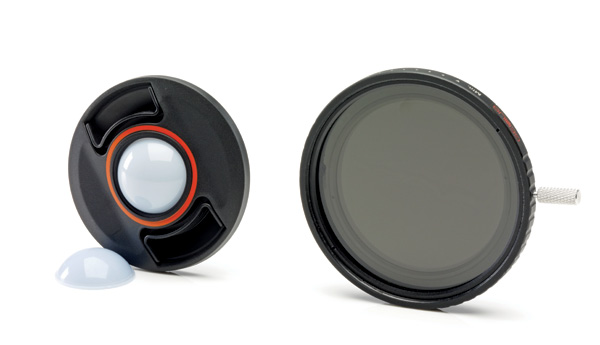 BRno White Balance Caps
These lens caps are the easiest solution to get perfect white balance in seconds. Since it's a lens cap, it's easy to carry and will always be with you.
Genus ND Fader
The Genus ND Fader is a variable neutral density filter that offers 2-8 stops of light reduction with a simple twist of your wrist.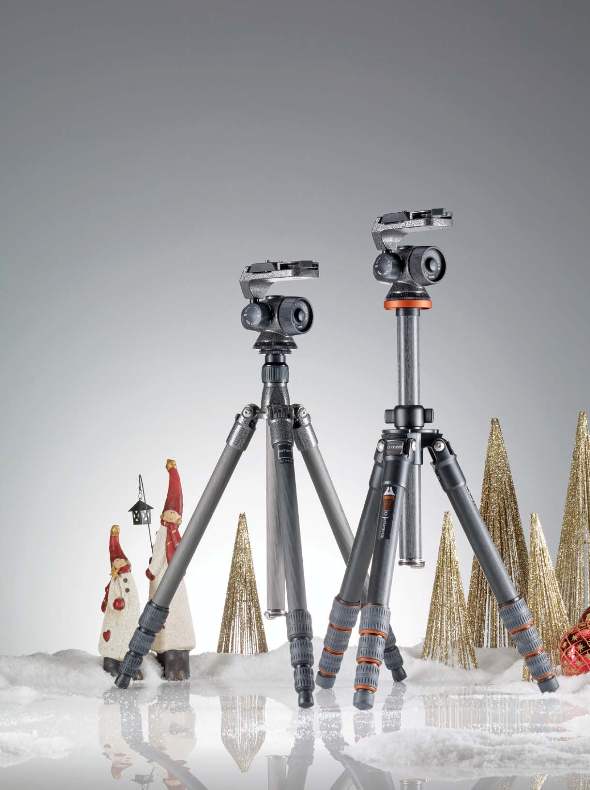 GT1541T Traveler Series 6X Carbon Fiber Tripod Legs
Ideal for your DSLR with zoom lens, miniDV camcorder or spotting scope. It uses light-weight 6x carbon fiber construction, a unique 180O folding leg system for compact carrying, while offering a standard working height tripod. Ideal for photographers on the move or when space and weight are key factors. Tripod head not included.
GT2840C Series 2 Basalt Compact Tripod Legs
Made of basalt rock, this lightweight tripod is a great choice for your DSLR using long telephoto lenses. It can be set-up from eye-level to as low as 1.5 ft. from the ground for all types of shooting. Tripod head not included.
GH2750QR Series 2 Off-Center Magnesium Ball Head
An off-set ball head for versatile camera positioning, offering smooth rotation, strong locking knobs and quick release plate. An independent rotating base makes your panoramic shooting easy!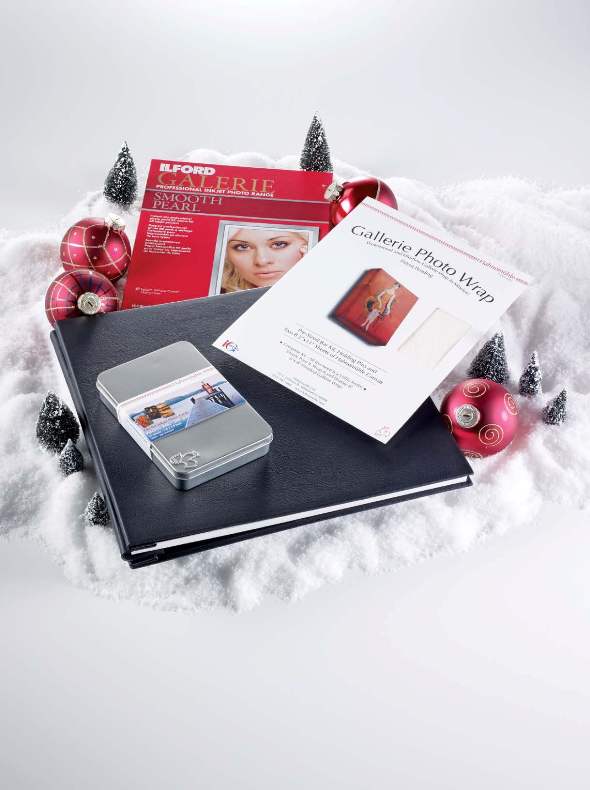 Ilford Galerie
Offering excellent colour reproduction, high sharpness and a finish that eliminates glare and finger prints, Galerie Smooth Pearl is the perfect inkjet paper for printing your favourite images! 5 Bonus Sheets of double-sided Lustre paper included!
Hahnemuhle Gallerie Photo Wrap
Gallery Wrapped images on canvas are the hottest display product on the market and now you can do it at home. The kit contains everything you need to print and wrap an 8 1/2 x 11 image, including two sheets of canvas and one wrap kit.
Hahnemuhle FineArt Inkjet Photo Cards
The perfect way to remember that Special Occasion. 30 sheets of Hahnemühle FineArt paper in 4″ x 6″ format complete with a storage tin embossed with the timeless Hahnemühle Rooster logo.
Hahnemuhle Black Leather Album
The luxury of leather and stunning Hahnemühle Photo Rag Duo double sided inkjet paper combine to give you an album of images that anyone would be proud to own and display.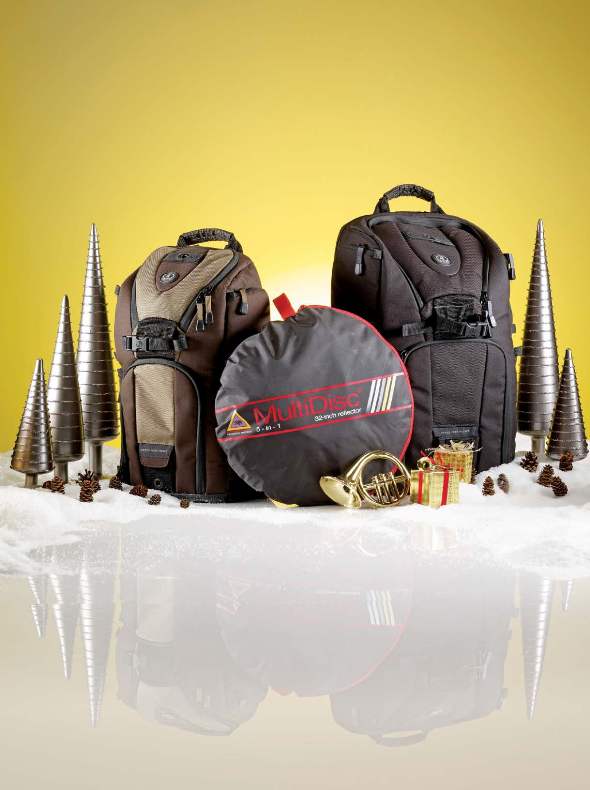 Tamrac Evolution 6
More than a sling bag or a backpack. Tamrac's Evolution 6 can be used as a very comfortable backpack or as a fast access right/left shoulder sling bag with capacity for up to a 70-300 lens. Features built-in tripod holder. Available in Brown/Tan or Black/Grey
Tamrac Evolution 8
More than a sling bag or a backpack. Tamrac's Evolution 8 can be used as a very comfortable backpack or as a fast access right/left shoulder sling bag with capacity for up to a 70-200 F2.8 lens. Features built-in tripod holder. Available in Brown/Tan or Black/Grey.
Photoflex MultiDisc Kit
Five surfaces in one package! Improve your lighting in your images with a MultiDisc. This kit comes with a 42″ MultiDisc, LiteDisc holder and a stand.