Trevor Sherwin brings us along on an adventure through the Don Valley Mountain Bike trails in Toronto, ON. Utilizing the Photoflex TritonFlash kit, Trevor explains the benefits of the system while showcasing some real world lighting setups.
Over the next month, we'll be featuring some blog posts from Photoflex on the benefits of the Triton kit and some lessons on using flash photography for capturing the peak action with great light. We've also been given a Photoflex TritonFlash kit to giveaway to one lucky PhotoNews reader. You can enter the contest on Facebook by clicking on the badge below the video. Good luck!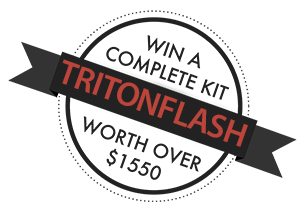 Don't forget to enter the Facebook contest to win a TritonFlash of your own!
Photographer: Trevor Sherwin | PhotoTraining.ca | facebook
Biker: Mike Last | MikeLastPhoto.com
Music: Monophonic – All Around
Camera: Canon 5D Mark III / Tamron 24-70mm F2.8 VC
Flashes: 2x Photoflex TritonFlash / 1x Canon 580EXII
Video: Nikon D800 / Tamron 24-70mm F2.8 VC + Canon T3i / Tamron 10-24mm F3.5-4.5