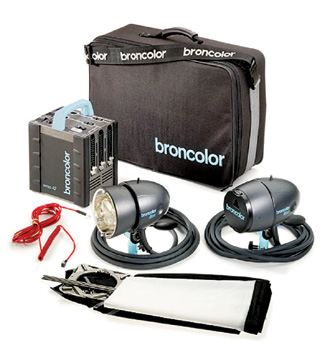 One of the highlights of Photokina 2010 was the introduction of the new Broncolor Senso and Litos system. Compact and robust, this new design is ideal for the professional shooting on location, or for studio situations.
The Senso power pack is available in two power classes: 1200 J* (A2) and 2400 J* (A4). With two channels and 3 outlets you can select symmetry or asymmetry modes. The wide range of 6.5 f/stops in symmetry mode is comparable to the well-known Grafit system, and there is a 5-f/stop range in asymmetry mode. The power pack is intended for studio or location applications on AC supply. With recycle times of 1.5s for the A2 and less than 3 seconds for the A4.
Design follows functionality in this new power pack. The front of the Senso displays a clear arrangement of the operating controls. Two digital LED displays allow very accurate power control, and you can switch display modes between f-stops and Joules.
With capacitor switch-off it is possible to control the power pack over 3 f-stops with constant colour temperature. Over the whole range you have colour temperature consistency of +- 100 K. A sophisticated cooling system works when required, assuring long lifespan for the unit.
Senso is small but tough. Rubber gaskets absorb shocks in location situations. The bottom plate is closed, so even in wet surroundings the power pack can be used. Senso can be operated worldwide thanks to a switchable voltage selector.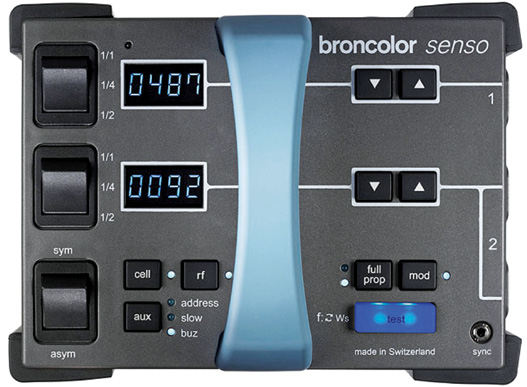 Senso delivers fast flash durations. On the A2 you reach full power at 1/600, with A4 1/300. The modelling light supports up to three 650W tungsten lamps. Triggering the flash is possible over synchro, a photocell and new radio triggering system. There are 99 studio and unit addresses for maximum flexibility in planning and controlling your studio equipment.
The Litos lamp is compact, modern, and delivers outstanding performance in a multifunctional unit. The design is durable and versatile. The housing protects lamp heads during transport, and it can be used as a standard reflector.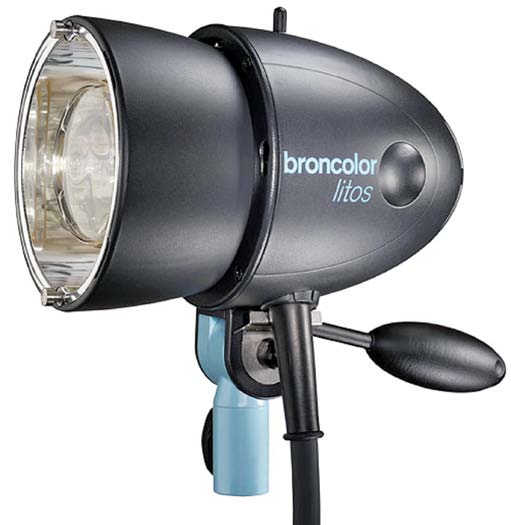 The housing is heat resistant and breakproof due to a fibreglass reinforced polyamid material. With one 2400 J flashtube and a 300 W modelling light you will hold a powerful lamp head in your hand. A pan/tilt head is integrated in the design. When you need a hard light – the Litos standard reflector is ideal. If you need a soft light use the optional Flex 70by70. If you plan to shape the light, no problem – the bayonet mount offers you access to the whole range of Broncolor accessories.
Litos is intended to work with Senso only. Compatibility with Broncolor accessories offers substantial flexibility for long-term use.
The Senso and Litos will be offered in four different Kits, including power packs, lamp heads, flex 70by70 and synchro cables.
For more information on the Broncolor line, please visit www.bron.ca.
* Joules are approximately equivalent to Ws.