In this article, we will take the big step up to the larger format home printers that bring gallery format photos to your digital darkroom.
13×19-inch Format Printers
At one time, printers of this format were very expensive and primarily targeted professional studios. These days however, some of the machines are downright affordable, so they're very attractive even to scrapbookers who need 12×12" prints. And even the high-end models with the most sophisticated technology and pro features sell for under $1000. Let's take a look at the best of these, and briefly consider some more affordable alternatives.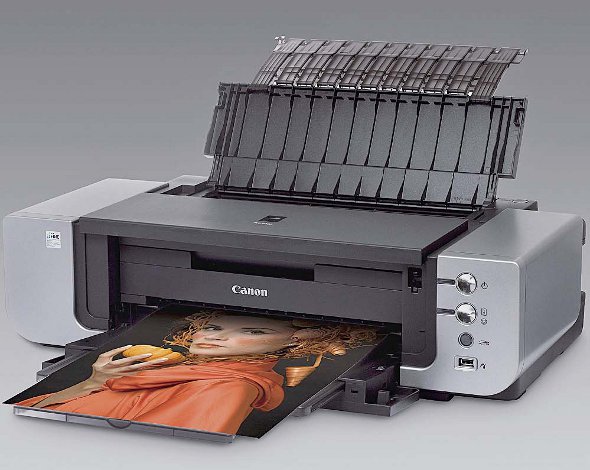 Canon Pixma Pro9500 Mark II: This 4800 x 2400dpi machine employs the Fullphotolithography Inkjet Nozzle Engineering (FINE) technology and a 7,680 nozzle printhead firing microfine droplets. It also boasts many features: RAW file printing from Canon pro software, 16-bit per channel printing, a dedicated Monochrome mode and Ambient Light Correction. The latter should ensure that a print will look similar in all types of lighting conditions.
The flat media path can handle a vast range of fine art media of several brands, including thick papers (up to 1.2mm) such as Baryta and canvas. (Roll paper cannot be used.) While the Pro9500 Mark II is not super fast, this pro-oriented machine makes gallery quality colour prints using a full ten Lucia pigment inks, including gray, black and matte black for neutral and gorgeous monochrome prints. Estimated print permanence is 100 years, on display, when using certain media. (Street Price, $900)
The more affordable Canon Pixma Pro9000 Mark II ($500) features the FINE technology too, and supports thick media, but it's faster and employs eight ChromaLife 100 dye-based inks. Colour prints are vibrant and absolutely stunning; monochrome prints are highly acceptable. Estimated print permanence is 100 years in an archival album or 50 years on display.
Epson Stylus R2880: Suitable for professionals who need exhibition-quality prints, this 5760x1440dpi machine is just as popular among serious photo hobbyists. Employing a high-performance Advanced MicroPiezo AMC print head with 1440 nozzles firing micro fine droplets, it uses eight UltraChrome K3 inks – with two blacks simultaneously – and ships with an incredibly versatile driver software. The R2880 can produce superlative results: richly saturated colour prints of gallery-quality with a wide colour gamut and consistency when viewed under any type of light.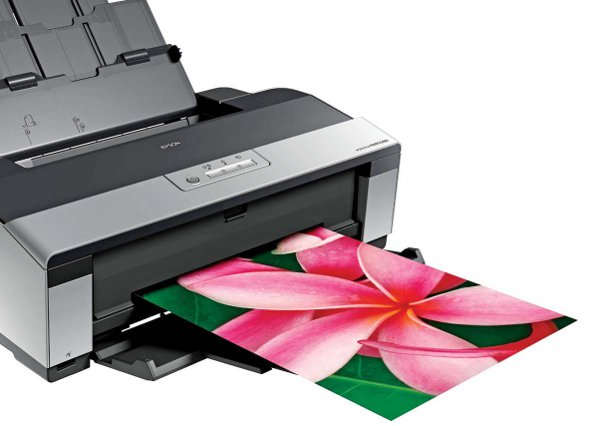 Advanced Black-and-White mode is very useful too for perfectly neutral (or warm, cool or sepia if desired) prints that satisfy the most demanding traditionalist. The front paper path is suitable for fine-art media as thick as 1.3mm in cut sheets or rolls; it can make prints as large as 13×44". The estimated on-display permanence is 200 years, when made with certain media. While the printer and the inks are expensive, the R2880 is the leader in the 13×19" category. (Street price, $900).
Selling for about 50% less ($600), the fast enthusiast-level Epson Stylus Photo R1900 employs a similar print head to spray even smaller droplets of six UltraChrome Hi-Gloss2 pigments, including red and orange and Photo Black or Matte Black. When using certain media, the printer also sprays a Gloss Optimizer. It can provide stunning prints with a wide colour gamut and very good monochrome outputs. This machine also accepts thick fine-art media (to 1.2mm), in cut sheets or rolls for sizes up to 13×44". Depending on the media used, the on-display permanence rating is up to 150 years.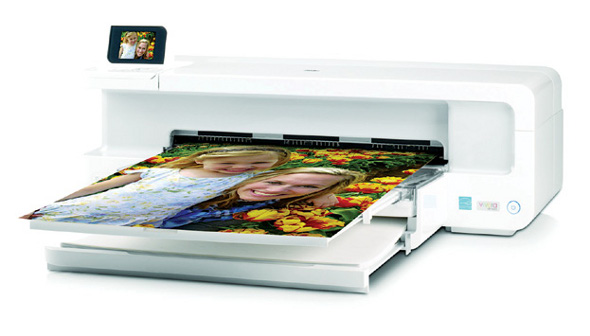 HP Photosmart Pro B8550: Quite affordable for a 13×19" format photo printer ($350) with up to 9600×2400 optimized dpi resolution, this one is particularly popular. It's equipped with versatile printer software for creative projects plus extras such as Photo Fix, Auto Sharpening, Adaptive Lighting and Auto Red-eye Removal. Other useful features include a 2.4" LCD screen, slots for direct printing from memory cards and USB keys, plus Bluetooth compatibility with an optional adapter. This 13×19" format machine can make fully saturated colour outputs using four Vivera dyes, including black, in individual tanks. It also accepts a larger black pigment cartridge that's used when printing documents.
While the Pro B8550 accepts only cut sheets, it can use media longer than 19 inches (up to 44") in weights up to 252 g/m² (or "24 pound bond"). The print permanence rating is impressive for a machine using dye inks: 100 years on display and 200 years in an archival album, when using certain papers. It's not super fast but does make beautiful colour photos and good monochrome outputs with a decent tonal range.
Use Genuine Inks
It may be tempting to use aftermarket inks to save money and that approach may be acceptable when printing Web pages using a cheap second printer. (Of course, some ink cartridges include a feature that renders them inoperable if re-filled.) But the machine you use for photo printing should remain pure, employing the manufacturer's cartridges with the inks required to optimize the Micro Piezo, FINE or other technology.

The suitable inks are also formulated for maximum consistency so you won't experience unpleasant surprises when printing the same image in the future. And it will also ensure the optimal print permanence; some aftermarket inks are simply not very resistant to fading and colour shifting.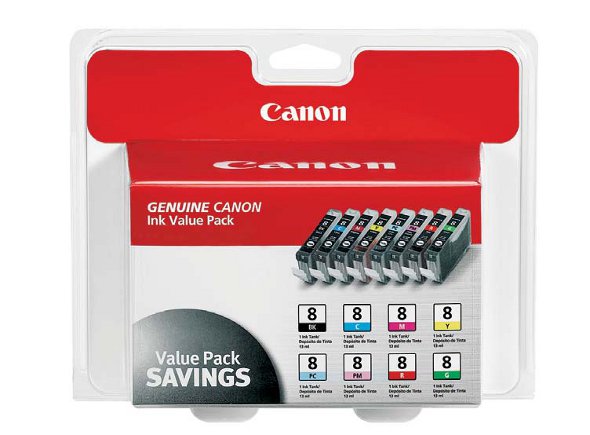 A couple of years ago, PC World magazine commissioned the prestigious Wilhelm Imaging Research lab to conduct durability and image quality tests with Epson and aftermarket cartridges. Epson cartridges offered overall better durability, image quality and reliability. (This finding is likely to be similar with Canon and HP inks too.) And reliability is a significant factor as the magazine indicates. "Judging from our experience, finding a reasonably priced substitute for brand-name ink can be a risky business… you may have to spend a lot of time cleaning clogged print heads."
More recently Wilhelm Imaging Research conducted a study of many aftermarket ink jet cartridges and refilled cartridges and found that they did not meet the same standards as genuine inks in light-fading stability. While the aftermarket inks vary, there's simply no way to know which might be acceptable and which might lead to fading after a couple of months.
Try New Types of Media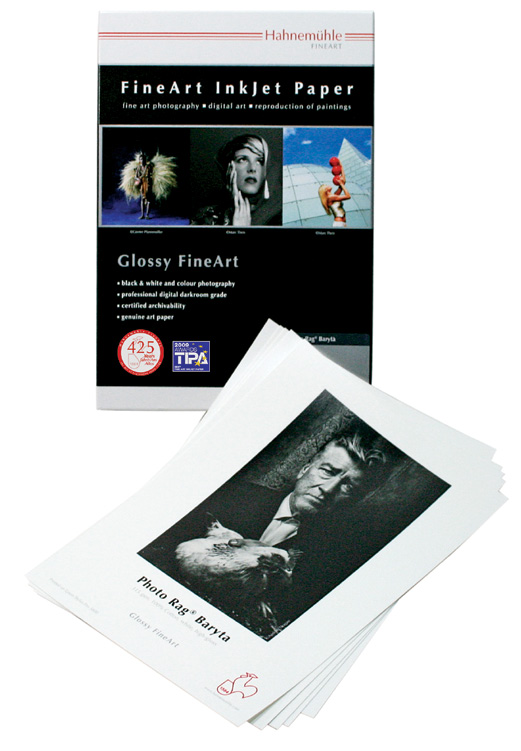 Many inkjet photo printers — particularly the high-end 13×19" models — accept a wide variety of media, from bond paper to photo paper to specialty paper such as watercolor or canvas. Most people tend to use only a few types, especially the standard photo glossy and photo matte and they're fine for getting started. Of course, there's a wealth of other inkjet media in top-rated brands such Hahnemühle FineArt and Ilford Galerie Professional. You may be amazed at the results you'll get on inkjet canvas, watercolor, Photo Rag, Baryta, Gold Fibre Silk and etching papers. Textured papers especially add a tactile element that draws the viewer into the image.
Compatibility: Both the Hahnemühle.com and Ilford.com sites provide ICC profiles for downloading as well as and advice re: suitable settings for Media (an essential item) in the printer drivers of specific inkjet machines. Nearly all of the inkjet papers of both brands (except Ilford Classic) are pigment compatible so they're suitable with virtually any high-end or pro-calibre inkjet printer.
Do note however that certain media are available only in wide format: 17-inch rolls, suitable only for the larger machines such as Canon's imagePROGRAF and Epson's Stylus Pro wide format models. But there's a wide range of media in cut sheets too. I strongly recommend buying a starter pack including at least eight different types of inkjet paper.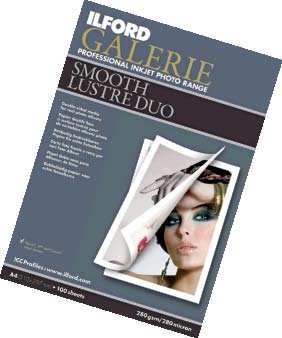 Ilford Galerie: The Professional Inkjet Photo Range includes many options that most photographers would love, available in four distinct series, Gold (best with pigment inks), Smooth, Classic (only for dye based inks) and Graphic (in wide format rolls only). The Ilford Galerie sample pack that I tried provides Smooth Pearl, Smooth Gloss, Gold Fibre Silk, Smooth Heavyweight Matte, Smooth Lustre Duo, Smooth Fine Art, as well as Classic Gloss and Classic Pearl. My favourite was the Gold Fibre Silk, a baryta coated fibre base paper (recommended especially for pigment inks) with a slightly warm tone, a subtle stipple finish and a wide colour gamut for very vivid photo prints with high sharpness.
Hahnemühle Fine Art: This German company has been making high-grade papers for 426 years. Their media for digital printing includes a superior ink receptive coating that's perfect for use with either pigments or dyes. This brand particularly targets photographers who make and print fine art images, with a wide range of very traditional inkjet-compatible media and some unique products.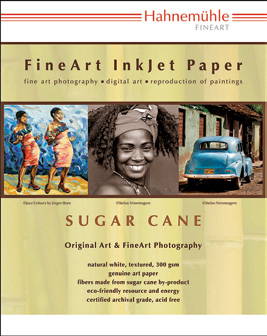 I tried two of the Hahnemühle Fine Art Inkjet sample packs, providing an opportunity to be more adventuresome with media such as Daguerre and Monet Canvas, Baryta Fibre Base, various types of Photo Rag, both Sugar Cane and Bamboo as well as really gorgeous gallery and museum style paper including German Etching (100% Cellulose) and William Turner (100% Cotton). Since I had not tried canvas previously, I really appreciated working with Daguerre Canvas with high white brightness that provides clean colours and snappy contrasts; it's also highly suitable for monochrome reproductions.
Experiment: Even if you follow the technical advice provided by the paper manufacturer's Web site, be prepared for some artistic experimentation. Adjust the color balance, saturation, sharpness, and contrast to achieve the perfect effect for any type of subject. Make test prints until you find just the right combination of settings that provide the optimum results. An important part of the creative process, the paper that you select – and your printing techniques – can make a major difference. A willingness to go beyond basic techniques will pay dividends, helping to enhance your best images.