About the Author: Maxime Plantady  (www.maximeplantady.com)
Being a tourist in your own city
After 10 years of living at the same place in France, I was not really inspired to take pictures of my own city. After a while, I think it's natural to stop noticing small details. You simply get bored of your daily surroundings, waiting for the next thrilling event or trip overseas to enjoy photography. Moving to Montreal makes me realize that fact: a new city and a new country and a fresh start with endless photographic possibilities.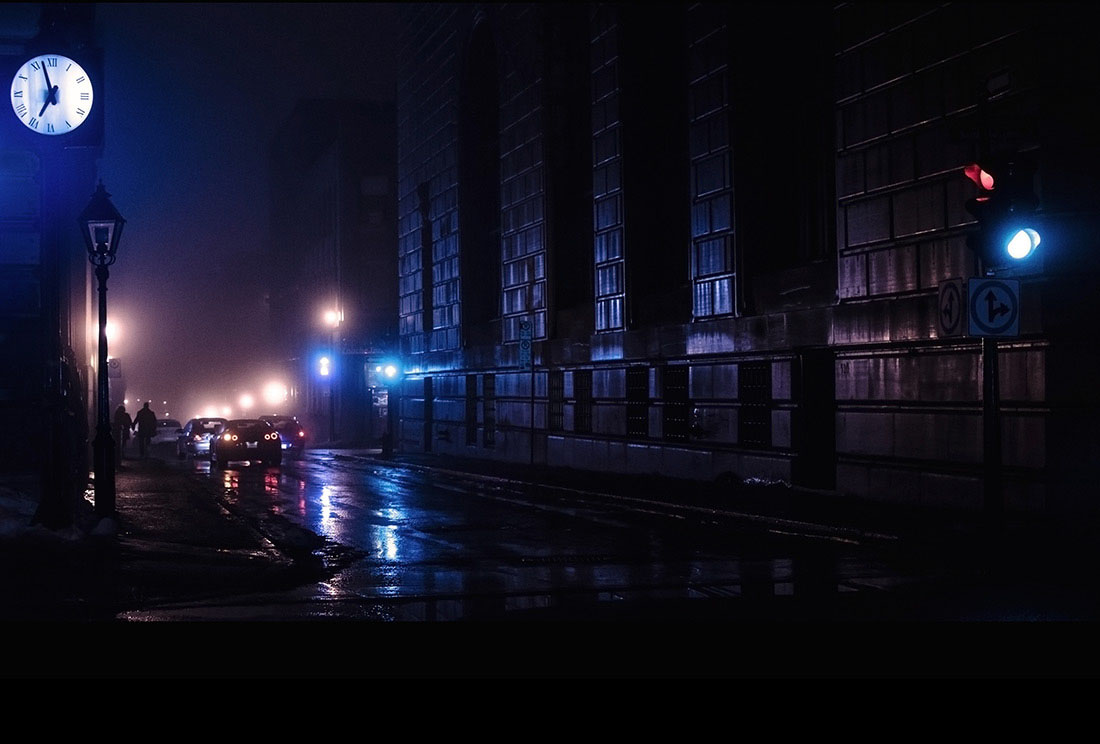 Strolling around my new neighbourhood quickly becomes a routine. I find it helpful to sustain my motivation: act as a tourist and be aware of what's happening next to you. Sometimes I discover new interesting places, but I have the feeling that the light or the street arrangement can be better. I know I just need to be patient. I can come back as many times as I want, until I find the golden hour. After all I live here! Every season is photogenic, especially in Montreal, and it's always a blast to rediscover a familiar place during a snowstorm for instance.
The chaotic urbanism and architectural diversity is a part of Montreal's appeal too. I presume it's one of the reasons that during summer so many Hollywood cinematographers are shooting in the heart of the Old Montreal. I have the chance to live there, and it sometimes makes me feel to be part of a movie, and that's why I've decided to start a photography project based on the theme Living in a Movie.

My own cinematic interpretation
The classic tendency of cinematic photography is to take portraits of charismatic people in the street during a fleeting moment. In addition to colour grading, muted palette and shallow depth-of-field, the image is often desaturated, to look like a particular type of movie. I admire many photographers who are masters in this art, but even if they inspire me, I've chosen a different approach for my project.
In "Living in a Movie", my goal was not to take pictures that look like a movie, but to express the feeling of being literally in the scene. That's why most of my photos are taken in a first-person point of view, as if it was the vision of the main actor. All unknown people in the frame are relegated to a position of onlookers or secondary actors.
I also attempt to represent diversity in movies to emphasise the wide variety of architectural styles present in the city. Not all movies are grayish, so I sometimes overuse colour grading to keep a colourful approach and to give the impression that each photo was from a different film.
A few more constraints
When you start a project with a theme in mind, some constraints are self-evident. In my case, it was obvious that I was going to shoot in letterbox landscape mode and publish only material taken in Montreal.
But I chose to add some more constraints, and I think these little challenges helped me be more creative. Shooting wide open quickly turns into a habit, so this time I forced myself to draw attention to every detail in the background; keeping everything in focus with sharper pictures. With a majority of photos taken at dawn or night, it become a challenge to always walk on a razor edge between high ISO and acceptable results.
It was important to me as well to work on the storytelling part, so I've decided to work on diptychs. Each photo is paired, though not necessarily taken the same day, to develop minimalist stories. It is an excellent exercise – it's not easy though and I still have many lonely great shots waiting for a match.