What Size Flash Modifier Do I Need?
Most photographers, after they have added a couple of lenses, will invest in a Flash – also known as a Speedlight for their camera. There are many advantages to adding a Flash to your camera bag. This series of articles will help you choose not only which modifiers you need, but how shape, size, type and colour can affect your photos.
This issue's article concerns Flash Modifier Size – How big is big enough? How small is small enough? Is there a jack-of-all-trades modifier that will meet most of my needs? Let's take a look at our line-up: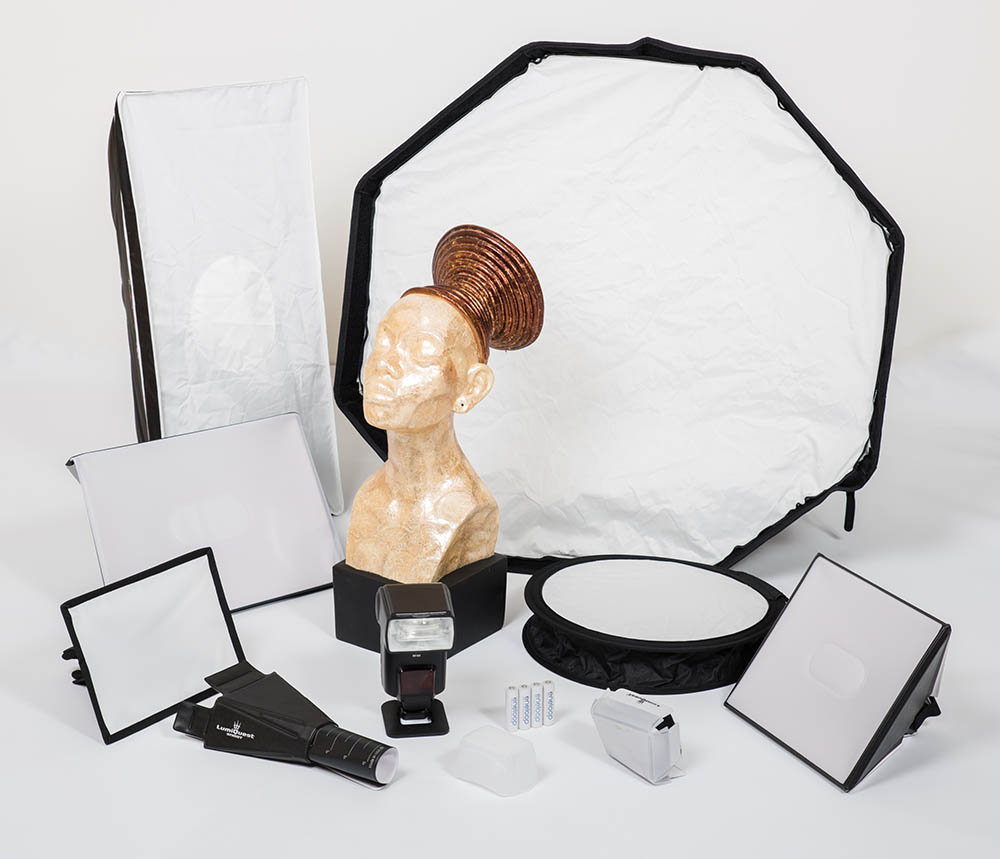 I'm starting with the a Cactus RF60 – a fully manual flash with a built-in transceiver. The reason for this flash is that it's output is consistent – whether on camera or off-camera – I can ensure the same power output. I'm using Eneloop AA batteries for the same reason. Light is more consistent with good batteries in your flash.
The light modifiers being used start with the Cactus DC60 plastic diffuser, LumiQuest UltraBounce, Snoot XTR, Softbox III and Softbox LTp, Metz SB22-16 and Aurora Lite Bank Speedbounce 30, FireflyII Strip and Firefly Duet 75cm.
First, let's take a look at how each modifier lights a black backdrop. I set the Cactus RF60 to 1/2 power and mounted it to a lightstand just above the camera. The flash and camera are 3 feet from the backdrop. Camera is tripod mounted, set to ISO64, 1/250s, f8, 24mm.
It's apparent that UltraBounce and DC60 in bounce position are very soft – not much light reaches the backdrop. The Metz SB22-16 has an internal baffle, and is also very soft. Bare flash is bright and removes all definition from the backdrop, while the softboxes spread the light a little more evenly. The FireflyII Strip can be rotated and you can see the light pattern created by adjusting its orientation.
So how does this affect real photography? You don't photograph blank walls? Let's take a look at how each modifier affects our "model"…
The RF60 has been moved to camera right, about 45 degrees from the subject, to provide "short side" lighting – generally the most flattering light pattern for headshots. Height and angle of the flash has been maintained for each modifier.
Direct flash really isn't flattering. It's bright, there's a dark shadow on the backdrop and the shadowing on the model isn't very nice – lots of dark lines. The DC60 and UltraBounce provide nicer light in the bounce position – direct only softens the harshness of the direct flash.
Snoot XTR really focuses on the face, which could be a nice effect, depending on what you're after. SB22-16 is dark with some bright highlights on the chest – it's too small for portrait work.
Speedbounce and the Softbox III and LTp all provide nice, flattering light, although the LTp cuts exposure more than the others.. The FireflyII Strip gives us two nice lighting patterns, but neither is perfect. Firefly Duet is similar to the softboxes and Speedbounce – nice soft light all around. It has other advantages, which we'll discuss in the future.
So which size do you need? It depends …
Softbox III, Speedbounce and the FireflyII & Duet provide the nicest light for headshots and objects of that size. Due to the 75cm diameter of Duet, it can also be used for half-length portraits and full-length with nice vignetting, provided you use two flashes in it. These are all excellent main light modifiers, but I prefer the strip as a hairlight or rimlight modifier.
Snoot XTR is really an effect modifier – very direct, targeted light exactly where you want it. It's perfect for highlighting a tattoo or jewelry or article of clothing. It's your accent light modifier.
SB22-16 and Softbox LTp are great for smaller items … product photography, small animals, face details – subjectswhere you want really soft light but not a lot of light. Bouncers are like umbrellas – they throw light everywhere. Handy in a pinch, but better used as an overall fill than a main light source.
The size of modifier you choose really needs to be suited to your subject. Generally, the smaller your subject, the smaller your modifier. Likewise, the larger your subject, the larger your modifier. The exception, of course, is your purpose, as the Snoot and LTp have very specific uses that don't relate to their size.
Next time around, I'll delve into the shape and show where you may want to use each different shape of modifier.
Let's just agree … Bare Flash is bad! Repeat after me: "I will never point my flash directly at anything!" "I will never point my flash directly at anything!"
---

About the Author
Will Prentice (www.capturaphoto.ca) is a professional photographer based out of Whitby, Ontario, and Brand Specialist – Lighting for Amplis.