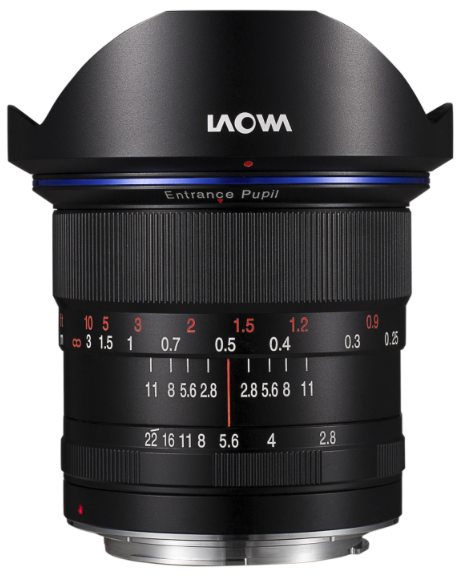 Introduction
I came to the conclusion that this lens is a "Game Changer" after shooting with this lens for just a few minutes and anyone who tries it out will agree.
The phrase "Zero-D" that is used in all conversations regarding this lens. If I am not mistaken, this is meant that there is little to no distortion in the images produced by this lens.
There are a few different types of lens distortion; barrel distortion, pincushion distortion, wavy or moustache distortion and perspective distortion.
There may be little or no barrel, pincushion or wavy distortion but there will be perspective distortion, which can be minimized by how you use this lens.
This lens is completely manual. There are no contacts on the lens mount that communicate with the camera body. This means that we have to not only focus the lens ourselves but have to set the aperture by hand. The lack of these two features is what allows the price of this lens to be so low compared to other ultra-wide angle lenses. Also, when checking the metadata, the lens information will show up as 0.0mm f/0.0.
Photographers today have become somewhat lazy in our craft. We have been told by the lens manufacturers that auto everything is a great so we can concentrate on being creative when looking through the viewfinder. To an extent, I do agree but there are many instances where auto focus is not necessary, such as landscapes and architectural / real estate photography. Setting the aperture yourself is not such a big deal. If you ever took a photography course, it is one of the first things you learned to do – shoot manually.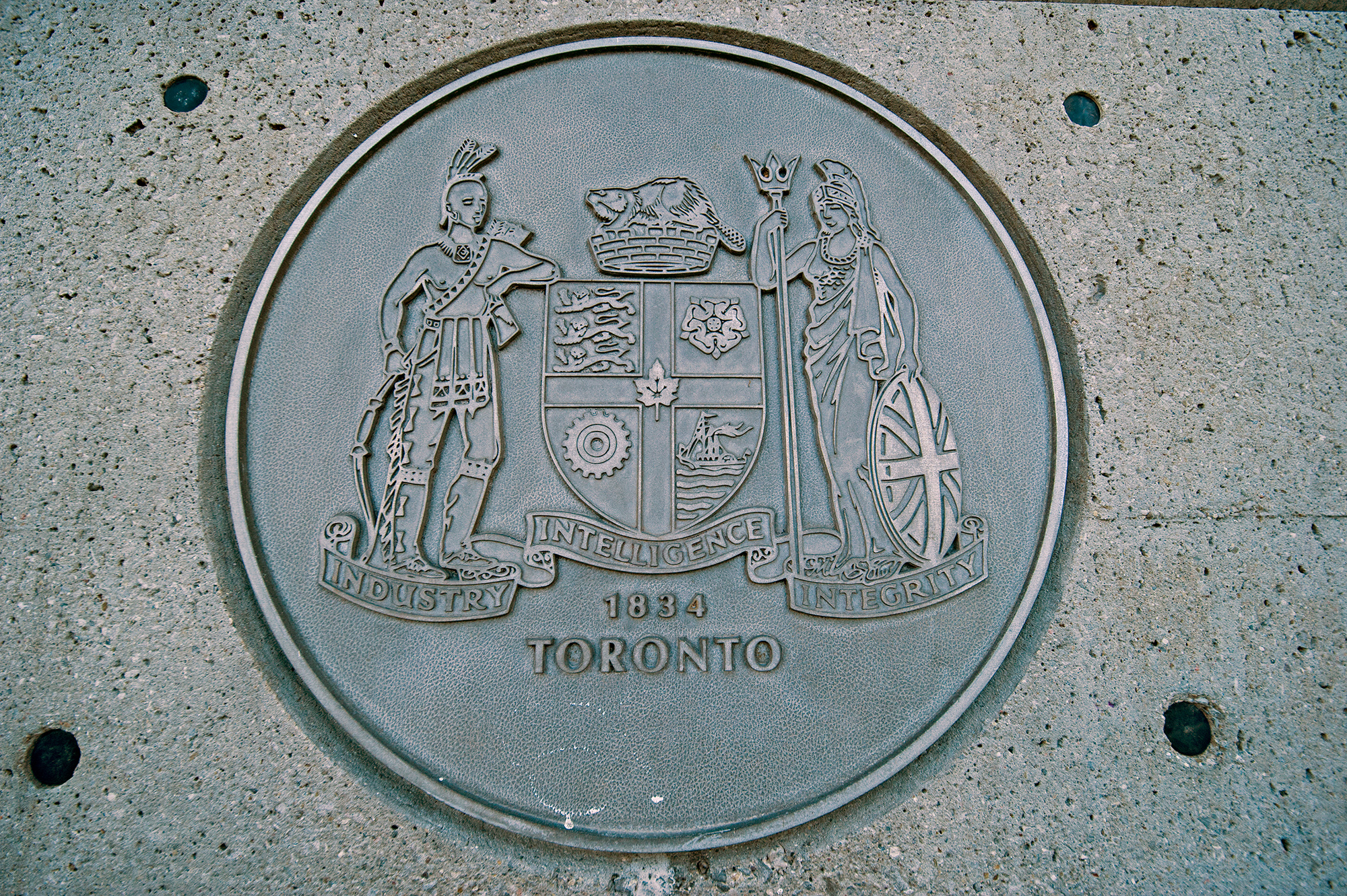 Close up camera to subject: less than 12 inches
The first thing I did notice when this lens arrived is how heavy it is. Compared to equivalent sized lenses, this lens is heavier but there is good reason for that. It is made of metal, not high impact plastic. Not that there is anything wrong with the newer, lighter lenses but for those of us that have been shooting for decades, you will remember what a lens felt like when you pick this lens up.
The focusing on this lens is really smooth and the aperture ring snaps into it's f-stops with a solid click. There are not any half-clicks between f-stops, you'll have to do this yourself, but I feel no need for this approach as you can fine-tune your exposure by adjusting the shutter speed.
Along with all of the old school markings on the lens barrel – the distance scale and the corresponding f-stops and such – there is an "Entrance Pupil" marker for panoramic photography. The photographer has to properly locate the sweet spot on the lens to shoot multiple images to obtain a complete 360 panorama image. I plan to test this out fully before I return the lens and I'll have an article on this topic in soon.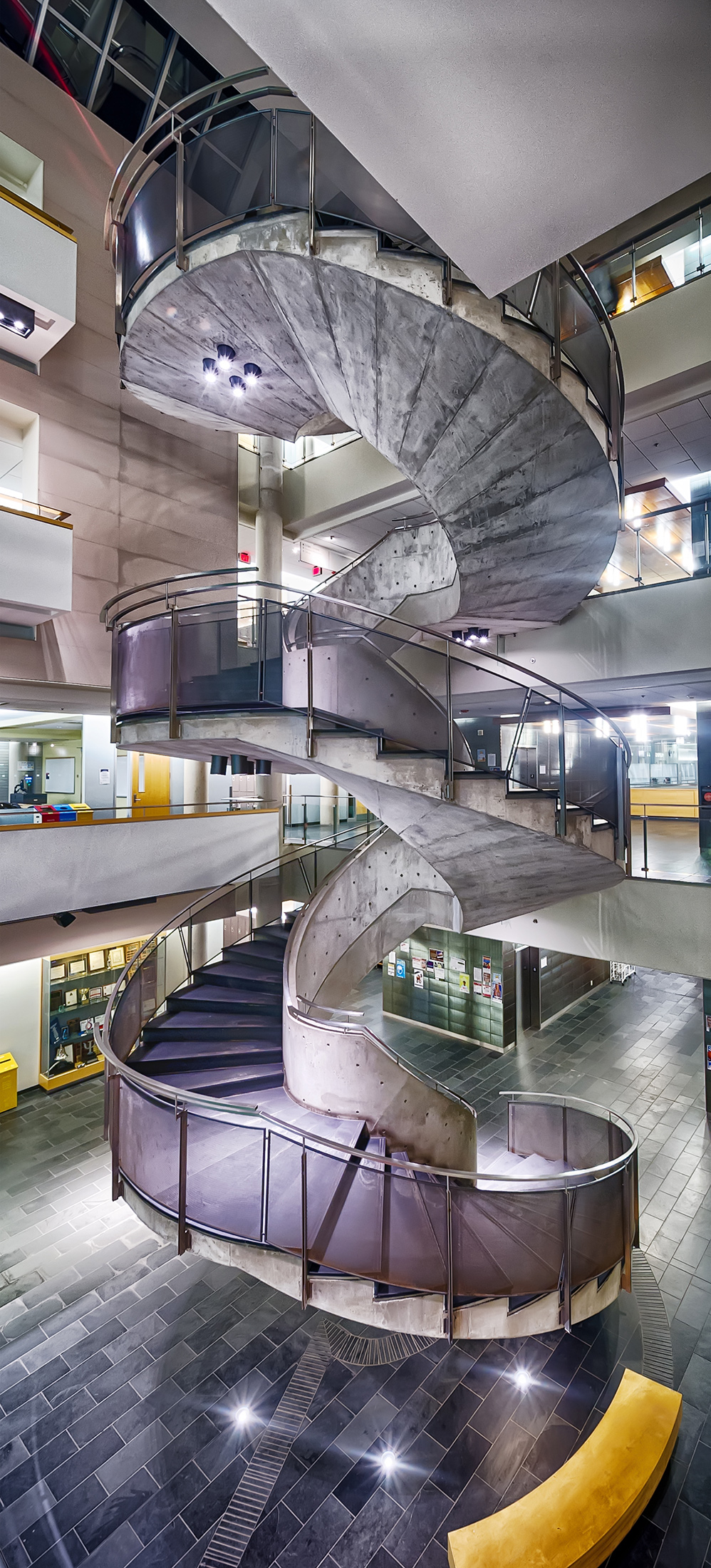 There is a special FEC coating on the lens – it stands for Frog Eye Coating. Watch the video demonstrating how it repels raindrops, you will be amazed.
There are no threads on the front of this lens (the front element bulges out like a frog's eye in a similar fashion as fish-eye lenses do) so the only way to use filters is with a special filter holder, which reminds me of the Cokin and Lee filter systems I used to use years ago.
The lens hood is made of metal and it clicks into place quite nicely. Both the lens caps are made of plastic, as they should be. The front lens cap does take a bit to get used to as it does not use tension to help it remain in place. Once you have become aware of this, it is not an issue.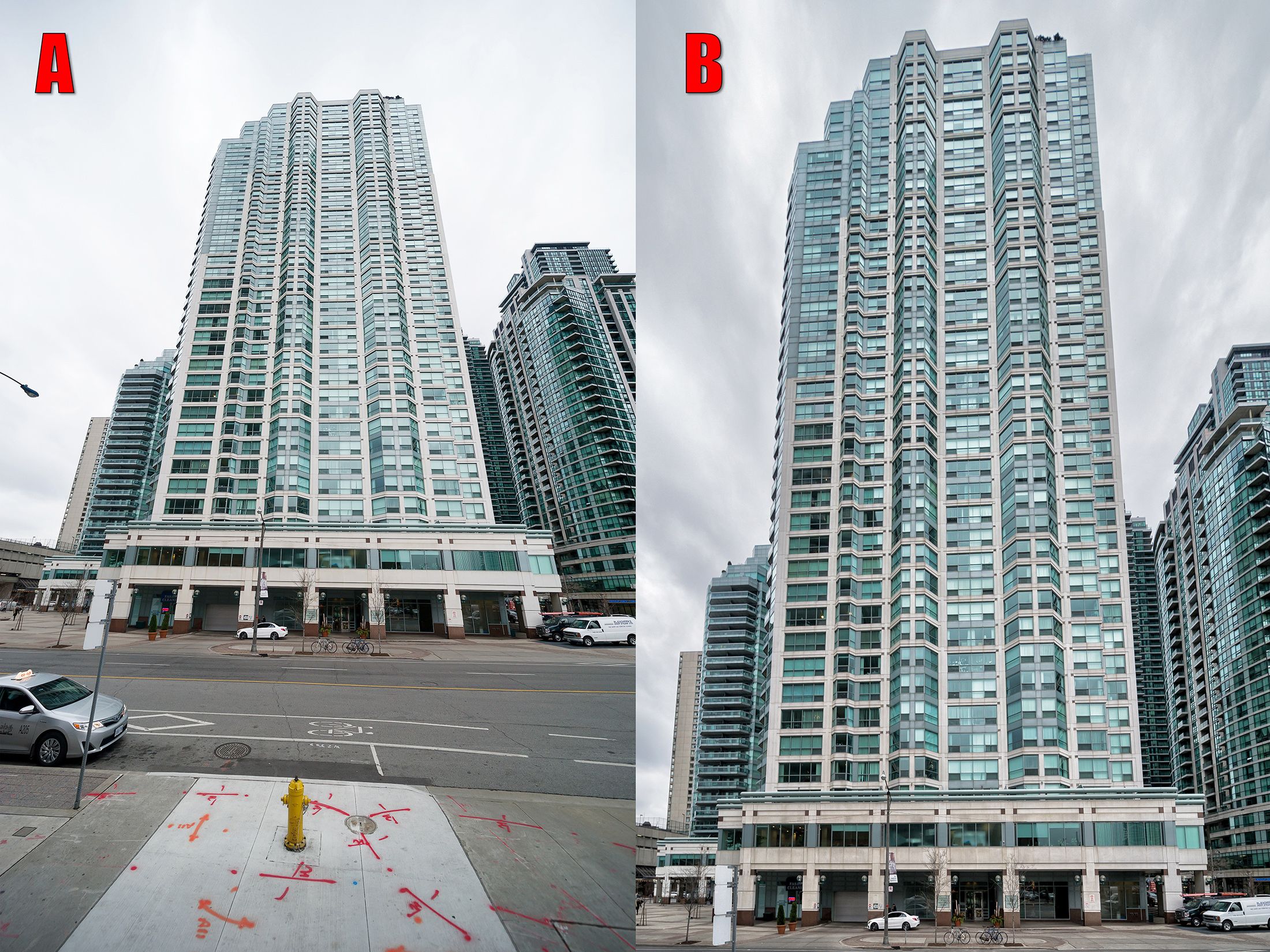 Exterior – Condo Building
Image "A" – vertical shot from across the street
Image "B" – perspective adjusted in Lightroom
I shot most, if not all, photos at f5.6 and some at f8. This is because we are all taught that a lens behaves best approximately 2–3 stops down from wide open. There is slight vignetting with this lens but not anything that any good piece of software can't fix with one click of a button.
Its 122 degree ultra-wide angle view will totally impress you. It's really wide. If you have ever shot with a 8mm fish-eye lens on a crop sensor camera body (which essentially gives the 8mm lens the equivalent angle of view of a 12mm lens), you'll understand what I mean.
Close focusing is crazy close – somewhere around 7 inches.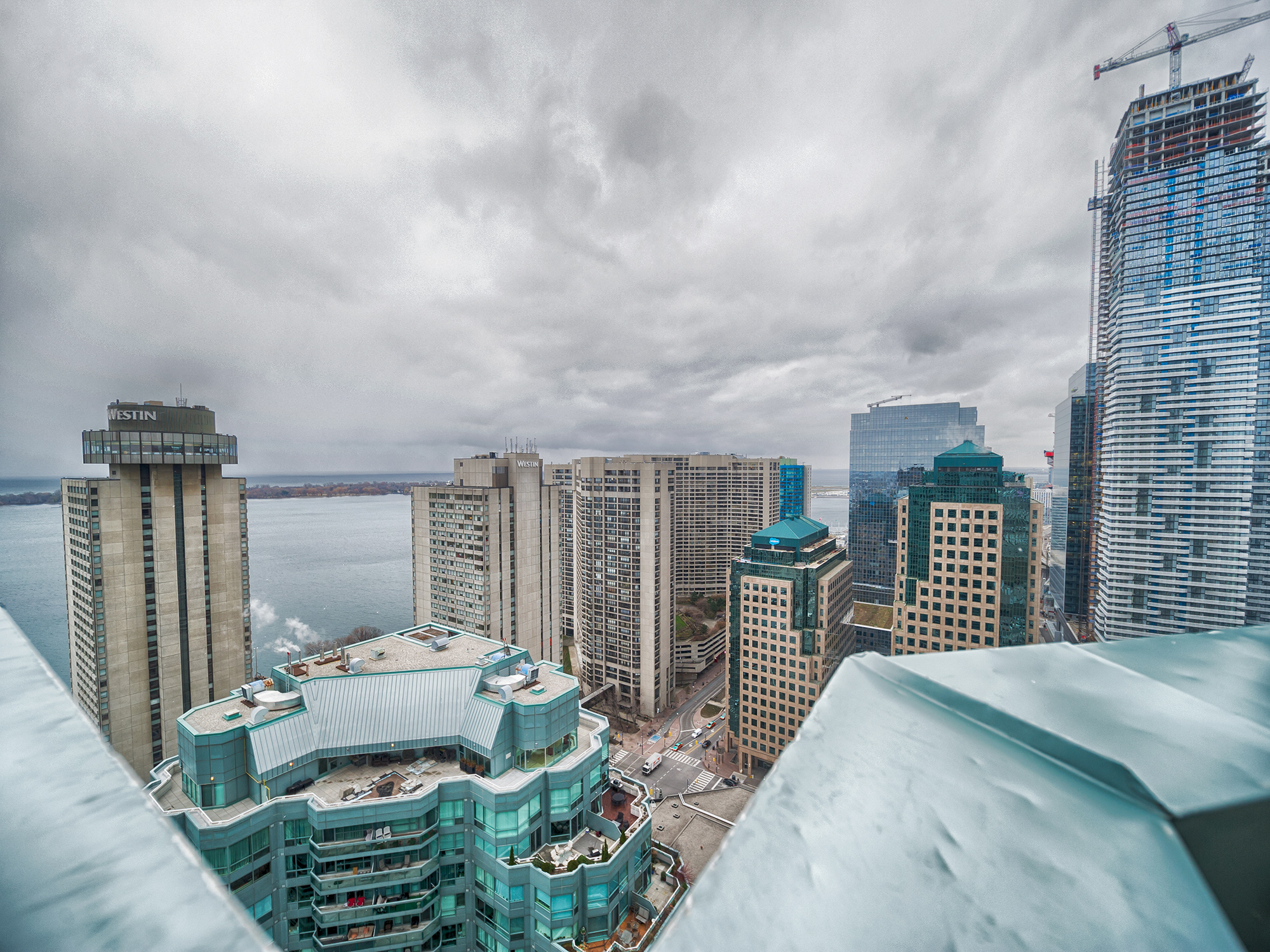 Specifications: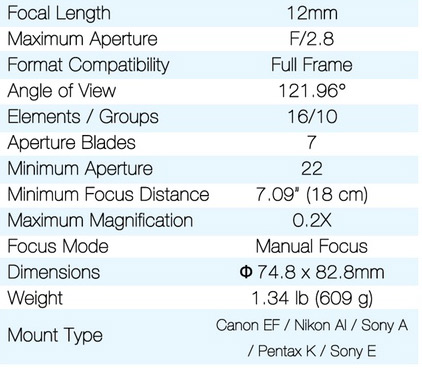 Conclusion:
The Laowa 12mm f/2.8 Zero-D lens is a game changer in ultra-wide angle lenses. I can see this lens as a tool many landscape, architecture and real estate photographers will have in their camera bags.
---
About the Author:
John Warren is an award winning Photoshop Instructor and Professional Photographer living and working in the Greater Toronto Area and is on the faculty at Humber College.