With the popularity of DSLR video technology capturing the imagination of serious videographers, the need for professional continuous lighting systems has opened the door to a new category of products.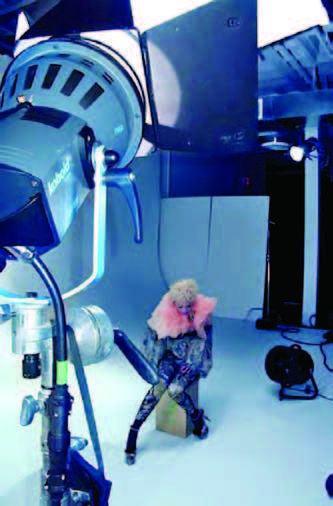 Bron, a world leader in studio lighting for photographers, has been developing HMI continuous lighting systems for more than 15 years, incorporating the technology and design that has made Broncolor studio equipment the choice of serious professionals throughout the world.
The recent announcement that the Kobold Daylight series of video lights and accessories will be available in Canada, with a range of products that are compatible with existing Broncolor studio equipment, brings a new perspective to the professional videography market.
The challenge of creating very quiet lighting that performs effectively with DSLR cameras that record sound – in many cases multi-channel audio, has been a priority for the engineers at Bron Elektronik, in Allschwil, near Basel, where the Kobold lighting systems are developed and produced. The Kobold daylight lamps and electronic ballast units were engineered to meet the needs of the ENG (electronic news gathering) industry, where interviews often have to be conducted outside of the TV studio, yet the interview subject has to be lit as effectively as possible. Event video poses an even greater challenge, with mixed ambient lighting making the documentation of the event even more difficult.
The Kobold daylight HMI light is three times brighter than halogen light of the same power output, and does not need a daylight filter saving one full f/stop. The lights also generate less heat.
The latest DSLR video cameras offer adjustable 1080p full HD video, with weather sealing that protects the camera from dust and humidity. The Kobold products in the DW series (Daylight Weatherproof) keep pace with the needs of the ENG industry by providing fixtures and ballast units that are weatherproof to IP 54 or IP 43 standards – they can even be used in pouring rain without additional protection.
For location lighting, the Kobold light fixtures use a bayonet system to allow the videographer to attach PAR and Open Face reflectors, or softboxes, to achieve the optimum results for either single frame or film mode. The 4-leaf barn door can be rotated 360°, and the optimized design of the reflector provides high light output. With an ergonomically designed rotary knob, the open face reflector enables focusing from 15° – 45°. Four different lenses (NSP, MFL, WFL, VWFL) and a Fresnel lens for different light characteristics are available for the PAR reflectors.
Kobold fixtures offer electronically controlled, flicker-free light with constant output throughout the entire service life of the bulb, and they are equipped with special UV safety glasses which absorb the harmful UVB-rays. Compared to previous and other HMI products on the world market, Kobold products are characterised by a constant colour temperature. The fixtures and ballast units are compact and solidly built, and offer maximum reliability even under extreme weather conditions.
For more information on the Kobold line, please visit www.bron-kobold.com.