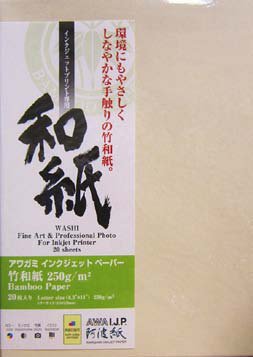 Amaya Foto a Division of Amplis Foto is pleased to announce the introduction of Awagami Washi Inkjet Papers to the Canadian marketplace.
Awagami Washi Inkjet Papers are carefully crafted with historic Japanese techniques which makes the papers fully archival and environmentally friendly. While following the craftsmanship and tradition of paper making in Japan for over 1300 years, Awagami Inkjet Papers are perfectly made for today's Digital Artists and Photographers.
Awagami Washi is truly unique and a one of a kind paper that offers photographers another dimension of image presentation.
History of Washi
Traditional Japanese papers, known as Washi, have been made by hand for over 1300 years in a region of Japan originally known as Awa. Now part of Tokushima Prefecture in Southern Japan, the venerable art of Washi has been modernized for use by today's Digital Artists: Photographers, Giclée Printers and hobbyists. The Fujimori family, owner of Awagami Washi, has been involved with the production for seven generations.
Environmental Sustainability
Washi is special in so many ways. Made entirely from renewable resource fibres such as Kozo, Mitsumata, Gampi and Bamboo, the entire range of Awagami Washi is environmentally friendly and fully archival. Rather than cutting down trees and re-planting as is normal in the west, Awagami staff harvest the branches from the bushes on their own property – much in the way you would prune branches at the end of a growing season in your garden.

Mitsumata Double Layered

Mitsumata exhibits a smooth and elegant look with rich subtle gloss. In order to maximize the elegance of this paper, minimal coating is applied to the sheet.

Kozo

Kozo is the main fiber used for Japanese washi and makes for extremely durable papers. Recommended to use for photographic prints and art works. Kozo is particularly excellent for Asian style illustration and art works.

Bizan (handmade)

Bizan is a matte handmade paper that is extraordinarily elegant. Each sheet has 4 organic deckled edges and reflects the most utmost characteristics of handmade washi. Bizan is a thick heavyweight paper which many artists choose to display unframed Recommended to use for both monochrome and color photographs as well as all other genres of art.

Unryu

AIJP Unryu paper reflects a soft and classic Japanese look due to its organic swirling Kozo fibers. Each sheet will greatly enhance the gestural quality of artworks that are printed on it.

Inbe

Among all AIJP, only Inbe and Bamboo paper may be printed on both sides. Made with a refined mix of hemp and kozo fiber, each sheet features a subtle 'laid' pattern like that of antique papers. Recommended for printing fine books, antique reproductions, manuscripts and maps.

Kozo Double Layered

Kozo Double Layered is two-layered paper whose top printable sheet is made from 100% kozo. This top sheet may be peeled off from the bottom "release" sheet after printing revealing an extraordinarily thin printed sheet. This is a highly unique paper that is particularly suitable for scroll paintings and artworks that are to be backlit.

Bamboo

Awagami Bamboo is a fine organic choice for artist and photographer alike exhibiting notable benefits and advantages over cotton based papers. This dense but soft paper was originally developed for traditional printmaking and is made with the utmost care for longevity. Sheets (and rolls) have been specially coated for digital printing on both sides.