David Hemmings is a world-renowned bird photographer, and President of Nature's Photo Adventures, specializing in unique tours for photographers of all skill levels. David's photos have appeared on the cover of National Geographic, Canadian Geographic, and many other internationally famous publications, including Audubon Magazine, On Feathered Wings, and Birding Essentials.
We asked David to take the Tamron 200-500mm zoom into the field for this special report – just in time for your summer wildlife photography adventures!
One of the most common questions that my photography students and other budding bird and nature photographers ask is "what is the best all-around lens for bird and nature photography?" The second most common question is "what is the best lens when traveling for the purpose of photographing birds and nature subjects?" These are not simple questions to answer, as there are multiple factors that will determine which lens is right for you. Some of these factors include whether or not you will be shooting handheld while hiking; how close you will be able to get to your target species; how much weight you are willing to carry around with you, and last but not least, your budget.
If I were asked to select only one lens for serious bird photography I would have to answer that it would be a 500mm prime lens. When photographing birds, it is not uncommon to need lots of focal reach for your intended subjects. For me, 500mm represents a good all-around focal length for most situations. It can be coupled with a teleconverter for even more focal length, and still produce crisp, sharp images.
However, the 500mm prime lens comes with some inherent traits. These are heavy, expensive lenses. It most cases, they require the use of a very sturdy tripod along with a gimbal or ball and socket style head that can support the weight of the lens and camera – and believe me, that can be quite a heavy combination. Another unavoidable characteristic of the 500mm fixed focal length prime lens is that it is just that – a fixed focal length. Proper composition will often involve moving forward or backward to properly frame your subject. So even though I use my 500mm lens often, there are times when the weight and the fixed focal length just do not make sense for where and what I am shooting. This leaves the bird and nature photographer often looking for something lighter, less expensive and more versatile than the 500mm fixed prime.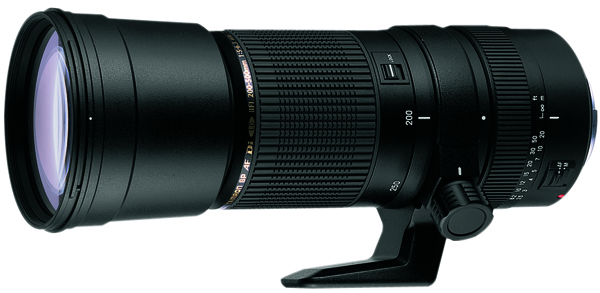 This is when a lens like the Tamron SP AF200-500MM F/5-6.3 Di LD (IF) can really shine. Here we have a lens that is very light in comparison to a prime 500mm, it has the luxury of having a focal length that gives us a 2.5:1 zoom ratio, and it costs about one fifth of the price of the camera manufacturer's 500mm prime lens! The obvious question arises – can a lens that offers so much for such a low cost perform well and give us good results in the field? This is what I set out to determine for myself.
Without a doubt, one of my favorite destinations as a bird photographer is the state of Florida. For me, it provides an opportunity to see and photograph a wide variety of bird species in a relatively short amount of time without having to cover a lot of ground. So, it was off to Florida for a field test of the Tamron SP AF200-500mm F/5-6.3 Di LD (IF) lens.
I have a good friend in Florida who owns a pontoon boat that is well suited for photography. It provides access to some great shooting locations, and provides a roomy, stable shooting platform while out on the water. This was to be the first testing ground for the Tamron 200-500mm, which I mounted on a Canon 1D Mk 1V camera body.
The first thing that I noticed when I reached for this lens was that it was very well made, and it comes with a useful carrying bag. The bag is well padded, has a quick and easy to use drawstring, and a very handy carrying strap. I really liked the finish on this all-black lens, and the quality feel of the rubberized focus ring grip. The one thing that really amazed me though, was the small size and light weight for a lens that can give you 500mm of reach. After a few years of handholding my 500mm prime lens, this was certainly a welcome bonus.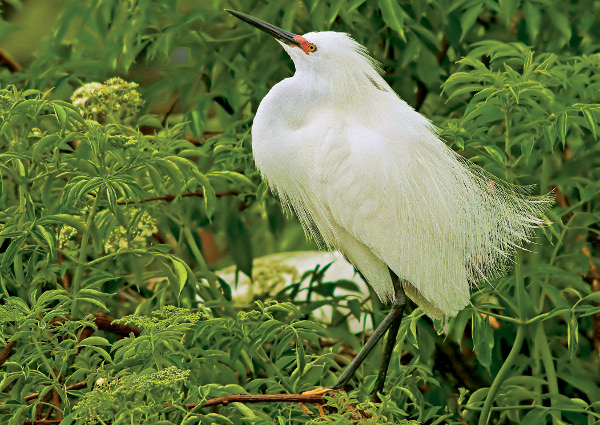 The next thing I noticed as I attached the well constructed lens hood was a feature that Tamron calls "Filter Effect Control". This allows the user to adjust a filter such as a polarizer without having to take the time to detach the lens hood – what a wonderful innovation this is! You simply attach the filter to the adapter and then attach it to the lens. The hood then mounts on the front of the adapter and allows the filter to rotate by turning the lens hood. The lens has a well-placed and solid tripod mount that is easily detachable. Manual focus is smooth and easy to use. The autofocus switch is well placed so it is unlikely that you will accidentally flip it back and forth without the intention of doing so.
One thing that is very important to me as a bird photographer is the ability of a lens to auto focus quickly and accurately. The Tamron did not disappoint in this regard. The AF performed very admirably even in lower light, low contrast situations. There was very little hunting and the AF was smooth and relatively quiet.
The Tamron SP AF200-500mm F/5-6.3 Di LD (IF) is only 19" when fully extended with the hood attached, and is only 9" at 200mm without the hood. This is a very manageable and flexible lens when it comes to maneuverability and ease of use. At one point, I was standing at the front of the boat, about 100 feet out from a reed bed where a few Limpkins were moving about, sometimes flying around. I had to watch for movement out of the reeds, and then quickly position the lens to lock onto a pretty fast moving target on a busy background. The lens performed well above my expectations in this situation. The thing I liked best was the lack of arm fatigue I experienced while waiting for my next shooting opportunity. I could hand-hold this lens all day long, something highly unlikely with a heavier fixed focal length 500mm f4 lens. Yes, you can avoid arm fatigue by putting the fixed 500mm on a tripod, but this greatly decreases your chances of maneuvering quickly enough to catch all of the action.
A 500mm lens that you can handhold easily to capture action and flight shots is a thing of beauty.
I also had the opportunity to use the lens resting on a beanbag on the boat railing. Bending down and standing up with this lens was fairly easy, and most of us could do it all day long without issue. The lens was easy and quick to get onto the beanbag so as not to miss any photographic opportunity that presented itself. The unit quickly and easily attached to the ball head on my tripod and allowed for simple relocation of the tripod without a lot of exertion or concern over the unit toppling over while repositioning the camera and lens – something that is a great concern when using the long and heavy prime lenses.
After I had used the lens in the field, it was time to go back to my hotel room and download some images for review. I looked very closely at the images enlarged on my screen to examine things like critical sharpness, chromatic aberration, etc. I must say that I was very pleased with the digital quality that this lens produced. It is not my intention to do a myriad of technical tests here, I look at the details in the feathers of birds in flight rather than pixel peeping photographs of rulers and dollar bills. It was my intention to use this lens in the field and give a report on its functionality, flexibility and usefulness in different shooting situations. So, with that in mind, here is a summary of my findings on this Tamron lens.
The Tamron SP AF200-500mm F/5-6.3 Di LD (IF) is a very good telephoto lens for the money, with a great range of focal lengths for bird and nature photography. It is solid and well put together. The manual and auto focus both work well and are very accurate. Optically, the lens does a good job for the price range it is in (around $900). It is not as sharp as a 500mm prime lens but that would be an unfair comparison to make as it is less than one-fifth of the cost, and very few zoom lenses ever match the sharpness of a high quality prime lens. For most of us, this lens will produce great images for printing average size prints and sharing images on the web. It is wonderfully versatile with the 200-500mm zoom range. I would say that this would be close to a perfect safari lens in places like Africa. The lens hood is very functional and the supplied filter effect control adapter is a very useful and ingenious feature.
In closing, I would recommend this lens to anyone looking for a super telephoto zoom that is well made, very versatile and quite inexpensive. Tamron has done an excellent job at putting so much into a very affordable piece of photographic equipment.