No single type of bag, case or vest is perfect in all respects, but some can meet your needs for size, quality and convenience. Consider the following aspects when comparing several bags of a certain type.
Size: For air travel, look for a bag no larger than the standard for carry-on luggage. Regulations vary depending on the airline, but 22x14x9-in is common and 21x14x7-in should meet most size limits.
Fabric: Tough nylon or other synthetics (often with a smooth back panel) are used extensively and are among the strongest of fabrics. Canvas is becoming popular again, especially the smooth-textured, water resistant type.
Construction: Look for high quality buckles and snaps; check them closely to make sure they're not thin or flimsy.
Removable parts: Some bags have panels or pouches that can be removed; that's useful for customizing or whenever you want more space.
Padding: If you hike in rugged conditions, a hard plastic bottom can be important for protecting gear. The interior of the photo compartment or computer slot should be well padded and the dividers should be adjustable.
Harness: A backpack designed for carrying a lot of gear needs a superior and adjustable harness system, ideally with wellpadded straps for the shoulders, the waist and the sternum. Try on several while shopping (with some heavy objects inside) to find one that fits your frame most comfortably.
Other features: Also look for plenty of outside pockets for quick access to necessities, several internal compartments for organising gadgets, rugged weatherproof / "self healing" zippers, welded metal hardware or tough plastic quick release snaps and a top flap to shed rain.
Accessories: Some bags and cases are modular: they accept accessories such as pouches for extra lenses. This feature is useful since it allows you to buy a smaller bag and expand its capacity on outings where you need to carry more items than usual.
Hint: Take your photo equipment to a store that displays many bags and ask to try out some of them to determine if your gear will fit. Carry the bag around the store to determine the comfort level and convenience of access. Decide if you like zippers, Velcro™, quick release snaps and closures with straps. Adjust the straps and test all the parts for ease of function.
Although just about everyone already owns a camera bag of some type, most photo enthusiasts find they need at least two different kinds. That usually includes a small bag for short outings or family vacation trips and a larger pack for serious shooting when carrying more gear.
If you haven't shopped for a camera bag in a few years, you'll be pleasantly surprised with the latest designs that have increased convenience tremendously. Styling, durability, and craftsmanship have also improved. Let's consider each distinct type, as well as a few hints for selecting the one that will best meet your needs.
Shoulder Bags
The most common type at one time, a top loading bag is available in numerous sizes. Some of the newer models are billed as "messenger" style, indicating a slimmer profile that may be able to expand if you stuff it with extra gear. Look for a strong strap with a padded shoulder pad. Avoid buying the largest possible size or overloading a bag with everything you own. Otherwise, it will be far too heavy to carry for any distance, creating shoulder strain. Here are some examples of versatile shoulder bags.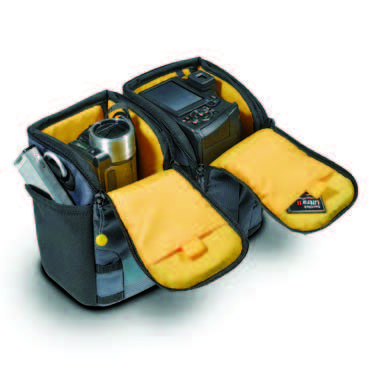 Kata Hybrid 537: This D-Light series bag consists of two connected pouches. Use one for your camera with an extra lens and flash unit plus small accessories and the other for a camcorder, a digicam or a third lens. A rigid rib in one of the components provides structural protection while light yet durable RipStop fabrics and foams provide protection. When the two sections are connected, they work as if parts of a single bag with a handle, shoulder strap and tripod holder. On outings where you'll be traveling light, simply separate the two sections and carry only one. The larger pouch includes a handle and you can attach the shoulder strap, tripod sling and rain cover to either pouch. As is standard with Kata bags, the Hybrid comes with a 5-year warranty that's extended to Lifetime if you register the product online.
Photo Backpacks
For long trips into the field for nature, landscape or wildlife photography, I always carry my gear in a backpack for maximum comfort. Full mobility and freedom from fatigue is assured by a harness system which distributes weight over a large area. The only drawback – with traditional models – is that the pack must be removed when you want to access the contents. As we'll see however, some backpacks – and the newer sling packs discussed later – offer greater versatility in this respect. Let's take a look at some of the latest models of various sizes with some entirely different features.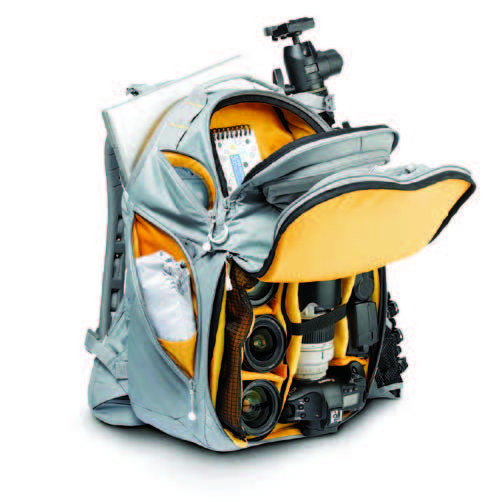 Kata Bumblebee ULB222: The first model in the new Ultra-Light collection, this backpack is surprisingly light in weight but features a metal Spine Guard for structural protection, durable RipStop fabrics, impact absorbing Toblerone and Aeriform foams for great protection. The lower compartment can hold a pro DSLR with a large lens (like a 70-200mm f/2.8 zoom) plus an extra camera, four lenses, flash unit plus accessories.
Additional storage space is available in the top compartment and the large slot for a 17" or smaller laptop computer. An external top pocket and two side pockets will store personal effects or small accessories and a water bottle. A modular divider system in the lower compartment makes internal setup very convenient, but it can be removed if desired. Extras include a tripod holder and a built in camera strap, a rain cover, a Gecko (moulded foam) harness with ergonomic design, plus straps for attaching optional Kata products.
National Geographic: Entirely different in styling and fabrics, the canvas Earth Explorer Backpack (in S, M or L size) is made of cotton and hemp with solid brass buckles. It's coated for water resistance and also includes an internal nylon layer and a removable rain cover. The advanced harness system (shoulder straps, waist belt, lumbar strap) is padded and fully adjustable; when not in use, it can be neatly folded out of the way.
A lower padded compartment, with modular dividers, holds photo equipment. The upper compartment opens with a large pull-tight flap and holds food and clothing. There's a concealed pocket for valuables and a removable divider that allows for combining the two compartments into one. External pockets and pouches can accommodate extras such as wallet, passport, binoculars, water bottles, etc. Special connecting points allow you to tie on an ice axe, walking stick, or sleeping bag. A rear padded slot holds a medium-size laptop; the size of this slot depends on the bag size.
Sling Packs
A backpack is fine for shooting out in the field but a "sling" type pack is more suitable in urban environments since it allows full access to gear with maximum convenience. Wear the bag on your back while on the move; when a camera is needed, simply shift (sling) the bag around to the front using just one strap. All packs of this type are similar in the basic concept but the available models can differ significantly. Let's take a look at a few that I found to be particularly innovative and practical.
Weatherproofing – It's always important to keep your equipment dry, but Kata and National Geographic bags all feature water repellant fabrics that means you don't need to use rain covers which in some cases limit access to the bag and take time to attach. Rain or shine, just keep shooting!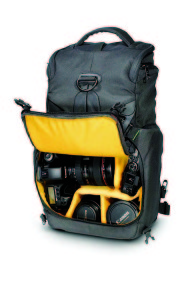 Kata 123-GO Series: Kata's most lightweight sling pack series, these are more affordable than the advanced 3N1 series. Available in three sizes, the entry-level GO packs include a daypack for personal effects and another for photo equipment. The midsize 20 model holds a DSLR with battery grip and an attached mid-range zoom lens, 3-4 other lenses and a flash unit. In backpack mode, the weight is distributed across both shoulders; the included chest clip and hip strap help relieve part of the weight from the shoulders to increase comfort.
The pack can be worn as a sling so it swings to the front easily (on the left or right shoulder), and allows for Quickdraw access to equipment. Note too that it can be work in an 'X' position across your chest. This provides the benefits of a backpack in weight distribution but allows for Quickdraw access when you detach one of the straps using the buckle located at the hip. Other features include internal and external pockets, modular dividers, a rigid rib for protection and a rain cover plus compatibility with an optional Tripod Holder and Insertrolley accessory.
Rolling Cases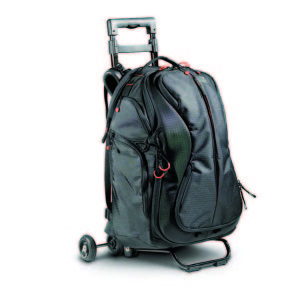 While traveling, by air especially, a rugged rolling case designed specifically for large/heavy photo equipment can be useful. This type is available in a wide range of sizes. The only problem is, an oldstyle rolling case is really just for transporting equipment; all of the gear must later be transferred to a more portable camera bag. That's been resolved with innovative designs for greater versatility.
Kata has taken a new approach making most of their larger bags compatible with an optional Insertrolley device, a frame with wheels weighing 1.8kg. Attach the bag's Trolley Strap to the rugged mechanism and the extendable wheel system will stabilize even a large 25kg case. When arriving at your destination, remove the trolley. Leave it in a hotel room or a vehicle and use the Kata bag in a conventional manner.
The Bottom Line: No matter which type of bag or case you select, shop wisely, with a keen eye for the most functional features. The right combination will assure security, ease of access, and optimum protection. Demand high quality backed by a suitable warranty. Then, you can expect many years of convenience, with full confidence for the safety of your camera equipment.
Article by Peter K. Burian