As a professional photographer, I work with cameras and lighting every day. Corporate assignments, portraiture, weddings, Bar-Mitzvahs, commercial photography, schools – no subject is too complex – or too simple – this is the life of a professional photographer, and thanks to hard work and loyal customers, life is good.
The fishing villages of nova Scotia provide a photographic paradise of colour, shape, and reflections. With overcast skies and flat light, a graduated ND filter darkens the sky to bring out the colour and add to the impact of this scene.
Whenever my schedule permits, I like to escape from the studio to travel and relax with friends and family. I often travel with my friend Dick McGill, who is also a professional photographer.
What do we like to do on vacation?
We take pictures, of course! Lots of pictures.
You might wonder why, after taking pictures all year long, our little group of professional photographers turns to photography as a form of creative expression. The answer is simple. For us, as for most of the crew at PHOTO news, and most of the readers, our passion is photography. Our hobby is our lifestyle. When we have a weekend off, or a week or two of vacation time, we pack our favourite cameras and head off to explore the beautiful vistas of Canada's most scenic locations. Creating beautiful images doesn't stop when we leave the studio – that is when it takes us in a different direction, to capture the natural splendour of the great outdoors.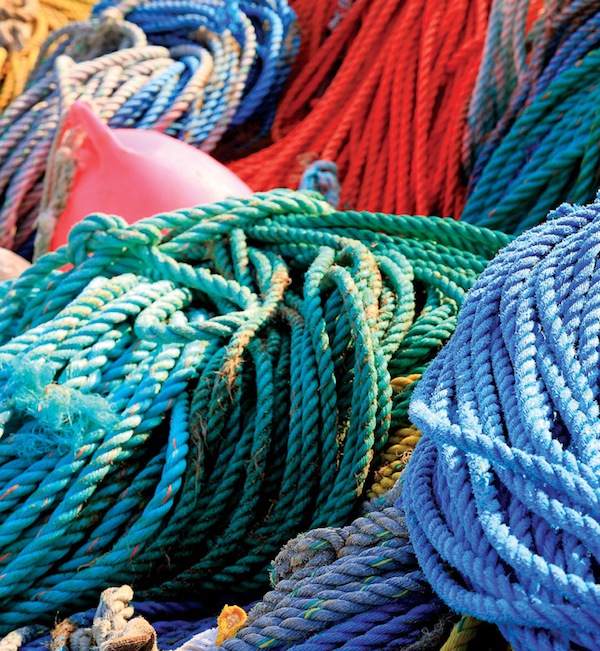 The bright colours of the ropes and floats help fishermen find their gear – and provide photographers with a palette of abstract shapes and designs.
Gearing Up is fun!
We prepare for our photo excursions with care, selecting each camera and lens for a specific purpose, adding the accessories that we expect to use, and a few that we have not yet had time to enjoy. Photo trekking calls for a different approach to the selection and preparation of equipment. The heavy workhorses of lighting and camera support are left to rest in the studio – when we gear up for a photo trek, we like to travel light, but well-equipped.
For our most recent adventures, we assembled our list of equipment with landscape and nature photography in mind. I picked a Canon EOS 1D Mk 4 body with 16-35mm wide to normal zoom, a 24-105mm zoom, and a 70-200mm mid-to long telephoto. I packed a Metz 58 AF-2 flash for fill-in lighting, and a lightweight Gitzo GT1540F tripod. This new addition to the Gitzo line has waterproof legs and a "bubble ball" head with quick release. Like Ansel Adams, I shoot landscapes at small apertures to achieve razor-sharp detail – and I use a tripod whenever possible to add stability to the shot.
The key to an enjoyable photo trek is the selection of an appropriate bag. My preference is to use a backpack-style camera bag, and the Kata MiniBee-111-LG uL filled the bill very nicely. It offers easy access to your gear, with a well-padded and weatherproof design that seems to have all the features I could ever ask for, and more. I strap my tripod to the bag, sometimes carrying it head down to balance the pack. I often travel to warm destinations, and I like a light coloured bag to repel the heat of the sun. I always look for a bag that can handle the gear without being a burden. The Kata backpacks have a unique structural system that combines high strength with light weight and the straps and mesh back support make the bag very cool and comfortable for day-long hikes.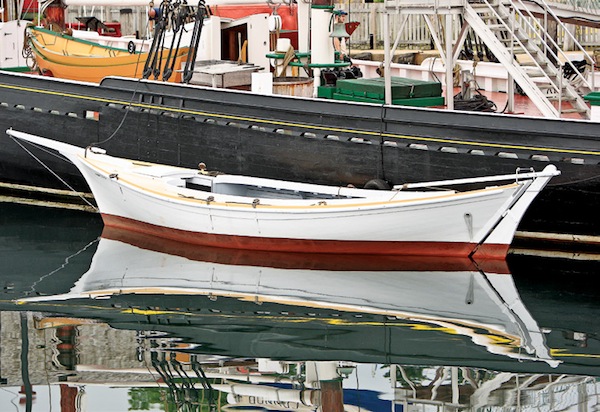 Looking for an interesting subject – look down, not up – and you may discover a reflection that adds interest to the scene.
I tried out the first of these bags to be available in Canada – and it may be a while before it appears in stores across the country, but it is certainly worth the wait – don't buy a backpack until you have a chance to look at this one!
For our adventure in nova Scotia, my friend Dick McGill packed his Nikon D3x with 14-24mm, 24-70mm, and 70-200mm lenses, and an SB900 flash. His tripod of choice for hiking is a carbon fibre Manfrotto 190CXPRO4, with a 496RC2 head. Dick carries a fair amount of gear, and he likes a roomy camera bag with a well-organized interior compartment system, so he was happy to be one of the first in Canada to try out the new Manfrotto Lino PRO V backpack.
We both use monopods while hiking – for balance and to steady our photos… it is amazing how a bit of support can make a big difference in the sharpness of your images, and it sure feels good to take the weight of the camera and lens off your neck and shoulders.
If you are flying to your destination, make sure that the camera bag you select fits under the airline seat, or into the overhead compartment. You may also want to carry a smaller bag for side-trips. I tried out the new Kata LighTri-314 PL torso pack – a very clever design that carries the camera with 70-200mm zoom, a flash, accessories, and up to two additional lenses… a very convenient size for short trips when you want to travel light.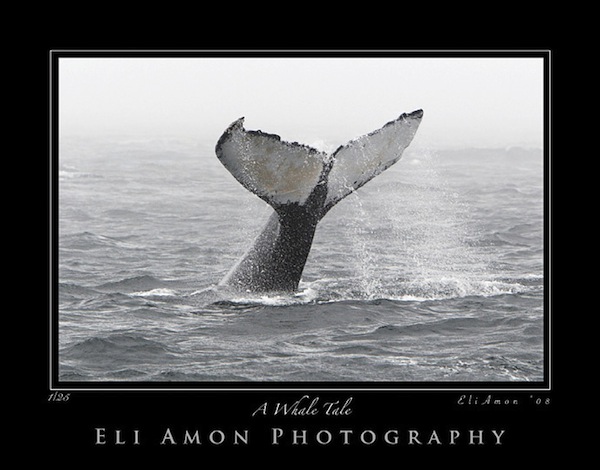 he light was so flat when we went whale watching, that the colour was naturally monochromatic. When one of the humpback whales breeched, I caught this image of the tail flukes as the whale disappeared into the depths. I like the composition – the points of the tail, the contact point with the surface of the water, and the splash all hit the intersections of the "rule of thirds". I reduced the image and framed it for an internet poster.
Trekking Tips
We often shoot from a low angle to capture scenic shots, wildlife, and close-ups of flora and fauna. It is a good idea to take a ground sheet to repel moisture and insects, especially when you spread the tripod legs to get the camera down to ground level. For really low level perspectives, you can reverse the center column of the tripod to get the lens down to a few inches above the ground.
For some tripod shots, I hang the camera bag from the hook at the bottom of the centre post of the tripod – this adds mass to help stabilize the tripod and camera.
We sometimes geotag our images for future reference. If you carry a GPS unit, make sure that your batteries are charged, and keep the device in a waterproof pouch – it won't do you any good if it isn't working!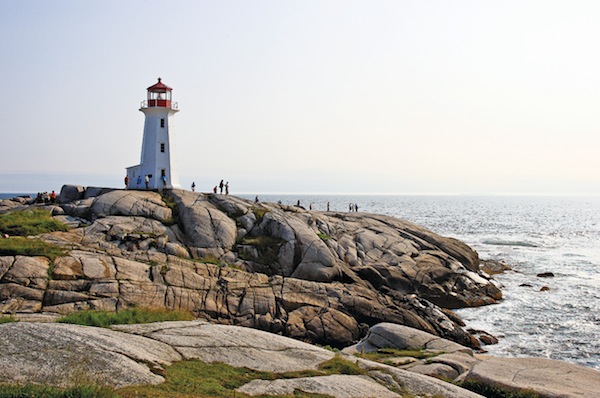 The famous lighthouse at Peggy's Cove, with tourists to give a sense of scale.
We both use hoods and polarizing filters for each of the lenses, and to keep our combined load to a manageable level, we share a camera maintenance pouch that includes an Arctic Butterfly dry and wet sensor cleaning kit, plastic zip-lock bags for use in inclement weather, a Leatherman multi tool and a set of jeweller's screwdrivers, just in case we have to field-strip a camera. Over the years, we have used the tool kit for all kinds of repairs – to luggage carts, door locks, and eyeglasses – the camera gear has always come through without a hitch!
When you travel with other photographers, you often find yourselves challenging each other to capture unique perspectives. It is amazing how two photographers can shoot the same scene, and come away with images that are so different.
A few parting thoughts…

In our younger days, we used to backpack deep into the wilderness and camp out under the stars. These days, we drive to a location that we can use as a "base camp", and head out from there on a series of day trips. We choose motels that have internet access, so we can stay in touch and share images as we travel.
When we head off the main roads, we use a topographic map and a compass to be sure that we don't get "misplaced" (guys never get "lost" as long as we know where we are at any given moment in time – we might not be where we are supposed to be, but if we can see a signpost nobody can say that we were "lost").
Our adventures often include trekking across some very rugged terrain. It is essential to be prepared for the local conditions. The choice of clothing, boots, and even the proper socks can make or break a photo expedition. It is always a good idea to strap a small day pack to your camera bag, with rain gear, some snacks, and enough fluids to keep you hydrated throughout the day. In our younger years, we hiked into the backcountry with full packs, including a tent, sleeping bags, food and cooking equipment. These days, we drive to the trailhead and enjoy day hikes, and we spend the evenings at the lodge reviewing the images from the day.
When you "gear up" for a trek through the wilderness, don't forget the basic hiking supplies – a map, compass, water, first-aid kit, some emergency rations, sunscreen and insect repellant – keep the fluids in Ziploc bags to prevent damage from spills, and make sure that someone knows where you are going, and when you expect to return.
Photo trekking through the Canadian Provincial and national Parks is a wonderful way to enjoy your photographic lifestyle. If you travel light, but well equipped, you will enjoy the photographic lifestyle to the fullest.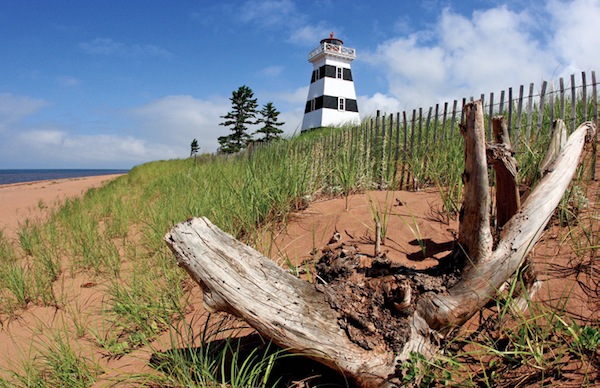 use a wide-angle lens and a low viewpoint to include foreground details in your scenic photos. I like the driftwood and the vanishing perspective of the fence in this photograph.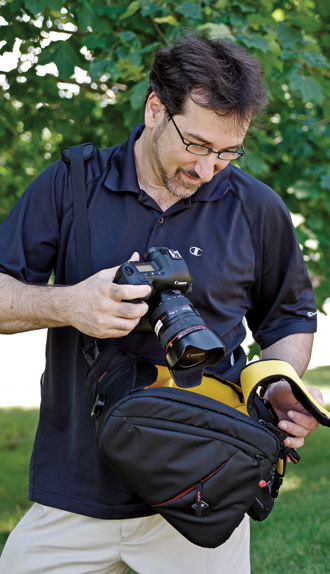 I tried out the latest Kata torso-pack – the LighTri-314 PL, which is idea for a DSLR with mid-size zoom. You can wear the bag over the left or right shoulder, and sling it from your back to your chest for easy access. The opening to the main compartment is accessible from the left or the right side – a very clever and comfortable bag when you travel light.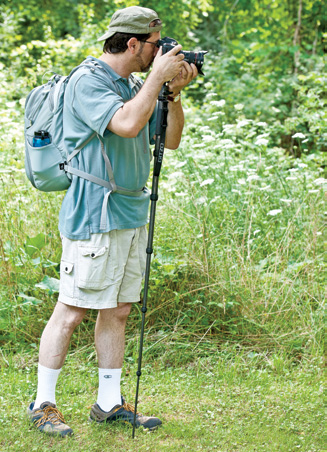 I often use a Gitzo GM2561T monopod while hiking, both for balance and to take the weight of the camera off my neck and shoulders. The quick release head facilitates using the monopod as a walking stick – it only takes a second to attach the camera and you are ready to shoot.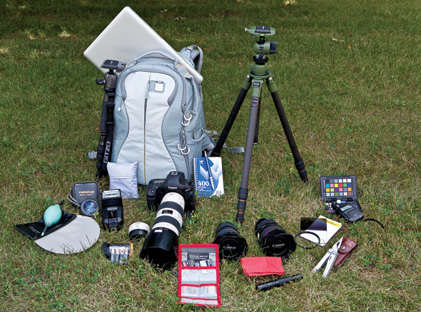 When I head out on a trek, I travel reasonably light, but fully equipped. For this trip, I selected one of the new Kata backpacks, the MiniBee-111-LG uL, and filled it with a Canon EoS 1D MK4, three lenses, a 1.4X extender, Metz 58AF-2 flash, light meter, Macbeth colour checker, Singh Ray graduated nD filter, circular polarizers for each lens, extra batteries for the camera and flash and lots of flash cards. I took a microfibre cleaning cloth, a Visible Dust blower bulb, and the new anti-static pad. I always carry a flashlight in my pack for focusing in low light, and a notebook. Dick and I shared an Arctic Butterfly spin brush and a sensor loupe. The Gitzo tripod attaches to the Kata bag with a pair of Velcro straps. For travel, my Macbook slips into the special pocket in the backpack, for day trips, I leave the laptop in the car.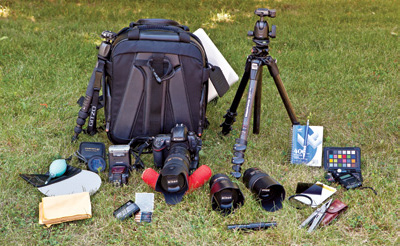 Dick carries a bit more gear than I do, so he picked one of the new Manfrotto PRo V MB LB 050-5BB backpacks. This bag has a very good internal divider system, easily adjusted to adapt to your gear. For this trip, he loaded a nikon D3X, with 24-70mm, and 70-200mm zooms, plus an 85mm macro lens, and used the optional tripod rig to strap a Manfrotto 190CXPRo4 with a 496RC2 head to the pack. Most pros will carry a light meter, colour checker, cleaning kit, and some tools. For night shots, a remote release is essential. Dick's laptop slid easily into the very well padded compartment.
Article by Eli Amon