Last winter, in Florida, with snow on our boat dock and the neighbourhood children playfully tossing snowballs at each other, I went swimming. Imagine yourself floating alone in gin-clear water, less than three metres deep, surrounded by 60 wild animals, some of which are over three metres long and weigh almost a metric ton. Periodically, the creatures surface around you to breathe, some of them just an arm's length away. At first, you don't know whether to be frightened or fascinated, but you soon realize that these are gentle giants without an aggressive bone in their body, and you relax and enjoy the magic of the moment. In less time than it takes you to squeeze into a wetsuit, you have been mesmerized by this enchanting animal. You have entered the world of the Florida manatee.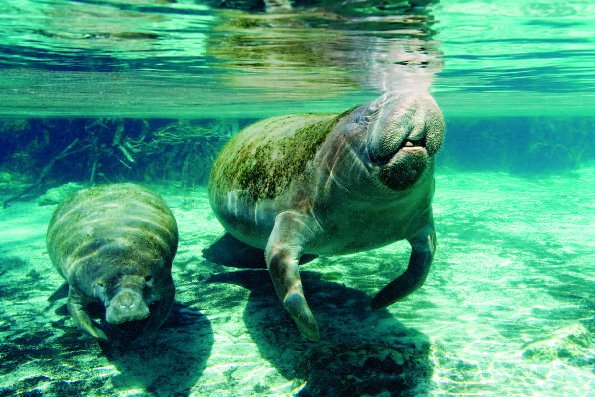 One author likened the manatee to a giant baked potato with flippers. As I quietly floated, I watched young manatees nursing, others sleeping on the bottom with their whiskers buried in the silt, and some nosing their companions with their bristly lips. On one occasion, one of the smaller animals swam directly towards me. I cautiously reached out and lightly stroked its back and it rolled over as if wanting me to scratch its belly. I did, and soon it was rubbing up against my legs and returning to have its belly scratched over and over again. At one point, it wrapped its flippers around my arm and I laughed so hard into my snorkel that I started to choke. I have worked with wildlife all over the world and the manatee is the only animal I know of that approaches humans for no other reason than to be touched. My morning swim turned out to be a touching experience for both of us.
I first went to Florida in February 1979 and was immediately impressed with the range of photographic opportunities. I'm not talking about the glitz and glamour of Miami Beach, the roar of race cars and revelers at Daytona, or the fairyland of Disney World, but the other side of Florida, the side where nature and wildlife are the star attractions.
Since that first visit, I've made over a dozen winter trips to the sunshine state. On my early trips I concentrated on Everglades National Park in the south, but in recent years, I moved my travels north and found a nature photographers' paradise.
Central Florida is relatively sparsely populated and peppered with wildlands such as the Withlacoochee State Forest and the Ocala National Forest, and enlivened with wetlands and rivers where you can be alone with nature and savour the solitude. If you promise to keep it a secret, I'll tell you all about it and how you can discover the wintertime visual delights of central Florida.
My photo adventure always starts in Tampa. The good news about this trip is that you don't need a local tour operator to coordinate the details. You can easily arrange everything by yourself, which keeps the costs down. My base of operation has always been the coastal city of Crystal River, the unofficial "manatee capital of the world". I book a rental car on-line, pick it up at the Tampa airport, and badda-bing badda-boom within less than 90 minutes I'm having my favorite treat – a hot fudge sundae and a large coffee at McDonalds in Crystal River. I've never tented in the area so I don't know about campground facilities, but there are a number of relatively inexpensive motels and good rates are available on the internet. The nicest motel in town is the Best Western, but other choices include: Holiday Inn Express, Econo Lodge and Days Inn.
Manatees congregate in the Crystal River area in winter to seek out the warmth of natural hot springs that continually pump water at 23°C into the river system from an underground aquifer. Manatees are tropical marine mammals and they generally prefer water temperatures above 20°C.
This past winter, central Florida experienced record cold temperatures and the waters in the Gulf of Mexico sometimes dipped to 10°C. In response, as many as 450 manatees sometimes clustered around the hot springs in the Crystal River area. Typically, the manatee season runs from November to April, when the greatest number of animals seek a warm-water refuge in the area.
I sometimes swam with the manatees when the air temperatures were below freezing; not to demonstrate my machismo, but because such cold temperatures ensured that a large number of animals would be huddled together around the hot springs, providing a wealth of photo opportunities. No matter how tough we Canadians are, you still need a neoprene wet suit if you want to stay in the water any length of time to enjoy the manatees, even when the water is at 23°C. If you don't own a wet suit, and I wouldn't recommend that you buy one for this occasion only, you can rent one, as well as a mask, fins and snorkel from local dive shops in Crystal River. The best shop in the area is American Pro Diving Center (www.americanprodiving.com). You'll also need a boat, canoe or kayak to reach the hot springs, all of which you can rent locally. My recommendation is that you join a commercial manatee snorkeling tour to get a feeling for the animals and the circumstances and then go off on your own once you know how the system works. American Pro Diving offers daily manatees tours that last three to four hours and include equipment and wet suit rental for around $100. Trust me, manatees are addicting and you will want to swim with them more than once.
Underwater camera equipment is quite specialized but here are some suggestions. When I started working with the manatees, I used a 6-megapixel Canon Point-and-Shoot in a plexiglass housing. The housing cost around $300 and the system produced some pretty good JPEG images. I soon wanted better quality and I immediately jumped up to an Ikelite (www.ikelite.com) housing for my Nikon digital SLR. The housing cost nearly $3000 so it's an expensive option but if you want professional quality images this is a good route to go. Ewa (www. ewa-marine.com) makes flexible housings for digital SLRs that cost much less than an Ikelite. The Ewa system is basically a thick plastic bag with a glass port on the front. I've never used one but I suspect they would work quite well in the shallow depths where manatees are found.
Manatees are just one of the reasons to take a winter photo trip to central Florida. Several rivers in the area offer the nature enthusiast a chance to paddle back in time for a glimpse of Old Florida. Here you can focus on forests of live oaks hung with waving garlands of Spanish moss, groves of saw palmetto and longleaf pines that whisper in the wind, and lofty bald cypresses with buttressed trunks anchoring their great height.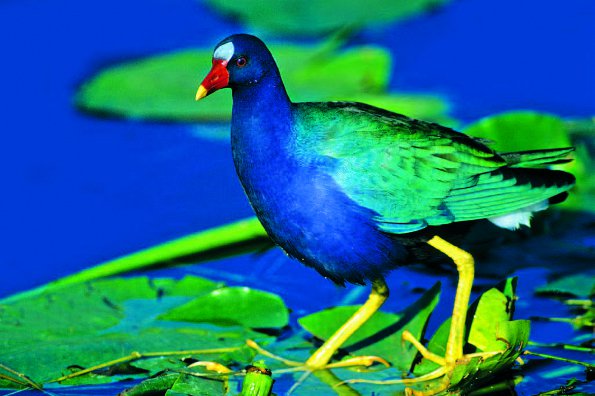 My two favorite rivers to explore are the Withlacoochee and the Chassahowitzka. So many place names in Florida are derived from the Seminole Indian language, which lends an exotic flavour to the location. Withlacoochee means "crooked river" and Chassahowitzka means "pumpkin hanging place", after a wild climbing vine that produces gourd-like fruits. Both rivers empty into the Gulf of Mexico, so both are influenced by the daily rise and fall of the tides, especially the Chassahowitzka. At low tide you can manoeuver a canoe or kayak into secluded backwaters where raccoons forage for crabs in the mud, ospreys swoop overhead, and egrets and herons stealthily hunt the shallows for unsuspecting fish. Along the two rivers, it's possible to photograph secretive black bears, elusive barred owls, and hunting river otters and bobcats. Canoe and kayak rentals are available along stretches of both waterways, and usually cost about $30 for an eight-hour rental.
Photographing from a wobbly watercraft can be a challenge. I use my trusty Gitzo tripod for stability, and when circumstances don't allow it I use a mono pod.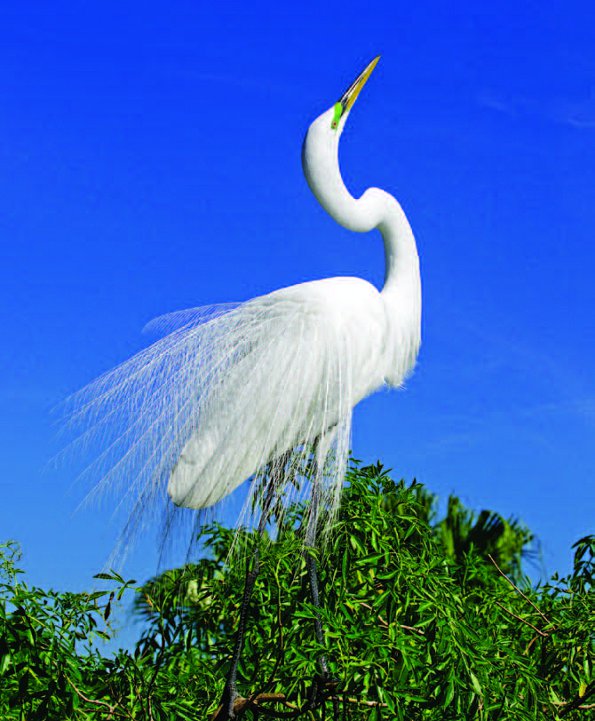 On every winter trip that I've made to Crystal River, I've always managed to squeeze in several road trips to Paynes Prairie Preserve State Park, about a two-hour drive away. Besides scenery, alligators, wading birds, bison and wild horses, the main attraction in winter is the throng of bugling sandhill cranes – numbering in the thousands. With a little effort, you can find yourself standing on the edge of a wetland at sunset or sunrise, savouring the wild music of a flock of cranes winging overhead. The photographs I take home, albeit sometimes beautiful and evocative, always seem so much less impressive than the memories I have of those moments. I've photographed on every continent on the planet multiple times, and fellow photographers are often surprised when I tell them I'm going to Florida again. At first, they don't believe me when I say how much fun it is; but slowly, as I describe the photo possibilities, they start to see why I'm so enamored with the place and they quiz me further on when, where and how they can see it for themselves. Remember, you promised not to tell a soul. Hope to see you next winter in the wilds of the sunshine state.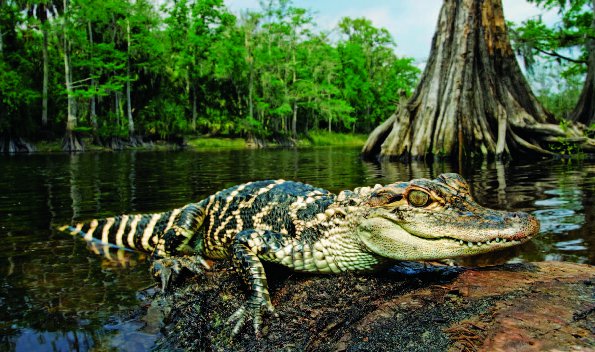 Article by Wayne Lynch