Printing your own images is an incredibly rewarding process that is much easier and far less intimidating than most photographers believe.  With the quality of consumer printers and the variety of inkjet papers available today, it has never been easier to create your own works of art. Whether you chose a proven gold standard silk finish or something a little more unique like a metallic gloss, you're sure to find something ideally suited to turn your photograph into a masterpiece.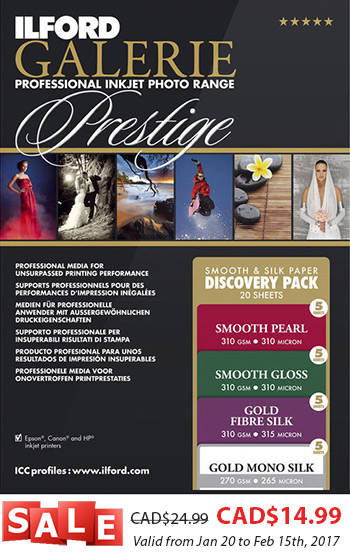 With all these choices, it can be challenging to know ahead of time the 'perfect' paper for printing a specific image. Like any photograph, the qualities that make a paper aesthetically pleasing are highly subjective. While I tend to gravitate towards the more textured matt and canvas papers for a lot of my work, my wife prefers the punchiness and vibrancy when the same photo is printed on a paper with a glossier finish.
The only way to really find out what you like best is to actually print the same photo on a variety of finishes and compare them side by side. What makes a paper great for your holiday family portraits, might not bring justice to your fall landscape photos. Of course buying several packs or rolls of different papers can be a rather large investment when you just want to try something new.   And the last thing you want is to be left with hundreds of sheets of paper in a finish that you are not particularly fond of and will hardly ever use.
Thankfully paper manufactures including Ilford, Hahnemuehle, Awagami and Breathing Color, have produced an easy way to try a variety of papers without a large financial commitment and can be used with any printer. For example, Ilford's "Smooth & Silky Paper Discovery Pack" includes sample sheets from some of the highly-regarded finishes in their Galerie Prestige lineup: Smooth Pearl, Smooth Gloss, Gold Fibre Silk and Gold Mono Silk. These are conveniently bundled together in a single 8.5 x 11 inch pack of paper with multiple sheets of each. I find this size to be ideal when trying new papers as you can fit two different 5 x 7 inch images on one sheet.  After reprinting the page with the two photos on each of the different papers, I can see and compare first-hand the unique and sometimes subtle differences between them. By doing this, I've come to appreciate and respect the special qualities of each finish so that I can choose the right one to use ahead of time depending on how I want my final print to look.
With the cold weather outside and the short daylight hours, winter is the perfect time to catch up on your photo editing and to start printing your photos so that you can show off your works of art. Pick up a sample pack of paper, start experimenting, and have fun. Who knows, you might even find your "perfect" paper.
---
About the Author
David Librach has a wealth of experience in the industry as a fine-art and commercial photographer along with an extensive career in retail including many years as a photo retail manager.
For over a decade, David has helped hundreds of photographers explore the creative and technical aspects of photography through numerous workshops and speaking engagements. After travelling extensively and living in Banff, AB and Halifax, NS, David is now back in his home province of Ontario.