REFILLABLE TANKS AND SUPER FAST SCANNING!
By Peter K. Burian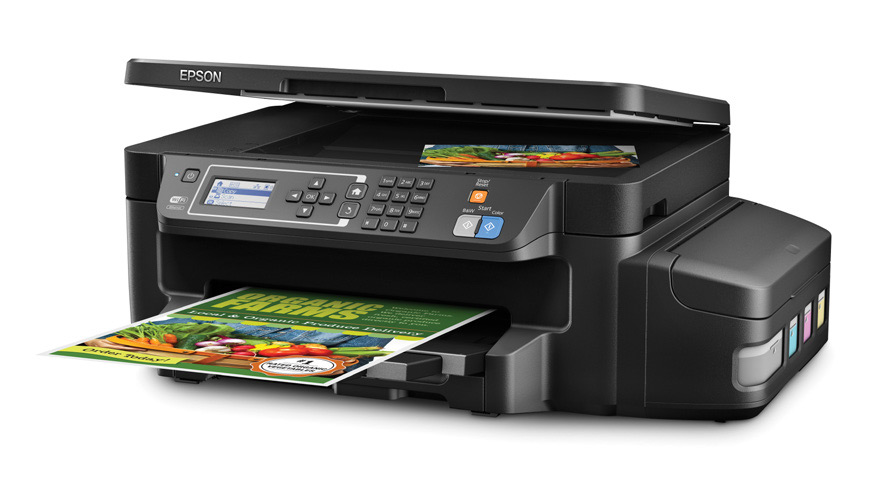 During Epson Canada's annual product showcase in New York City, the company introduced several new items to the media. We were most impressed with two of these: a new high speed printer that can make literally thousands of colour prints with the included ink tanks, and an entirely new ultra high speed scanner for photographic prints. Both should be available in Canada soon after you read this.
Epson Expression EcoTank Wireless ET-3600
Faster than the current Eco-Tank models, this new four-colour printer ships with "up to two years of ink in the box". With this unit, that is said to be enough to make "up to 8500" colour prints or "up to 11,000" prints if using only black ink, based on the ISO standard. Note too that the tanks are refillable; a full supply of the dye-based ink costs under $75 ($18.29 each). That's a bargain compared to hundreds of dollars for the equivalent 50 (approximately) ink cartridges required by conventional machines.
This sleek, compact machine offers automatic two-sided printing on demand and a "complete wireless solution" making it easy to print from an iPad, iPhone, Android tablet and smartphone; Wi-Fi Direct8 for networkfree printing is also provided. It's much faster than two earlier (similar) models, with an estimated speed of 13.7 prints per minute with only black ink or 7.3 in colour based on the ISO standard. To ensure long life, the Epson print head is unusually rugged, so it should last for years. Based on the demo, print quality was excellent for a four-colour machine. Granted, the ET-3600 is expensive ($529.99, list) compared to traditional printers, but it should provide good value for families and home offices that print high volumes.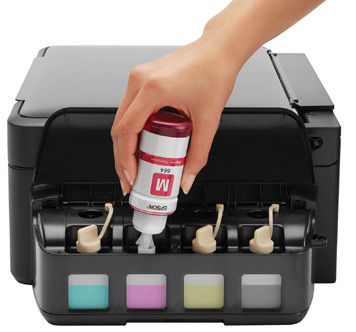 FastFoto FF-640 Scanner
Billed as the "world's fastest photo scanner", this new unit was designed to digitize numerous photo prints at a mere two seconds for a 4×6 at 300dpi, using a new type of roller technology. During the demo, we watched a hundred snapshots scanned in just over three minutes. Scanning at 600dpi would have taken longer, as expected. Thanks to Epson's Perfect-Picture proprietary imageprocessing technology, the quality of the scans that we saw was surprisingly good.
An Epson rep demonstrated the Single-Step technology that automatically scans both the image and any handwritten notes on the back. They also showed examples as to how the Custom FastFoto Software was able to improve faded photos automatically with Smart Photo Fix (SPF) technology, remove red-eye, and generally enhance colours. In cases, the benefit was dramatic.
Other features include the ability to easily create slideshows, displays, and more. This would be particularly useful during a gathering for an important anniversary, wedding or family reunion when you want to display numerous photos on a monitor or a high def (including 4K) TV or projector. With the Document Capture Pro and ABBYY FineReader software (also included) it should be easy to set up an efficient file organization system for your scans. It also allows for uploading the digital images (scans) to the cloud for convenient photo sharing and archiving.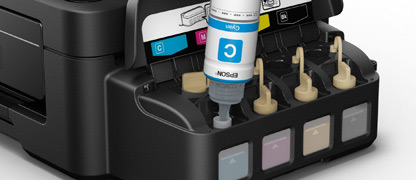 The maximum size of the original can be up to 8×10 inches, and the FF-640 was designed to accommodate panoramic photos as well as documents, children's art work, flat memorabilia, and so on. Thanks to the special handling sheet, custom rollers, and paper path, this scanner can also accept fragile photos such as those from your ancestors. Compared to Epson's conventional flatbed scanners, this unit is pricey, at $899.99, list, however, anyone with thousands of photos, artwork and other flat objects to scan will find that the FF-640 will make such projects a breeze.