While you can order prints from a store or an on-line photofinisher, many digital camera owners appreciate the ability to occasionally – or often – make their own prints. A printer that is optimized for photos need not be expensive or complicated. Thanks to user-friendly software, the process can be relatively quick and straightforward. Serious photo enthusiasts can get a great deal of control however, using the advanced features in the printer's driver software. In the past, that level of control required a darkroom and a great deal of skill or a custom lab that could follow your instructions to the letter.
While larger photo printers are available, the letter size and the 13×19" models are the most common; they're also relatively affordable. The vast majority of the 8.5×11" printers also include a built-in flatbed scanner although a separate high-grade scanner is preferable for scanning photos or slides and negatives. Let's take a quick look at the technology, some of the most suitable printers as well as the inks and the many types of available media.
Technology and Features
Other types of printers are available, such as laser for business use and dye-sub for 4×6" snapshots, but inkjet printers are the ones that specifically target photo enthusiasts. While reading reviews or data on the manufacturers' websites, it is important to fully appreciate the primary factors that distinguish one inkjet printer from another.

How They Work: All inkjet printers employ either heat (Canon and HP) or vibration (Epson) to force ink onto paper through micro-size nozzles. Because an inkjet photo is comprised of millions of individual droplets, it is not really "continuous tone" like a conventional photograph. Frankly, that's not relevant in a high-resolution print made from a large image file because the individual droplets will be visible only under a high power magnifying glass.
Ink Types: An inkjet printer combines various colours of dyes or pigments to produce a wide range of hues and tones. Pigment-based inks are microscopically small grains of colour floating in a liquid, while dyes are inks that are dissolved in a liquid. Five years ago, machines using dye-based inks definitely made prints with richer, more brilliant colours and better results on glossy paper. But today, newer pigment technology can generate photos with vibrant hues and tones and very good high-gloss results. Pigments offer maximum resistance to fading, although some of the latest dye-based inks provide adequate permanence for most purposes.
Number of Ink Colours: An inkjet printer combines the various ink colours to produce a wide range of hues and tones. The more individual inks the better the photo quality will be, with less white space between the dots for a smoother look. Six or more inks also provide superior colour differentiation, as with skin tones that are slightly different. If the printer employs two or more black inks simultaneously, it will probably be ideal for blackand- white printing.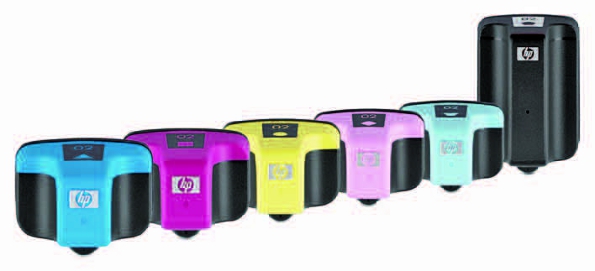 Ink Tank Setup: At one time, a single ink cartridge containing reservoirs of each colour, plus a separate black cartridge, was standard. Now, most photo printers accept individual tanks, including all of the machines that I'll discuss. Instead of replacing an entire cartridge when a single color runs out you can replace only the tank that is depleted.
Printer Resolution: Defined in dpi (dots per inch), printer resolution refers to the number of dots of ink the print head can apply per square inch on the paper. Based on my tests of many machines over the years, 2880dpi is plenty for true photo quality. Higher resolution is available but that slows printing time and consumes more ink without a significant improvement in the definition of intricate detail.
Print Permanence: All photos eventually fade, especially when displayed in direct sunlight. Some ink/paper combinations are more lightfast than others, and the resulting prints are "archival". In other words, noticeable fading should not occur for 30 or more years when the prints are matted, framed, covered with glass and displayed away from direct sunlight. Much greater permanence is possible when prints are stored in archival photo albums. Actual permanence will vary depending on the type of paper used.
Hint: To maximize print longevity, use a product such as the Hahnemühle Protective Spray that increases resistance to water and to UV light rays. This fast drying product does not turn yellow and is completely transparent so it has no influence whatsoever on the original colours of the ink or the paper.
Direct Printing Capability: All current machines can print images from a computer whether connected by a cable or via wired Ethernet connectivity. They also include PictBridge technology so they can print from an attached camera.
Most of the recent letter-size models can print from other sources too, such as memory cards. Wireless connectivity is becoming common, particularly Wi-Fi and Bluetooth, making it possible to print images from devices that have this technology. While you will find some image modifying features that are useful in direct printing, don't expect the same quality you'd get if you downloaded the image to a computer and enhanced it with image-editing software. Still, many "direct prints" are very good, suitable for a family album or scrapbook.
Letter Size Photo Printers
Intended for making prints in all of the popular sizes, from 4×6 to 8.5×11 inches, these machines will meet most of any family's needs. You can find a wide range of letter size printers – an increasing number with built-in flatbeds for scan/copy operation – but the following recent models are particularly worth considering. While many stores can make 4×6" prints at an extremely low price, the cost of 8×10" and larger prints will be lower at home, with greater control over all aspects of the process.
Upgrades to the enhanced Easy-WebPrint EX software (Windows Only) include a new Fit-to-One-Page button for easy printing of texts and images from websites. This button can be especially useful when printing driving directions so both the map of the area and the stepby- step directions are on one easy to read page. This new software will also provide printing of multiple documents into a booklet format for easy handling and improved organization.
Looking for a Better Image…
The quality and permanence of your prints depends on the types of ink and paper that you use, and the way you display the image. Your photo retailer can show you sample packs of papers from top-rated brands such Hahnemühle FineArt and Ilford Galerie Professional. Choosing specialty papers can bring a new dimension to your work – take a look at the various types of inkjet canvas, watercolor, Photo Rag, Baryta, Gold Fibre Silk and etching papers. Textured papers add a tactile element that draws the viewer into the image. The websites www.Hahnemühle.ca and www.Ilford.com provide ICC profiles as well as advice and detailed insights into the settings that will produce optimum results with specific printers.
Recommended Printers
Canon PIXMA MG5220 and PIXMA MP495 Wireless Photo AIO Printers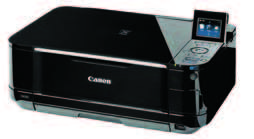 If a wireless printer with a variety of options and high quality printing is on the wish list, the Canon PIXMA MG5220 (photo) and PIXMA MP495 Wireless Photo AIO printers should definitely be considered. Featuring five individual ink tanks with the ChromaLife100 + ink system, the PIXMA MG5220 Wireless Photo AIO Printer has a maximum color resolution of 9600 x 2400 dpi and can create a 4" x 6" borderless photo of superb quality in approximately 20 seconds. The Advanced Media Handling capabilities with Auto Duplex printing and a two-way paper feed can help reduce paper. A 2.4-inch TFT screen and new user interface add to the appeal of this model.
For the consumer interested in a more affordable wireless printing option, the PIXMA MP495 Wireless Photo AIO printer would be an ideal choice. With the ChromaLife100 + ink system and a maximum color resolution of 4800 x 1200 dpi, this new printer can produce a 4" x 6" high-quality borderless photo in approximately 41 seconds.
As an added incentive, both printers are 802.11n Wi-Fi certified which will allow for a faster network transfer rate. Wireless networks can be set up with the press of one button when using a Wi-Fi Protected Setup (WPS). Canon offers its award winning service and support online for all users looking to set up any of the new Wi-Fi products at www.usa.canon.com/wirelesshelp. Here customers have access to manuals and video tutorials to assist in setting up a Wi-Fi device.
A new option for users of smartphones equipped with the AndroidTM OS is the free Canon Easy-PhotoPrint (EPP) for Andriod application allowing images captured with the phone's camera to be printed quickly and easily shared with friends and family. For Apple iPhone®, iPod touch® and iPad™ mobile device users, the Canon Easy-PhotoPrint for iPhone (iEPP) application is also available for free on the App Store.
Canon PIXMA MG5120 and PIXMA MP280 Photo AIO Printers
The new Canon PIXMA MG5120 and PIXMA MP280 Photo AIO printers provide consumers with the ability to print, copy and scan documents of high-quality at an affordable price. Both new models feature the ChromaLife100 + ink system with the PIXMA MG5120 Photo AIO Printer having a maximum color resolution of 9600 x 2400 dpi and the PIXMA MP280 Photo AIO Printer offering a maximum color resolution of 4800 x 1200 dpi. The PIXMA MG5120 also features the same Advanced Media Handling options as the PIXMA MG5220 AIO Printecacanon
PIXMA iP4820 Inkjet Printer
The Canon PIXMA iP4820 Inkjet printer is ideal for any consumer interested in a high-quality single function model. With five individual ink tanks working in conjunction with the ChromaLife100 + ink system, this printer can produce a borderless 4" x 6" image of superb quality with a maximum color resolution of 9600 x 2400 dpi in approximately 20 seconds. This printer has the ability to Auto Duplex print and has two-way paper feeds as well. The PIXMA iP4820 is an ideal addition to any home with its polished finish and overall functionality.
Canon CREATIVE PARK
Looking to extend creativity beyond just photos and documents? Consumers can try Canon Inc.'s CREATIVE PARK website at www.canon.com/cpark. The site offers free 3-D paper craft projects, scrapbooking templates and embellishments, novel greeting cards, and educational materials. As an added bonus with the purchase of select new PIXMA printers, consumers will be provided with exclusive printable content through CREATIVE PARK PREMIUM. This content includes post cards, albums, and many more projects including paintings by artists such as Norman Rockwell.
Epson Artisan 725
This new photo printer with scanner/copier features great speed, a smart touchpanel, built-in wireless (Wi-fi) plus wired Ethernet networking capability and direct printing from Bluetooth devices and from memory cards. It can also print onto inkjet-printable CD/DVD discs. In direct printing, use the image correction features and the 2.5" LCD to preview the effects. The Artisan 725 employs six Claria High- Definition dyes to make prints with resolution up to 5760 x 1440 dpi with an on-display permanence rating (on premium photo papers) of 92 years.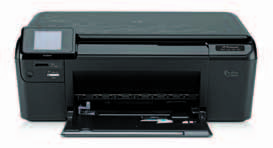 HP Photosmart Plus e-All-in-One
Surprisingly affordable, this new family-oriented printer with scanner features a 3.5" touchSmart screen, wireless connectivity (Wi-Fi), direct printing from memory cards and wireless printing from an iPhone or iPod Touch. It employs four Photosmart dyes, in individual tanks, to make photos with up to 4800x1200dpi resolution on certain media. A print permanence rating is not yet available.
Article by Peter K. Burian